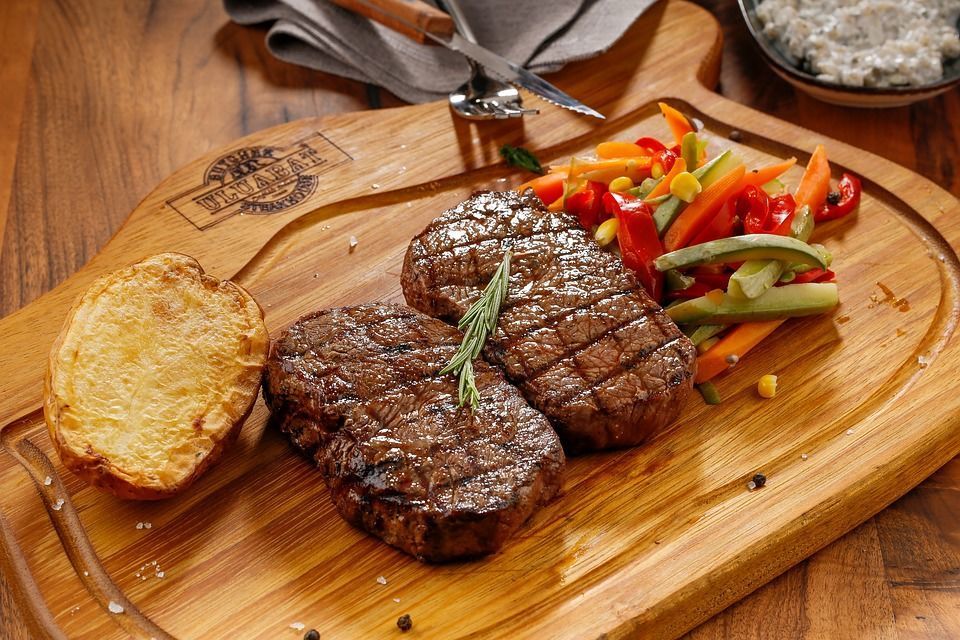 Fahad Malik

2019/08/26

0 Comments

0 Likes
Lahore is usually mocked for selling donkey's meat. However, this mockery is limited to low-end restaurants that do not follow proper hygiene protocols.
So before you have suspicious and fearful thoughts, let us take you through the best steak places that actually serve healthy beef /chicken steaks and will droll you over.
The below listed restaurants genuinely serve juicy, tender and flavorful steaks that will unleash carnivore inside you. So check them out.
SCAFE Bistro
Entering into this café is like you have stepped into a new world.
The ambiance is commendable. SCAFE also happen to be best place for romantic dinner if you want to have a secluded environment.
They offer one of the best steaks in Lahore and it worth every penny. Needless to say, their steaks are perfectly marinated, cooked and served in right quantity. And, their steaks come with mashed potatoes and creamy spinach which worth a special mention.
Also read: Cheap Eats in Lahore
Cafe Aylanto
Café Aylanto is a veteran and a classic restaurant famous for its grilled steaks.
It quickly became a city favorite and spread its wings to other metropolis cities as well.
No matter if you're craving for Steak Chanterelle, flamed grilled Tenderloin or their signature Prime cut Decked Beef with caramelized onion, you get perfection coming out of their kitchen every time.
Although the prices are a bit on a higher side but it shouldn't stop you to have a perfect meal.
Steaks price starting from Rs 1865/-
Cosa Nostra
Cosa Nostra stands apart from the crowd with its killing range of premium steaks.
The price shoots up to Rs 5000 for Tenderloin -10oz cuts - mouthwatering and right amount of juiciness will make you forget the steepness of prices and make you fall in love with Cosa Nostra steaks.
You can pair it up with mashed potatoes, fries, roasted wedges, green beans and much more for an additional Rs 300/-. The serving is enormous and enough to fill an empty belly – believe me.
Prices of steaks starting from Rs 4135/-
Also read: 15 Best burger places in Lahore
COVO
COVO is located inside a five star Pearl Continental Hotel Lahore and offers the priciest steaks in Lahore.
If you have taste buds that can differentiate between local and imported steaks and quality, then this is a place for you to have a perfect steak.
The beef is of US black Aberdeen Angus bread and melts in your mouth like a butter which makes it an expensive yet worth trying. But be ready to pay whopping Rs 6000 per steak which can cost an arm and a leg for some foodies.
Prices of steak starting from Rs 6000 plus tax.
Also read: 8 must-try Hi-tea places in Lahore
Bovinoes
The Bovinoes offers a wonderful dining experience overall - the ambiance, the décor and especially the food.
Bovinoes steaks are hit for two obvious reasons – the taste is phenomenal and prices are economical as compared it with other restaurants on the list.
Their T-bone steak is cooked to perfection with great precision, juiciness and tenderness. Go try Bovinoes and we are sure you will become their regular customer.
Prices of steak starting from Rs 899/-
Fujiyama
Fujiyama is said to be beyond value for money. Situated inside Avari's Hotel, Fujiyama is a well-known name among the real steak lovers.
It also happened to offer wide range of Japanese cuisines but their Pan Seared Angus Steak served with artichoke ravioli and bariguole vinaigrette is going to make you their instant fan.
Fujiyama marbled wagyu beef meat is by far the most expensive steak in the country with price going up to Rs 14,000/-.
The marbled wagyu beef meat is considered priciest beef cut imported from Japan which has a thick layer of fat.
Prices of steaks starting from Rs 6500/-
Also read: 11 Best Chinese restaurants in Lahore
Smokey Texas Grill
Smokey Texas Grill offers excellent flavors, well cooked meat and decent sized portion – all in a very economical rates.
If you are looking for saucy steak served in sizzlers and topped with a sauce of your choice, Smokey Texas Grill is your go-to place for sure.
Their steak comes with sautéed vegetables, baked potatoes or mashed potatoes. Their customer service is top-notch and the chef makes sure you get your meal right on time.
Prices of steaks starting from Rs 900/-
Gun Smoke
Hands down for a decade old steakhouse in Lahore and the restaurant has been getting positive reviews from local foodies.
Gun Smoke is now known for its premium quality meat which maintains its tenderness, juiciness and flavor when served.
Besides the classic steaks, their beef and chicken steaks with tarragon herb sauce are a sure winner. All steaks are served with sautéed vegetables or mashed potatoes.
Prices of steak starting from Rs 1850/-
What are you waiting for? The list of delicious steaks in Lahore ends here. Go and try one of these amazing steak places in Lahore and do let us know about your experience in the comment section.
Write a Comment
0 Comments
Subscribe to our Newsletter
To receive latest updates and news enter your email address below.