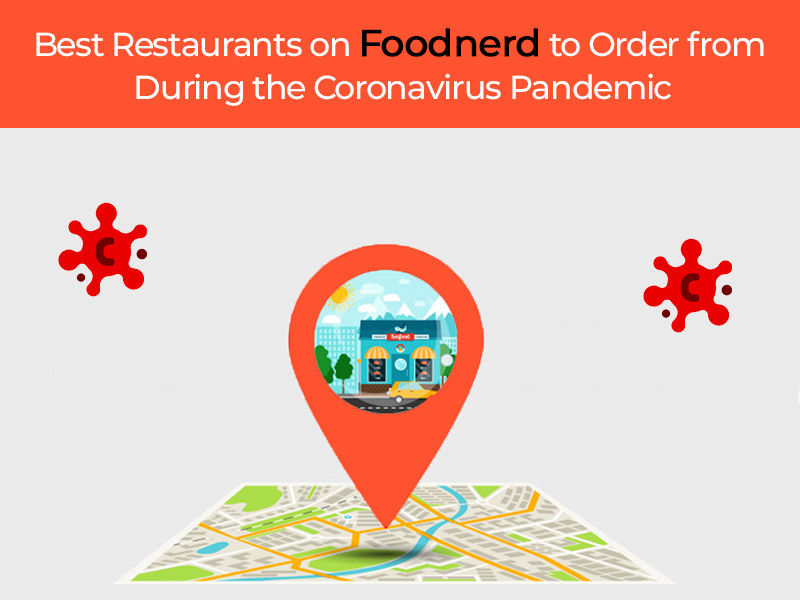 Arsala Khalid

2020/04/03

0 Comments

0 Likes
Coronavirus outbreak has affected people around the globe. It is so contagious that governments all over the world are taking severe measures, such as shutting down restaurants and private offices, to control the spread of the virus. In Islamabad too, restaurants are only open for takeaways and deliveries to ensure that a lot of crowd doesn't gather at one place. Most offices have also switched to work from home or completely shut down. So, you find yourself at home, craving for something from your favourite restaurant but are unable to go there. You sit by the window and reminisce the time you could drive to your Burger Spot and get your favourite fast food.
Well, don't be so disheartened! Fast food delivery in Islamabad, Rawalpindi and other cities of Pakistan is here to get your favourite food for you! Foodnerd has taken all the necessary precautionary measures required during these terrible times to get your food to you safely in the shortest time possible. Let me make a list of the best restaurants you can resort to for ordering food online. And yes, everyone has tried KFC, Pizza Hut, Ranchers, etc., and so I am not going to include them in the list. The list below consists of the best, under-rated restaurants in Islamabad you can order from through foodnerd app or website:
Tinsel Cafe & Grill:
Located in Sector I-8, Tinsel Cafe & Grill is a new eatery. It has the juiciest, most scrumptious steaks and burgers! Their menu is vast, and you can find a lot of fast food items to choose from. Pick your favourites and order from foodnerd. Within just a few minutes, you will have your desired food delivered to you at your doorstep!
Cheezious:
Craving for some hot, cheesy pizzas? Look no further. Cheezious has the best pizzas, rolls and burgers in twin cities. If you haven't tried them yet, trust me, you are missing out! The booming 4.3 rating with over 3500 reviews of google signifies how much people like what they get from this food chain! The crown crust pizza is the most popular option here, just so you know! Order from foodnerd and enjoy it with your family at the comfort of your home!
Hot N Spicy:
Craving for tasty, affordable rolls? Hot N Spicy is the place. Their cheesy roll parathas are the most famous of their vast menu. With a range of combos and delicious food, this is the best place to order from! Be sure to try their chicken roll parathas, sandwiches and chicken tikka too! You can view their menu on foodnerd, choose what you want and place your order. Our rider will carefully and securely deliver your order in minimal time!
Savour Foods:
Want something desi that is tasty and affordable too? Savour Foods' pulao-kabab combo should be the first thing that pops into your head! Savour has made a name for its self because of its great taste and a hefty serving of pulao at a very affordable rate. You can order their mouthwatering kheer to end your lunch/dinner on a high note! So, if you are hungry, you know what to do!
Zaytoun Grill:
Zaytoun Grill's seekh kabab, boneless handi and palak paneer are to die for. While this restaurant is not yet well known in the twin-cities, it deserves recognition for its fantastic food. They also give you large serving size so your hunger can be quenched to the fullest. Zaytoun Grill is on foodnerd so you can order from them anytime you like!
Pit Stop:
In the mood for some big, delicious burgers? They have both beef and chicken burgers that are huge, more than enough to satisfy your hunger. If you want to order fast food, then Pit Stop should become your go-to. Pit Stop's chicken wings are also a fan favourite so be sure to order them too along with your burger selection. All in all, one of the most fulfilling burgers for an economical rate can be enjoyed here!
Write a Comment
0 Comments
Subscribe to our Newsletter
To receive latest updates and news enter your email address below.