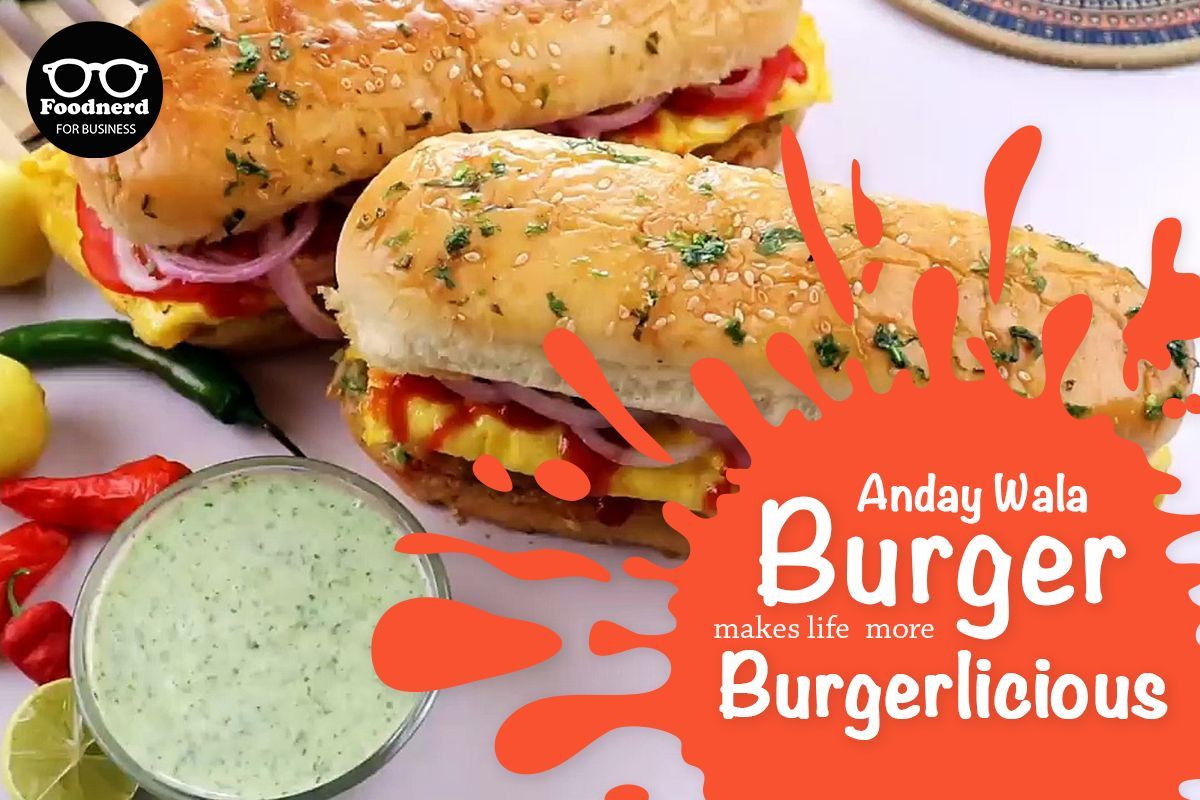 Nubaira Ahmer khan"

2023/02/07

0 Comments

0 Likes
Everyone is a fan of the zinger burger, the cheese burger, the beef burger, or different other types of burgers, but no one appreciates that there is a separate fan base for the Anday wala burger (egg burger), which is simply famous in Rawalpindi due to its uniqueness and individuality. 
The egg burger is really the most delicious type of burger. The crunch of fresh onions and cabbage wrapped in a Shami kebab and an omelet make the egg burger vibe extremely delicious and mouthwatering, especially when strolling down the street with your friends and the saucy egg burger. 
If you like anda shami burgers and want to treat your taste buds to something delicious, keep reading because we have compiled a list of the best places in Rawalpindi for anday wala burgers.  
What Is An Anday Wala Burger?
The Anday Wala Burger is an all-time favorite snack among Pakistanis. It has only three ingredients that make it more elite: an omelet from a desi egg, shami kebab, and ketchup. Some people also add cabbage and onions to make it more crispy. 
Well, the amazing thing about it is that it is the best-class street burger, and people enjoy its exclusivity of being so delicious, fulfilling, and affordable. The best thing about an egg burger is that it is quite affordable and delicious to savor.  
Amazing Spots In Rawalpindi For Anday Wala Burger
International Burger & Chat Center
Nothing can truly match the taste of the Anday Wala Burger offered by international burger and chat centers. They offer delicious burgers with the best quality and quantity. It is in the center of Saddar Bazaar in Rawalpindi, and its price is highly reasonable.
Without a doubt, if you go shopping at the international burger and chat center in Saddar, you'll want to try their delicious burgers and salads because the aroma will trigger your appetite, and you'll have to pause your shopping for a while and enjoy the egg burger near you.
Read
The Best Place To Buy Samosa In Islamabad
Laziza Refreshment 
The Laziza Refreshment is also the best place in Rawalpindi that provides amazing burgers. The good thing about Laziza Refreshment is that they provide different varieties of burgers, and you can order them online from foodnerd.pk as well.
The price of a Laziza refreshment hut is quite reasonable, and you can enjoy delicious food for under 500 rupees. Their fish burger is only 260 PKR, so you can imagine how affordable the Laziza restaurant in Rawalpindi is. 
Read
5 Magical Health Benefits Of Ginger
Idiots Cafe 
The Idiots' Cafe, as its name implies, is the most exciting and fun-loving place you must visit with your friends whenever you want to have fun in your busy schedule. They offer the delicious Anday wala burger with super fast delivery from Foodnerd.pk
So if you ever visit the food street in Rawalpindi with your buddies, whom you call idiots as a lovely gesture, then you must eat the egg burger from here and dedicate the idiot cafe in Rawalpindi to your lovely buddies that make your life fun.
Read
Incredible Things You Should Know About Potatoes
5 Magical Health Benefits Of Ginger
Nagina Burger Point
Well, all the best egg shami burgers hit differently in Rawalpindi because it is the specialty there, but the Nagina burger point in Islamabad (F7) has a separate fan base. Anda chicken and Anda chicken cheese burgers are heavenly. 
So if you are an Islambadi and won't be able to go to Rawalpindi, then go to Nagina Burger Point and enjoy the taste of an Anday Wala burger with this street burger. Well, Nagina Burger F10 Markaz is really an amazing place to enjoy street burgers at a very low cost. 
Read 
Famous Fish Spots In The Twin Cities Of Pakistan You Must Try
The Top 5 Healthiest and Most Popular Types of Chicken Sandwich
Super Karachi Burger
An egg Shami burger has no calories because it is a source of protein coated with a lot of happiness. So don't wait until it gets too late; just order an Anday Wala burger anytime you crave something delicious and enjoy the taste.
There are many places to get Anday Wala burgers, but some still don't serve egg burgers. Instead of writing "Anday wala burger near me," go to Super Karachi Burger in Khayaban e Sir Syed, Rawalpindi, and enjoy it with your friends and family.
Read
Different Types Of Jams You Can Consider For Breakfast
Smart Strategies For Starting An Online Grocery Business In 2023
Aslee Mamoo Burger
If you haven't tried the Aslee Mamoo Aanday wala burger at Asghar Mall on Murree Road in Rawalpindi yet, then seriously, you have missed out on enjoying life. The Aslee Mamoo Burger serves the most delicious street burgers out there. 
The interesting thing about Aslee Mamoo Burgers is that their prices are quite reasonable; for example, you can enjoy the delicious Anda Shami Burger for 200 rupees. So don't forget to try the Aslee Mamoo burger whenever you visit Murree Road. 
Read
15 Surprising Ways To Save Money While Groceries Shopping
10 Unique Health Benefits Of Honey You May Not Know
Bhatti Burgers
Well, one of the most underrated areas in Rawalpindi is Misrial Road and Chour Chowk. Well, everybody talks about Saddar Rawalpindi or Raja Bazar Rawalpindi, but nobody discusses how many interesting things are present at the Misrial Road Bazaar. 
One of the most amazing examples is the Bhatti burger. You can get it in Akseer Plaza, Shop 30, Misrial Road, Rawalpindi. Well, the place is small, but it has a great heart for everyone, and the taste of their Anday Wala burger is really amazing.
Read
The Exciting History and Origin of the Cocktail Umbrella
Top Healthy Meal Delivery Services in 2023
Hot And Spicy
The Hot and Spicy is another amazing place that provides tasty cuisine, ranging from their boom-boom roll paratha to their zinger burger and Anday wala burger. Customers are raving about the hot and spicy. 
There are different locations out there for hot and spicy food, and the lines are always long outside. The people love the cuisine, their taste, quality, and quantity, which never makes anybody regret buying anything. 
Read
The Top 5 Healthiest and Most Popular Types of Chicken Sandwich
Which Restaurants Serve The Best Soups In Lahore?
Write a Comment
0 Comments