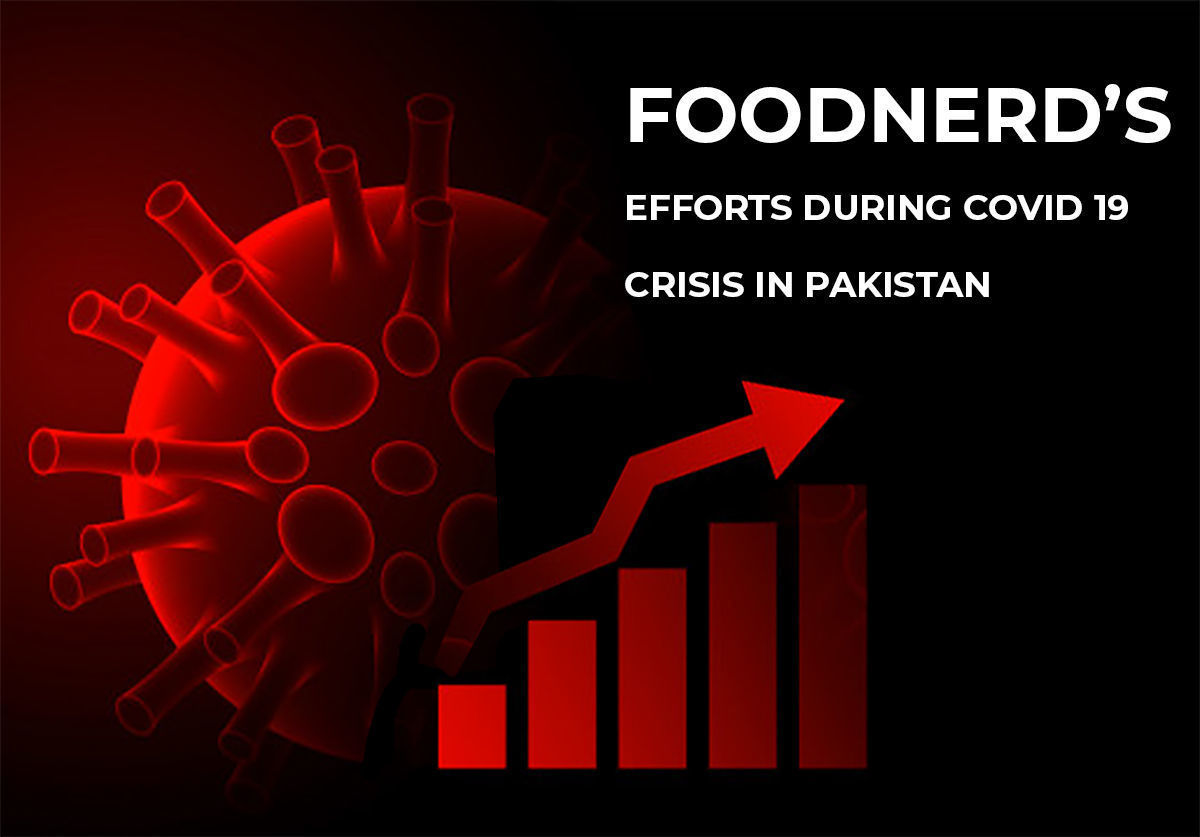 Arsala Khalid

2020/06/15

0 Comments

0 Likes
Our lives have become busier than ever since COVID-19 took over the world. Most workplaces have shifted to work from home mode and academic institutions are conducting their affairs online too. This means that now you are required to do your official work, look after your kids and look after your home at the same time. It is truly difficult to cope up with all the household chores while performing optimally in your career too.
Foodnerd is here to ease your lives by delivering the best food to your doorstep in minimal time. All the necessary precautions are taken by the riders when they deliver your order; wearing a face mask, latex gloves, using sanitizer, and washing hands. So, no longer do you have to run to the grocery store during your office 'break', slave over the kitchen stove and stressfully cook while your children ask you questions about their academic work.
Foodnerd brings you amazing offers that will cheer you up and give you the chance to concentrate on your work, give you ample time to spend with your family and live a stress-free life during the pandemic days. Foodnerd runs discount offers every few days so follow the foodnerd social accounts and make the best of them. We've rounded up the best restaurants on foodnerd you can order from, in Rawalpindi, Lahore and Islamabad, during the coronavirus period:
Rawalpindi:
Zaika Des Des ka
If you need a reminder of why the traditional Pakistani cuisine is superior to any other cuisine in the world, try Zaika Des Des ka's seekh kababs. A lot of attention has been gained by this restaurant in a short amount of time because of its uniquely flavoured dishes. One of the reasons people like ordering from Zaika Des Des Ka l is that their menu is updated on a regular basis, keeping the customer expectations and market trends in mind. Moreover, the beverages on their menu go very well with the spicy food they offer. During the COVID-19 period, Zaika Des Des ka l is one of the best desi places to order from!
Cheezious:
As the name suggests, all the items at cheezious are very cheesy, enjoyable and fulfilling. Because of how loved it is by the people of Islamabad and Rawalpindi, it has a strong rating of 4/ 5 on google. Cheezious has a very economical menu and often runs really good deals giving you an even better chance to save your money. If you want to enjoy value for money, then go to foodnerd and order from cheezious right now! Their pizzas and pasta, especially, are the items one has to try at least once in their lives!
Islamabad:
Craving for juicy, mouthwateringly delicious burgers? Jessie's in the place! They have a wide range of fulfilling scrumptious burgers that you can enjoy. The special chicken burger really is 'special' because it tastes better than any burger I've ever tasted! Next, 'the big kahuna' is a burger that has a thick juicy beef patty, onion rings, pickles and a special mayo sauce that flavours the dish greatly. But that's not it. There are so many items on Jessie's menu that you can enjoy. Rarely has anything from Jessie's disappointed me!
A rather new eatery on this list is Tinsel Cafe & Grill. Located in sector I-8, this place has steaks and burgers that will leave you wanting more. Their menu is filled with the juiciest, most scrumptious burgers and steaks. Browse through their menu of foodnerd, select the items you want, add them into the card and get them delivered to your doorstep in minimal time!
Lahore:
Bar B Q Tonight is hands down, the best place for BBQs. They truly know their BBQ! Their malai tikka and beef Behari kabab paired with their parathas are a killer combo! They also have a wide range of beverages that are a delight to your taste buds. Their menu is not limited to BBQ only'; there are a number of delicious desi dishes for your enjoyment. So, order from Bar B Q Tonight if you want to have something desi that is finger-licking good! Foodnerd has its menu on the portal, so just use the app or order your food online from foodnerd.pk!
If you are looking for tasty, fulfilling and economical pizza then Pizza Max is the place! Their beef pizzas especially stand out! The hand-tossed crust is also perfection. It's tick enough so you can enjoy it but doesn't steal away the goodness from the topics and sauce. If you like pasta, then you should also try their creamy pasta as it tastes amazing too and is just as pocket friendly as their pizza!
Write a Comment
0 Comments
Subscribe to our Newsletter
To receive latest updates and news enter your email address below.