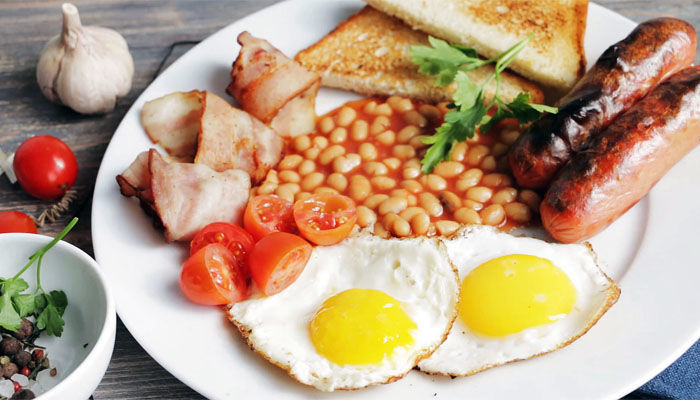 Muhammad Faizan

2019/10/11

1 Comments

0 Likes
Breakfast is the most important meal of the day because no day that starts with delicious food can end badly. Miss your breakfast and the whole day is spoiled. True story, right?
Well, there are various places in Lahore which are perfect for a wholesome and scrumptious breakfast. From waffles, eggs and bagels to croissants, paranthas, and chai, it cannot get better than this.
Here are 09 places in Lahore where you can enjoy a delectable breakfast this weekend:
Jade Cafe by ChinaTown
If you're looking for a sweet breakfast, the French-style, then this is the place to visit. Try their pan of shakshuka or oozing-hot Nutella toast, along with a steaming hot cup of coffee. Simply divine!
Where: Defense Phase 4
Also Read:
Food delivery in Lahore
Sweet Tooth
They serve a delicious breakfast menu full of delights like waffles, french toast, crepes, burritos and eggs. So, take a walk in the Sweet Tooth next door and enjoy a scrumptious breakfast here.
Where: M.M Alam Rd, Gulberg
Also read:
8 Places for Hi-Tea Places in Lahore
English Tea House
A hearty breakfast for some is incomplete without eggs. And that's exactly what English Tea House offers. They serve eggs cooked in different ways - sunny side up, poached, fried eggs, you name it and they have it. Their tea is fantastic in various varieties. Go try it.
Where? Defense Phase 3
City Cafe & Grill
A traditional English tea room, this place is quaint and simple. Enjoy some quiet morning time with your special one, along with a cup of tea or coffee. The Full English Breakfast has two eggs cooked your way with sausages, baked beans, grilled tomatoes, bacon and mushrooms. Yum. Quite a filling breakfast it will be!
Where? Defense Phase 5
The Urban Cafe Yoglicious
The Urban Cafe Yoglicious might be more popular for their innovative coffees but their breakfast menu is a must try! Large sized Pancakes drizzled with syrup, heavy toppings creams, chocolate, and fruits. Try their red velvet waffles to become their regular customer. They definitely have one of the best breakfasts in town!
Where? Gulberg
Also read:
10 Ridiculous Cheap Food in Lahore
Mocca
You'd enjoy your meal here at anytime of the day but the breakfast is a must try. The menu is straight out of a dream -granola and cereal platters are to die for. They have generous menu to serve you. And the best part? They serve it all day!
Where? Packages Mall
Chaaye Khana
This cafe serves delectable best breakfast - panino, omelette, waffles, french toast and much more. What more can you ask for to make your morning lovely than these gluttonous options?
Where? M.M Alam Road
Amu
If you're looking to spend some quiet time alone or with someone, then Amu is perfect for you. Their breakfast spread gives you various options of eggs, pancakes, yogurt and bagels. So stuff yourself with delicious food while reading a book. They also have a nice bookshelf you can sift through to find yourself a decent read.
Espresso
Who doesn't know this place? Whenever someone mentions breakfast, this is the first place to come to mind. And that's because the elaborate breakfast spread they put up is lip-smackingly good. So try it out if you haven't already!
Where? Mall 1 gulberg
Write a Comment
1 Comments
Hareem Malik
4 months ago
https://www.puro.pk/products/plain-spices/cumin-powder/
Subscribe to our Newsletter
To receive latest updates and news enter your email address below.