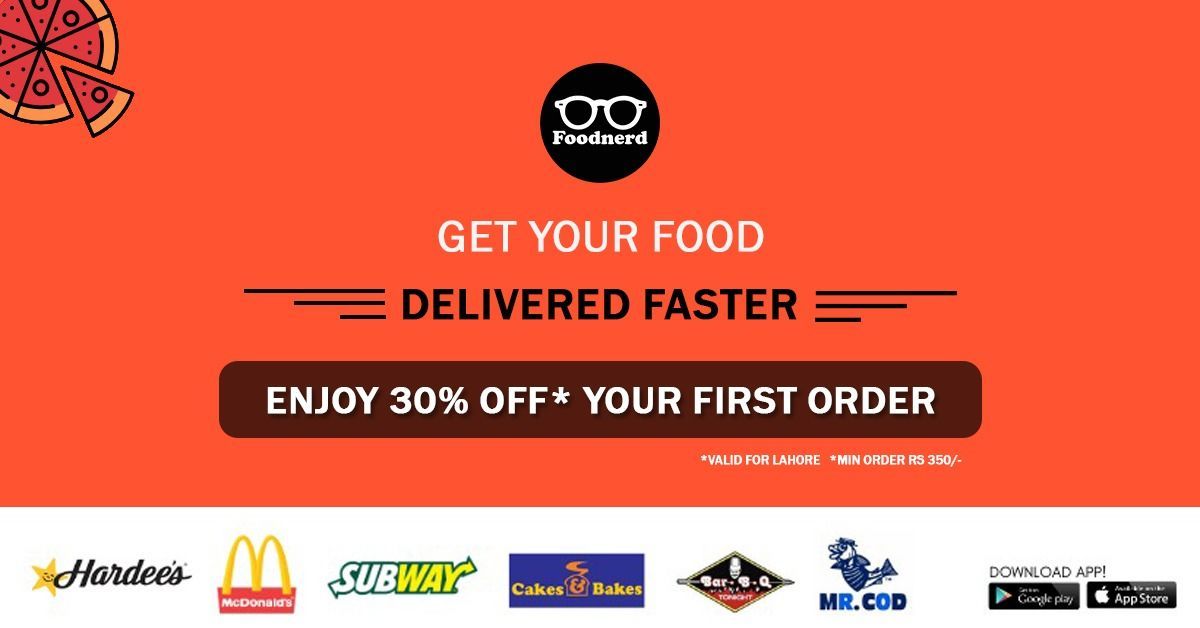 Muhammad Faizan

2019/10/29

1 Comments

0 Likes
The emerging food delivery service - Foodnerd has recently started delivering food from your favorite restaurants in Lahore.
Wait, it gets better - Foodnerd is also giving flat 30% off your order until November 10th 2019.
Why? Because online food delivery service Foodnerd wants more of its customers to order their food through its app, and its website. Foodnerd is currently offering a one-time 30% discount offer for customers who use its app or website for the first time to order food in Lahore.
The discounts are funded by Foodnerd itself, and delivery charges are just Rs 50/- for food delivery service in Lahore. The discount will allow customers to enjoy their favorite food from any restaurant without digging a hole in the wallet.
The discount is valid on 50+ restaurants of Lahore and foodies in the city can enjoy their favorite meal without any hassle.
The minimum order for delivery is Rs 350/- and there is no promo code required. Just add to cart your favorite meal and get it delivered within 45-50 minutes.
List of restaurants that are offering flat 30% off via Foodnerd - Food Delivery service in Lahore.
Al Minal Restaurant
Galito's (Grilled Chicken)
Bar BQ Tonight
Kim mun Chinese
Nandos
Freddy's cafe
Barbera Cafe
XiWang Chinese
Pizza city
Tuscany courtyard
Pizza Heart
Lahore chatkhara
Mr. Cod
Casa Bianca
Chicken N Chicks
Kitchen Mania
Al Madina naan hut
Nainu's Pizza
Chicken & Pizza Hut
Delicious Fast Food & Juice bar
Good Pizza
Decent Fast Food and Juice Bar
Yum Chicks
Pizza Max
Spice N Bite
Chick n Chips
MFC
EAT 901
Pizza Night
Rapino Pizza
Tandoori Grill
Mr. Zinger
Pranzo Cena
Sam Pizza Garden
Pizzitalia
DA' Pizza Delight
Food Plus
Fri King Fast Food
Mazza Cafe
Khalifa Foods
Spice & Ice
Khaja Pija
Hunger Ground
The Hot Potato
Kitchen Guru'sss
Bonfire Cafe
Hardee's
Subway
Roamin Burgers
Hot n chilli
A&F Knok Knok Pizza
Chick 'n Olive Restaurant
The Old Pizza Company
Pizza Court
Foodnerd lists restaurants and their menus and also carries user reviews. This year, it introduced food delivery services in Lahore. Backed by Arkhitech, Foodnerd is currently present in Rawalpindi, Islamabad and Lahore.
Foodnerd is targeting to add more cities in Pakistan to its network. Its mobile-first policy is also likely to be useful to attract more users who use the internet for the first time through their smartphones.
Besides increasing its footprint in more Pakistani cities, Foodnerd is also focusing on expanding its restaurants' point-of-sale system. A cloud-based POS specifically designed to cater the needs of restaurants and manage operations efficiently.
Restaurants don't pay a joining fee for getting listed on Foodnerd but they pay a percentage of the transaction value for orders routed through the online aggregator.
Hungry? Order now via Foodnerd
Write a Comment
1 Comments
ahmad sibtain
3 months ago
Your Article is informative and perfect. But, I have some more information about pizza restaurants. Visit; https://mushwarah.pk/food/manhattan-bites-signature-new-york-pizza/
Subscribe to our Newsletter
To receive latest updates and news enter your email address below.