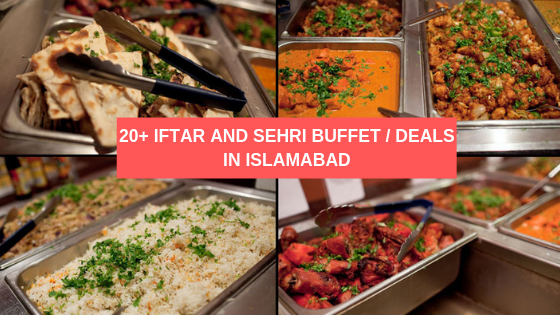 Muhammad Faizan

2019/05/13

0 Comments

0 Likes
Ramadan is a month for gratitude, sacrifice, and reflection but let's get real it's also about food.
Islamabad nestled some of the country's best restaurants and so many of them offer Iftar and Sehri deals. It is not possible to try them all without breaking a bank (unless you are a food blogger).
So Foodnerd has listed down 20+ Iftar and Sehri deals suggestions that you can try ranging in price from Rs 499/- to Rs 3000/-
Also read: 5 Best Places for Juices/Smoothies in Islamabad
1: Two Broke Engineers
During Ramadan, Two Broke Engineers Iftar platter claim to offer the most promising and fulfilling platter in Islamabad.
Their platter is stuffed with traditional Iftar menu (dates, fruit chart, chicken samosa, assorted pakoras, Rooh Azfah, spring rolls, dahi bhallay, rice cheese roll balls, chocolate mousse, etc).
Their main course menu gives you the option to choose from the list of items with fried rice and chowmein as the sides.
Iftar Platter Price: Rs 1099/- plus tax
Reservation at 051-8467258
Location: F-7 Markaz Islamabad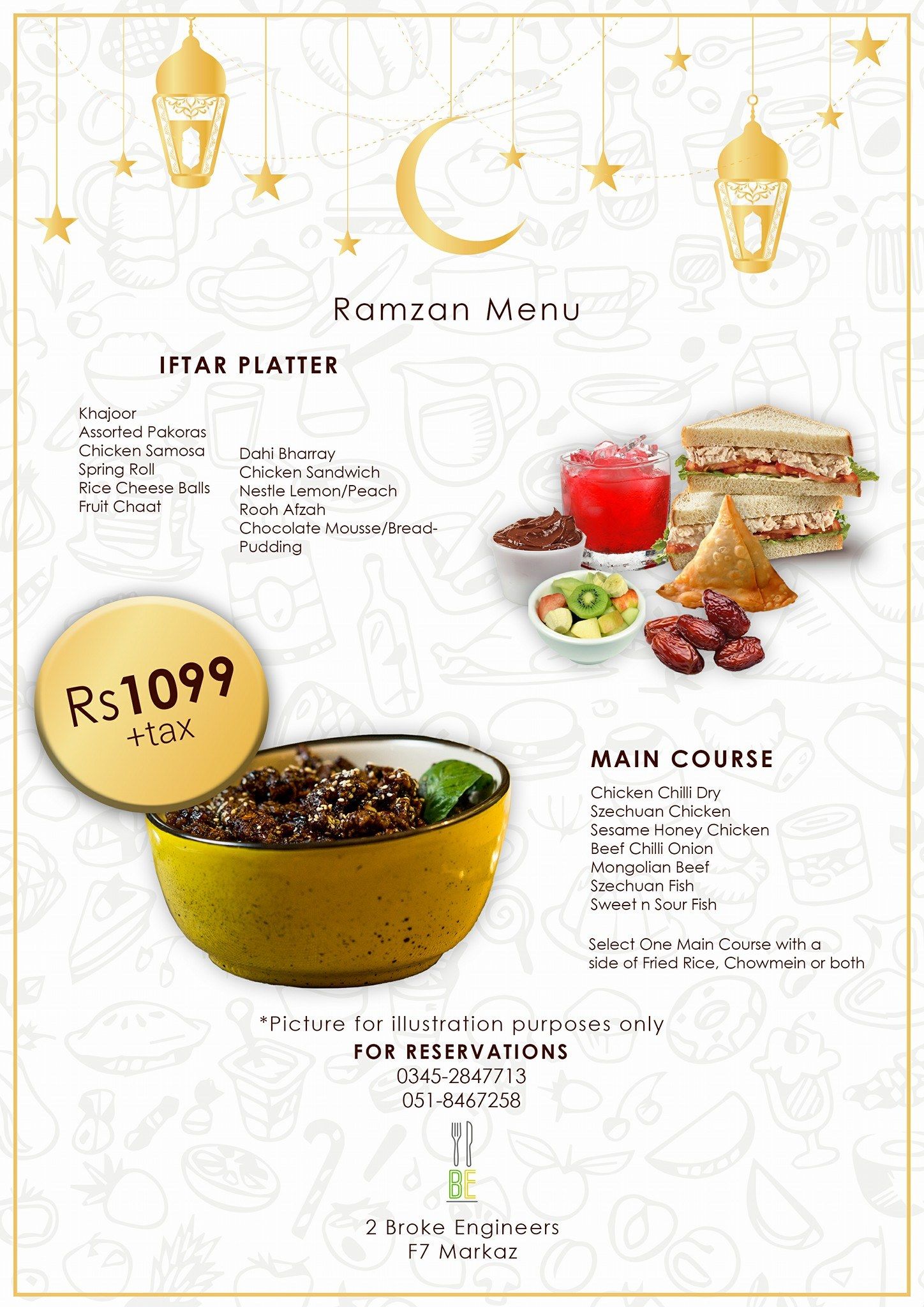 2: Petit Brugge
Petit Brugge, a Belgium based restaurant feels very high-end restaurant at first glance, given its decor and ambiance. But their Iftar buffet is pretty good with 35+ dishes to munch on.
Although their Iftar platter is pretty basic, the main course section surely steals the limelight with beef, chicken and fish delicacies and dessert section is commendable.
Price: 1695 plus tax
For reservation: 051 8738596
Location: Bhittai Road F-7 Islamabad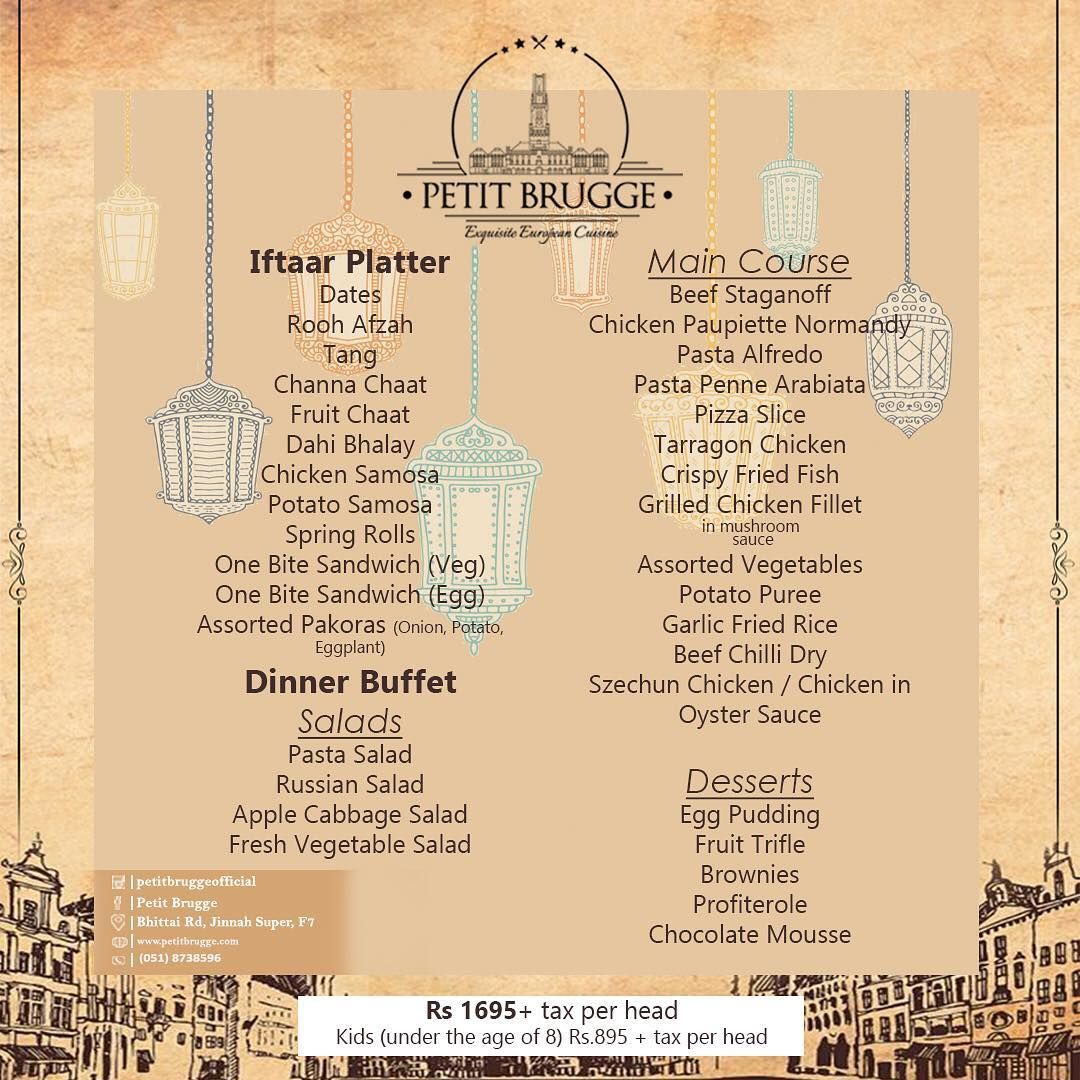 3: Pizza Hut
Pizza Hut's All You Can Eat offer is already receiving an overwhelming response.
The reason behind is obvious that you can eat your favorite pizzas as much as you like. Not just that, salad, garlic bread and drinks all are unlimited for dine-in.
So head over to your nearest Pizza Hut branch and reserve your place.
Price: 1000 incl. Tax
For reservation call 021111241241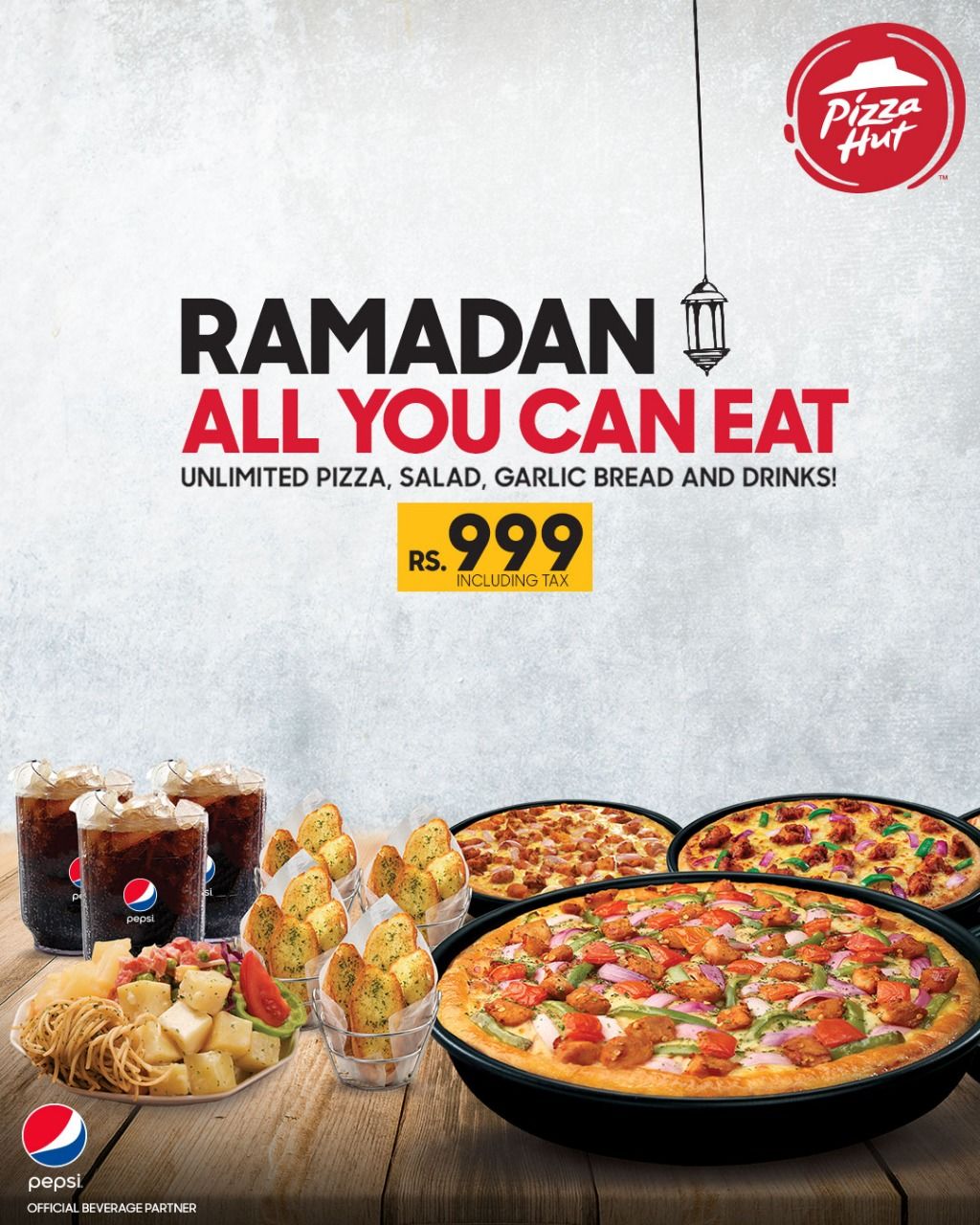 4: Aura Grande
This is by far the best place for Iftar buffet. Why? There are two reasons for it.
Their buffet menu is huge with 50 dishes (without compromising on quality) and secondly, they don't charge your maids.
This means you can bring your maid with you and enjoy the buffet without paying any additional amount. To keep you entertained, there's a live game show and prizes for the participants.
Price: 1595 plus tax
Location: Main Margalla Road, F-11 Islamabad
For booking call: 0320 6668899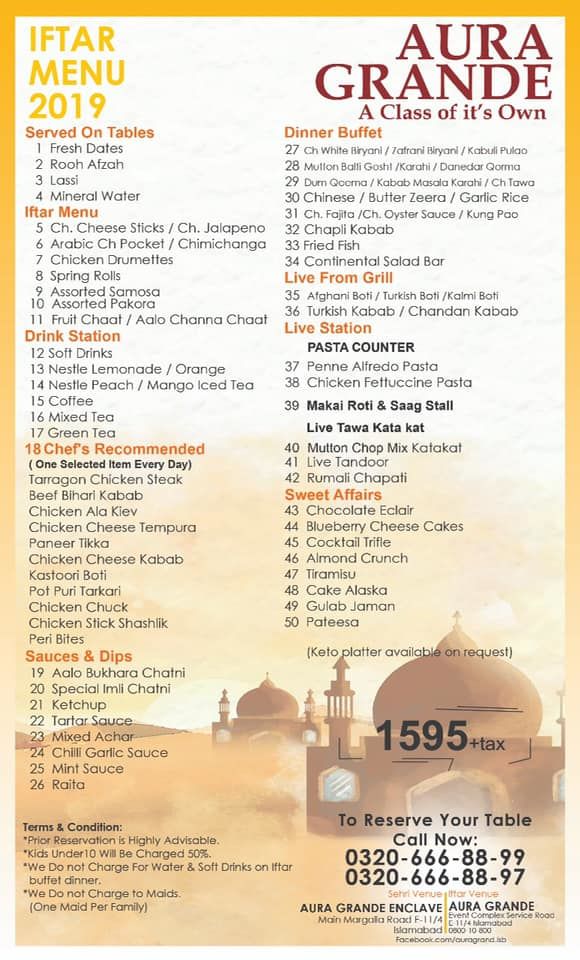 5: Enchanto
Enchanto is located a little far from Islamabad in DHA phase 1 and offering delicious Sehri and Iftar buffet which looks like intimate high end restaurant offering.
Their Sehri menu includes traditional Pakistani breakfast items including nihari, brain masala, and mutton paya. Their Iftar Buffet is generous including mutton, lamb and chicken delicacies.
Sehri Buffet Price: Rs 725 plus tax
Iftar Buffet Price: Rs 1250 plus tax
Location: Plot 8, street 2, Sector C, DHA 1, Islamabad
Also read: List of Pakistani Food that aren't Pakistani at all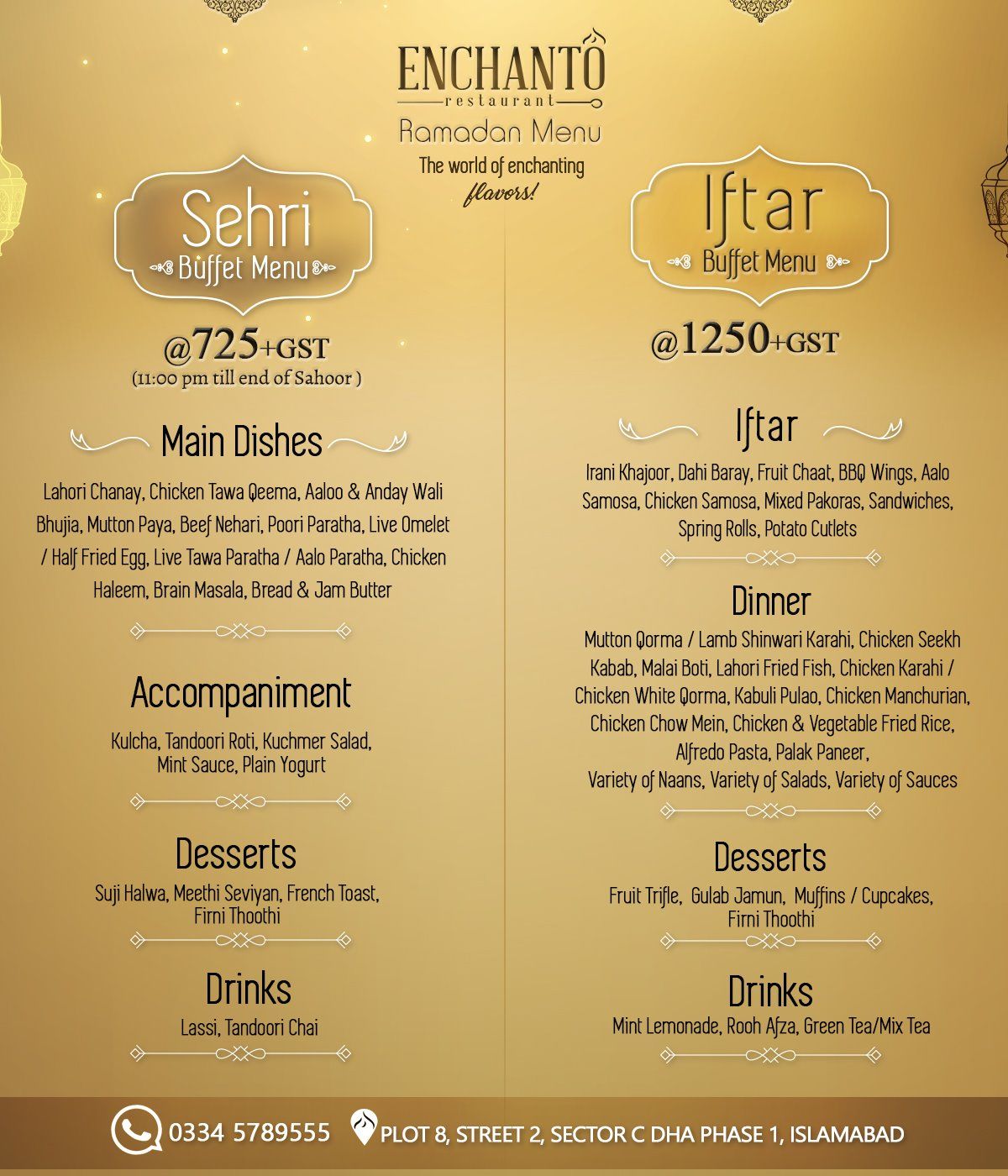 7: The Monal
The iconic The Monal restaurant is offering extravagant Iftar and Sehri buffet in Ramadan.
You can have all the flavorsome Pakistani - Continental and Italian French - Mediterranean Iftar-dinner buffet that should please local and international foodies in Islamabad.
They offer an extensive mouth-watering menu for Sehri as well. The prices are a little higher than other places.
Sehri Buffet: 1095 plus tax
Pakistani - Continental Iftar Buffet: Rs 1695 plus tax
Italian French - Mediterranean Iftar Buffet: Rs 1795 plus tax
Location: Margalla Hills, Islamabad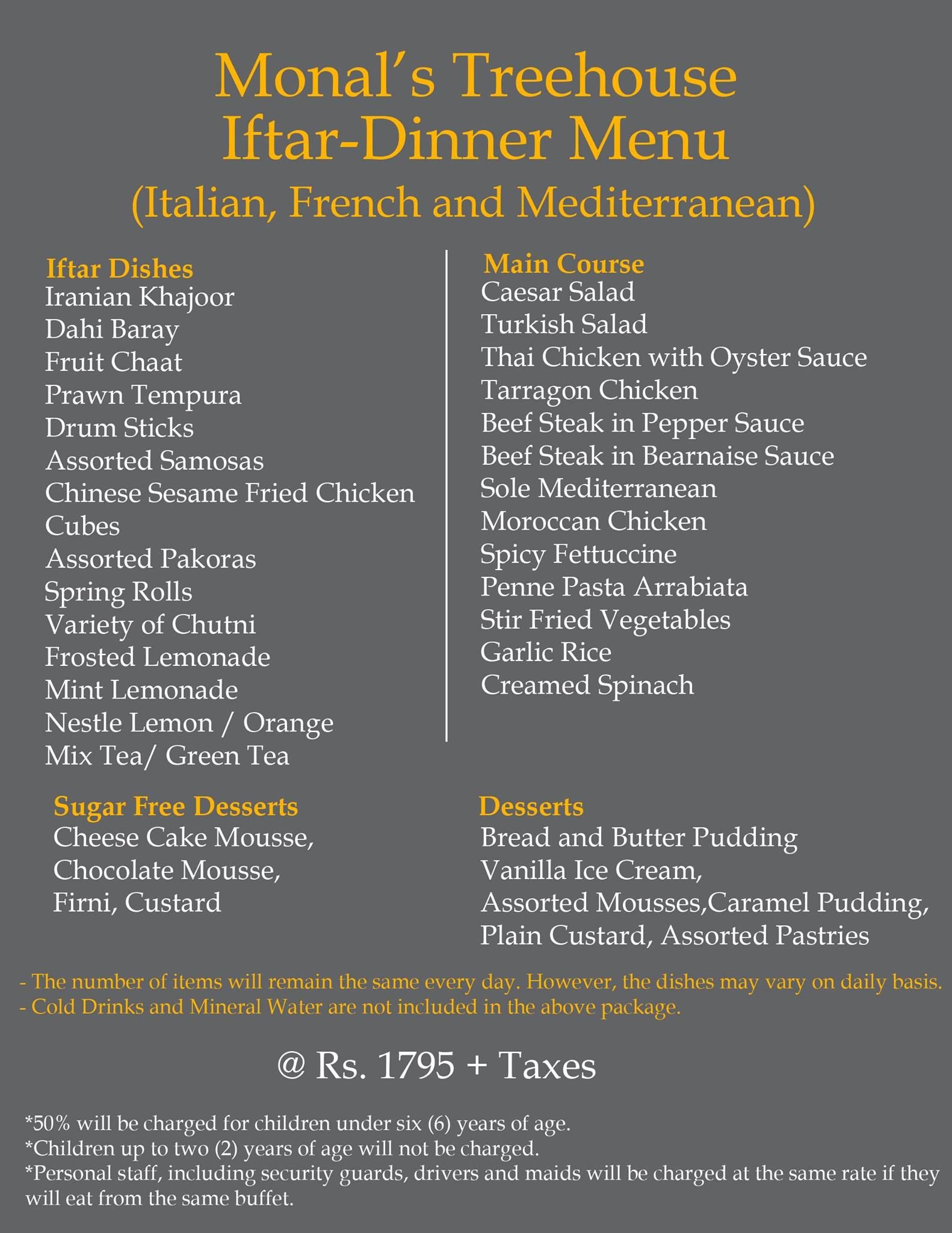 8: La Montanna
La Montanna is offering Iftar cum dinner buffet and it has a competitive price as compared it with neighboring Monal Restaurant.
Not only it is slightly light on the pocket but also you won't compromise much on the panoramic view of Islamabad.
Iftar Buffet 1: Price: Rs 945 plus tax.
Iftar Buffet 2: Price: 1345 plus tax.
Location: Margalla Hills, Islamabad
For reservations call: 051 2898226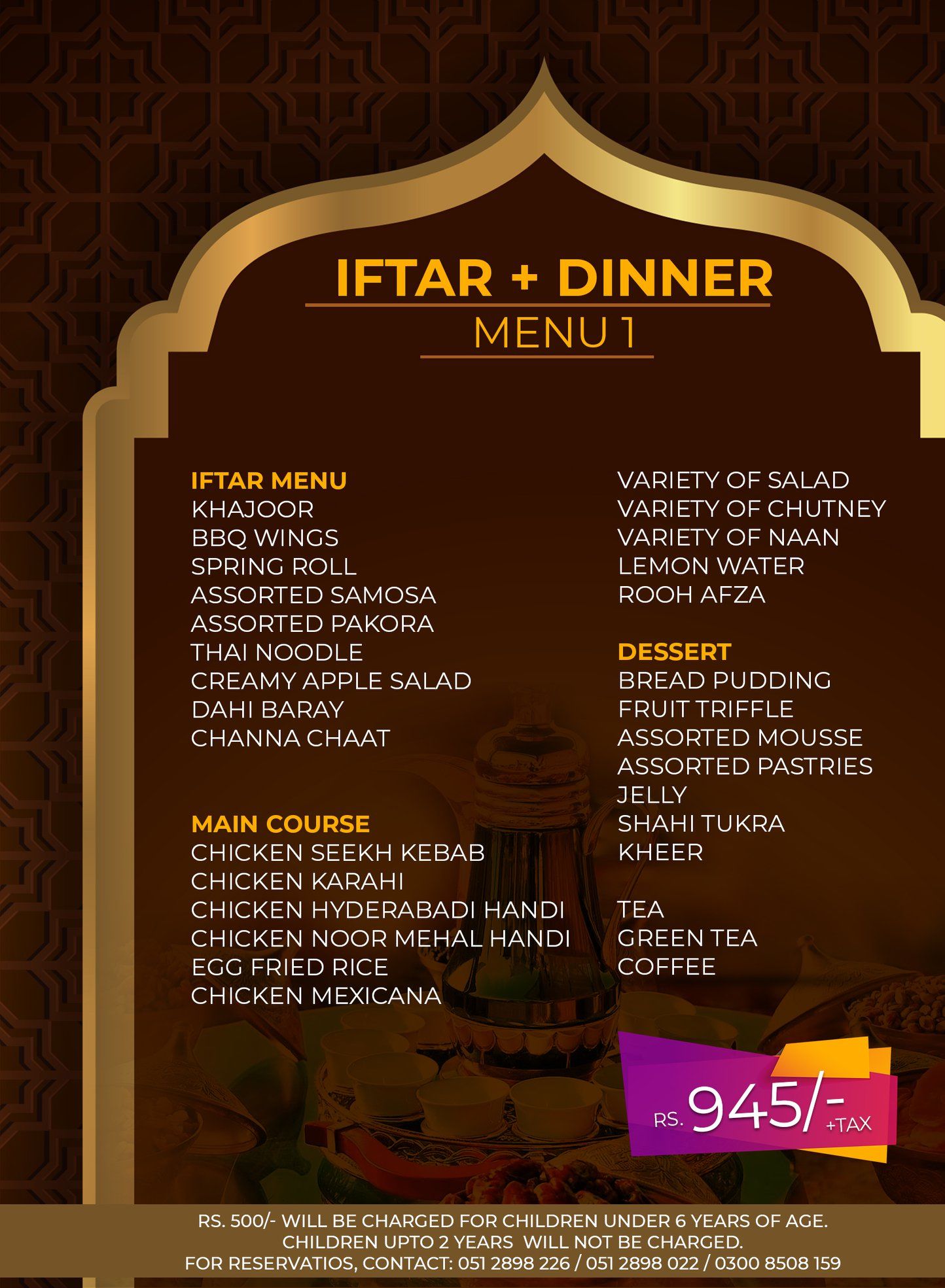 9: Marriott Islamabad
Inside Marriott Islamabad, Nadia Cafe is redefining the Iftar buffet with a wide range of Arabian, traditional and international dishes.
The Iftar cum dinner includes live cooking station to serve piping out cuisines right on your plate.
Iftar Buffet 3000 including tax
Suhoor Buffet 1900 including tax
For reservation call: UAN 051 111 22 33 44
Location: Agha Khan Rd, F-5/1 Shalimar 5، Islamabad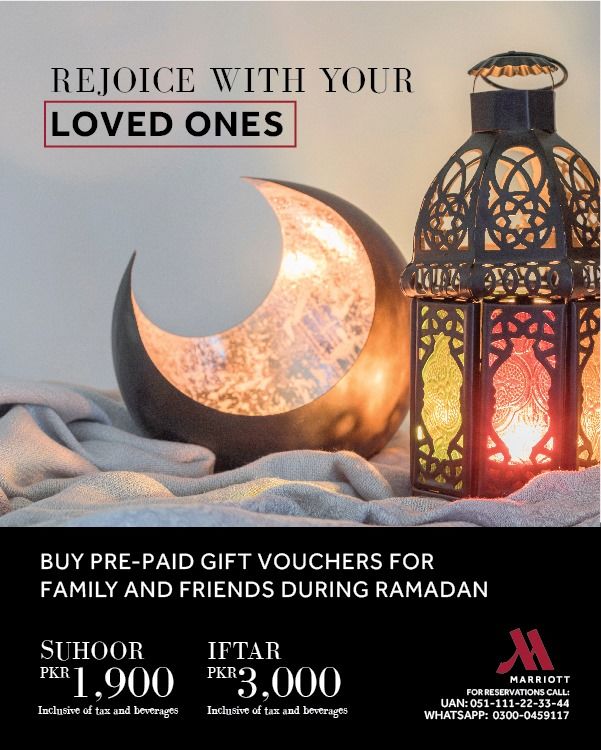 10: Habibi
Habibi is surely for seasoned Pakistani food lovers. It's a diamond in a rough, so to speak, an underrated traditional establishment located in I-8 sector of Islamabad.
Habibi is offering free iftar with their BBQ platter (4-5 persons). Free iftar includes Free Iftar package includes:Rooh Afza, mixed pakoras, samosa, spring roll, khajoor Khas, and fruit chart.
Platter Price: (4950 Rs for 4-5 persons) -Full, (3150 Rs for 3-4)-Half
Location: I-8 Markaz Islamabad
Also read: Best Coffee Places in Islamabad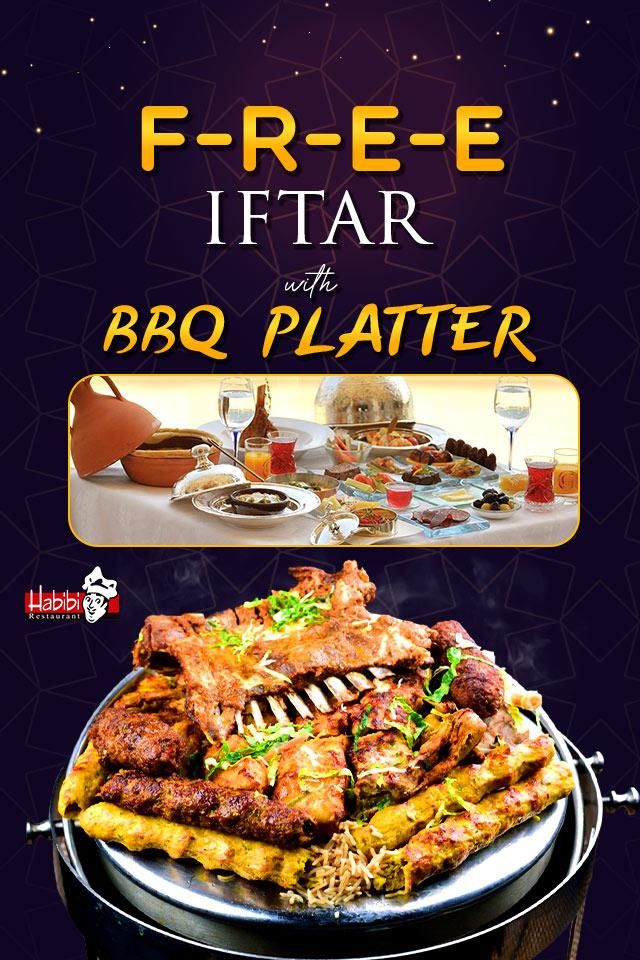 11: Yogi Haus
Beautifully decorated and facing a lush green view of Shakarparian, Yogi Haus offers exquisite Iftar and Sehri buffet at Rs 1299 per person and 599 per person respectivily whereas, 50% is charged for kids under age 6.
The Iftari menu has a range of fruit chart and drinks, the main menu has Hyderabadi mutton korma, palak paneer, Sindhi biryani and more.
Ifari Buffet Price: Rs 1299/-
Sehri Buffet Price: 599/-
Location: Sharkarparian Road, Islamabad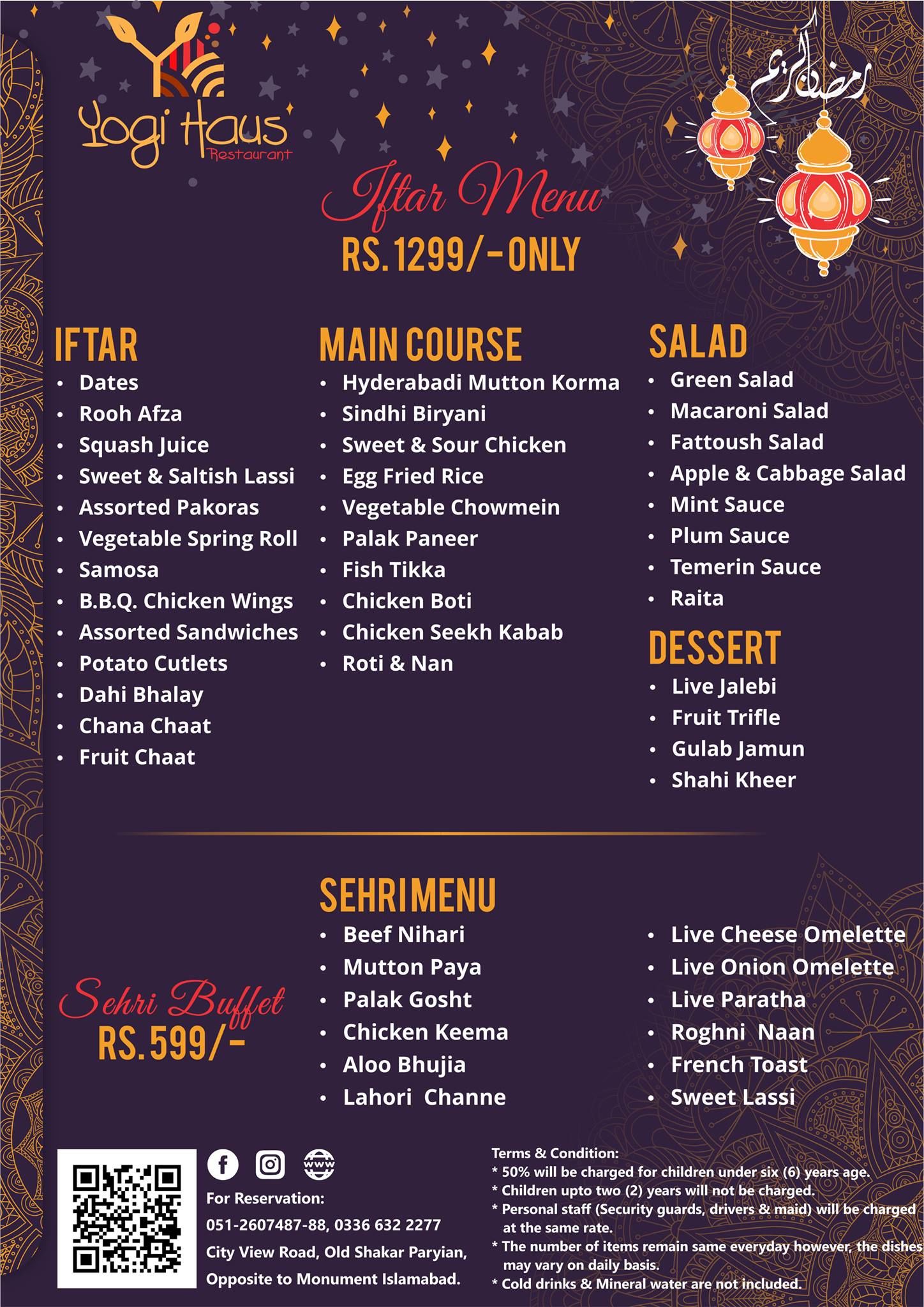 12: Nando's
Nando's is a heaven for someone who loves Peri Peri Chicken. This Ramadan, Nando's is offering a mouthwatering platter which includes chicken wings, chicken skewers, garlic bread, corn, coleslaw, and sauce. The platter is enough for 2-3 people.
Platter Price: 1250 plus tax
Location: F-6 Markaz, Islamabad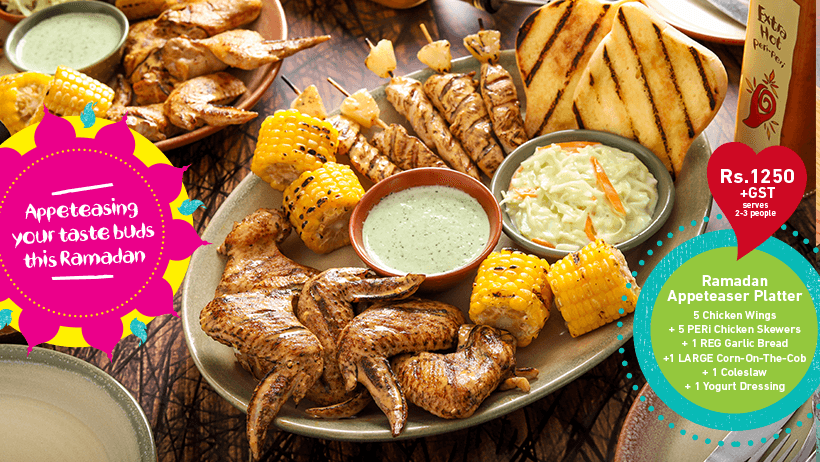 13: Ranchers
Once again, Ranchers has come up with a attractive Iftar platter deal for foodies of Islamabad and Rawalpindi.
Their Iftar platter gives you a choice to select ANY burger of your choice, and rest of the items are the same (samosa, pakoras, dates, Rooh Afza, fruits, fries and a roll).
Price of Rancher's Iftar Platter: 699/-
Location: I-8 Markaz, Islamabad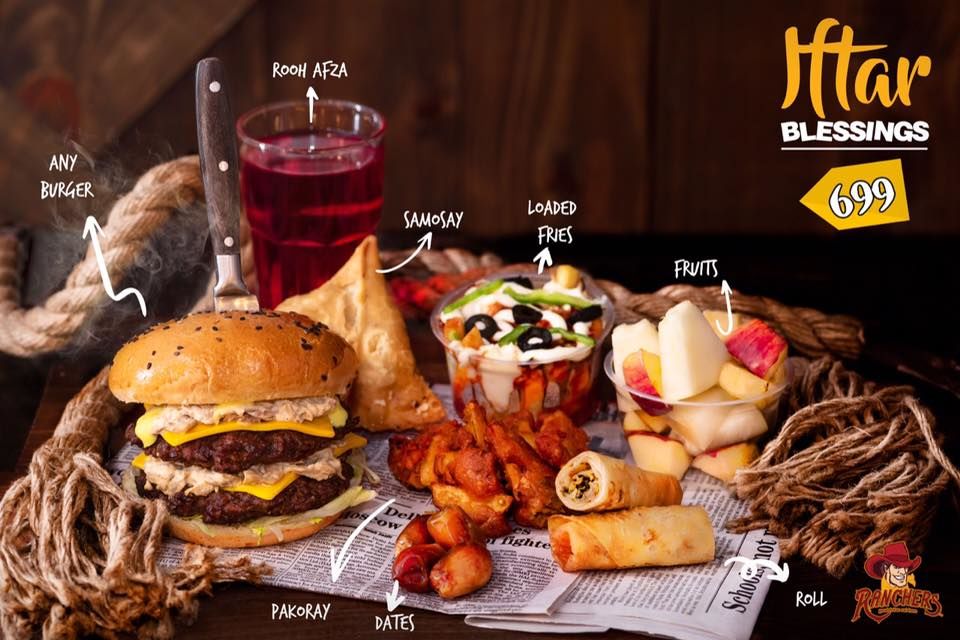 14: Khiva Restaurant
Khiva Restaurant is offering the widest range of Sehri Buffet in Islamabad.
Their Sehri buffet deal has almost everything you can crave for that too for Rs 699 plus tax. Khiva Iftar buffet is more or less the same except breakfast items are excluded.
Iftar Buffet Deal Price: Rs 1299/- plus tax
Sehri Buffet Deal Price: Rs 699/- plus tax
Location: F-7 Markaz, Islamabad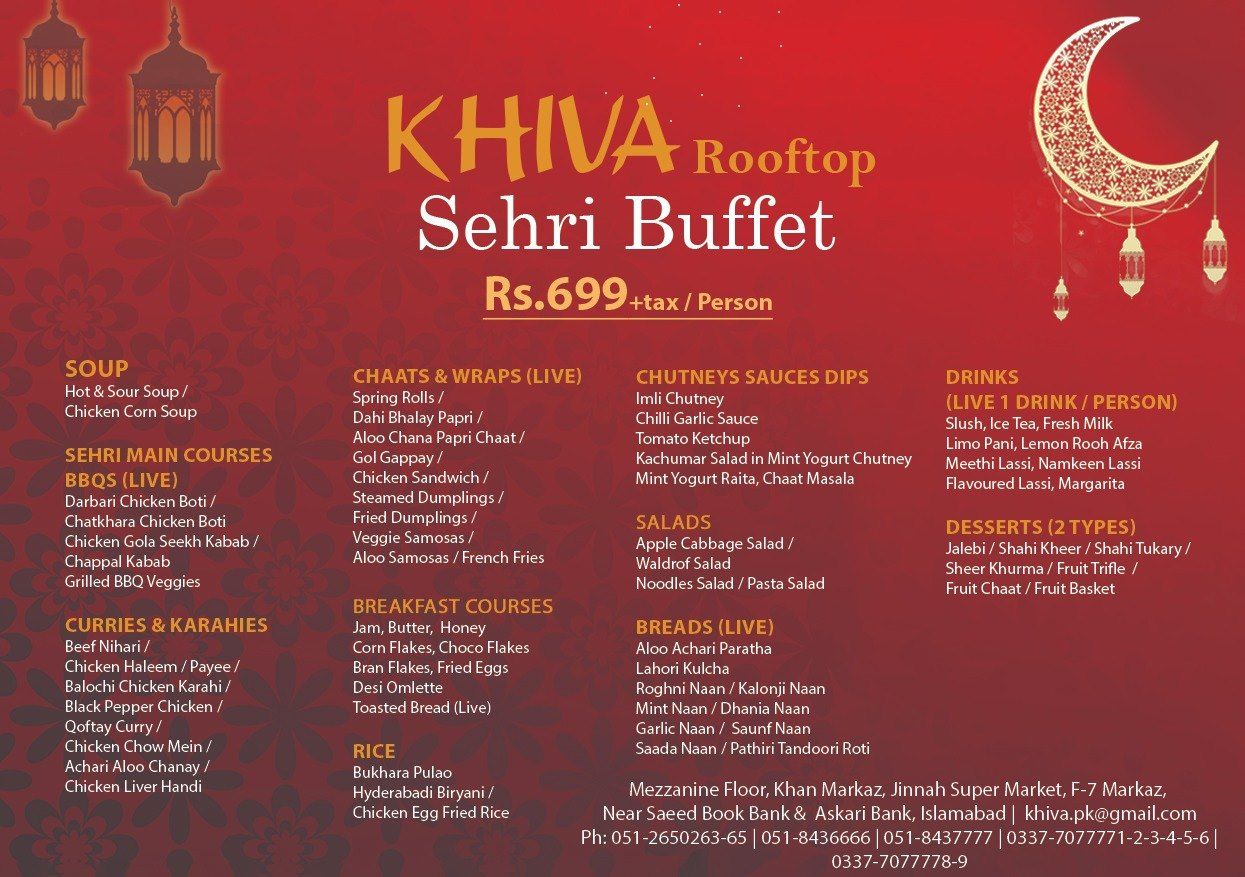 15: Des Pardes
Located at the foot of Margalla Hills, Des Pardes is offering delicious Iftar and Sehri Buffet deals.
The menu is the same as others, which includes a wide range of traditional Iftar and Sehri items. So head over to Des Pardes for some delightful buffet deals.
Iftar Buffet Deal Price: 1499/-
Sehri Buffet Deal Price: 799/-
Location: Saidpur Village, Islamabad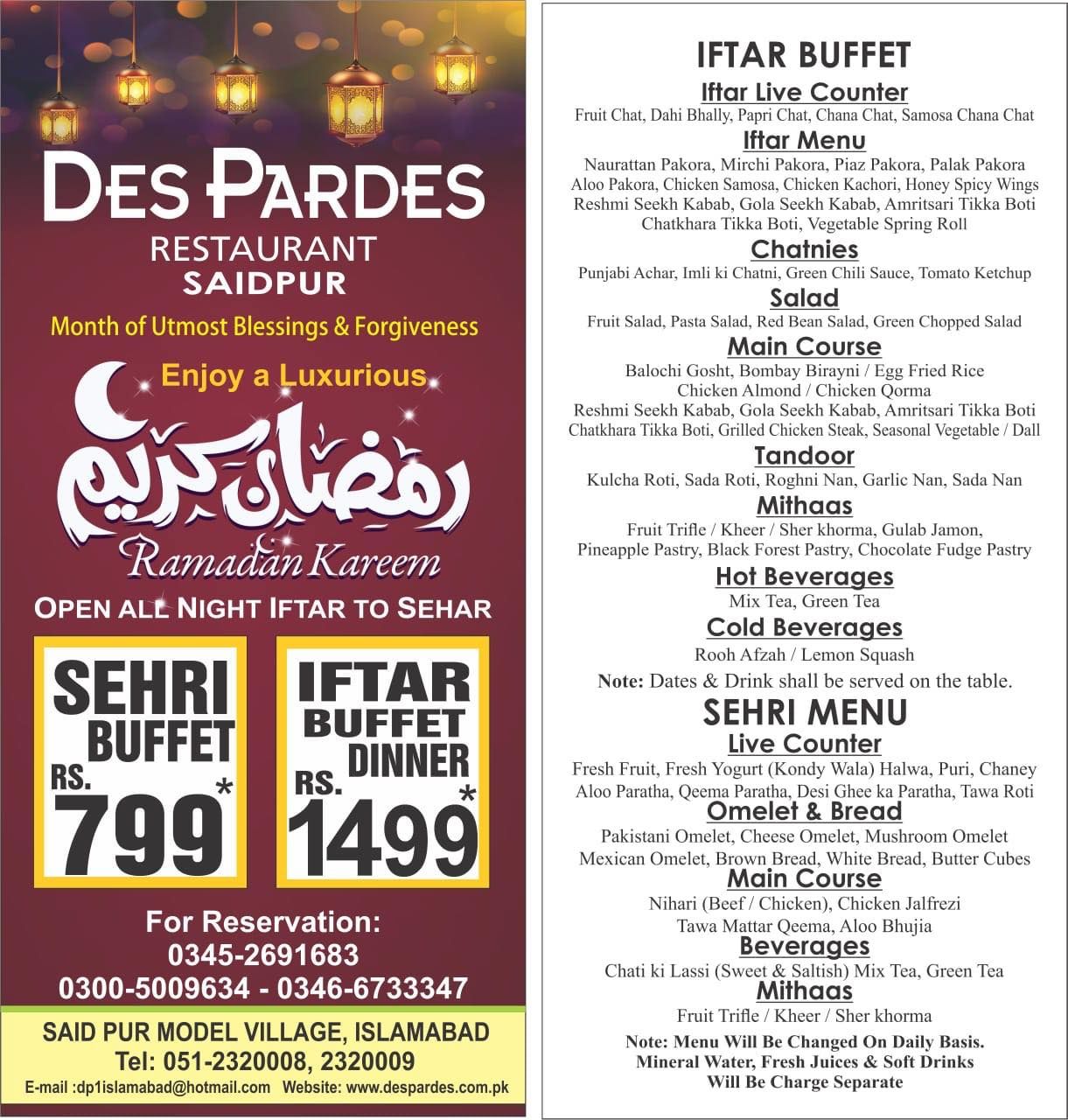 16: Jessie's
Jessie's burger joint located in F-7 Islamabad is offering their own delicious Iftar and Sehri deals for those who love to hang out in a fast food chain during the Ramadan.
Jessie's Burger Iftar menu includes a choice of burger, fries, drink, dates, fruit, samosa and more.
Their Sehri menu includes a choice of Omelette, paratha, pancake/french toast, lassi, tea and more.
Price of Sehri Platter: 695 plus tax
Price of Iftar Platter: 1095 plus tax
Location: F-7 Markaz Islamabad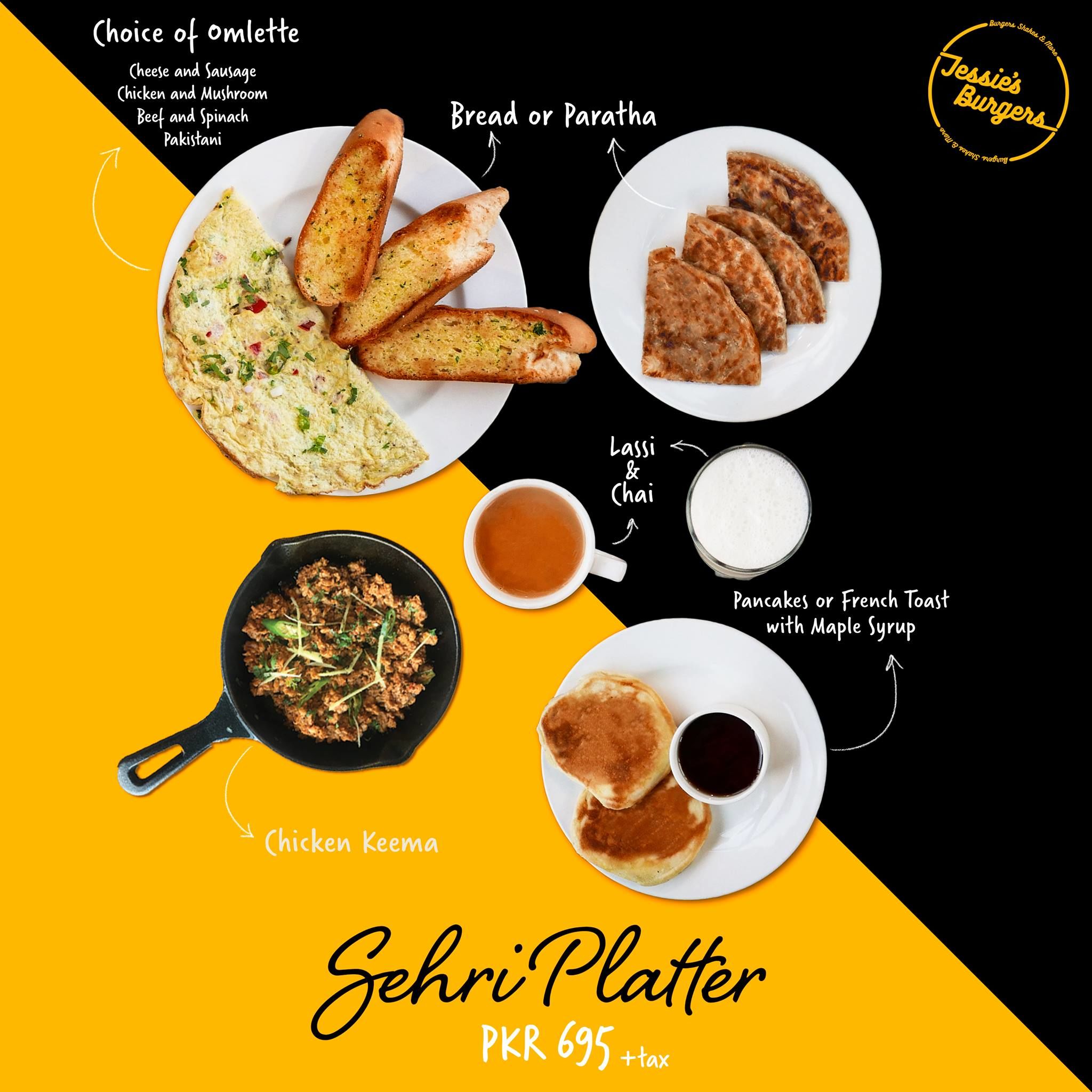 17: Chaaye Khana
Chaaye Khana Iftari deal is different than the rest of the restaurants.
Their Iftar platter has traditional items, however, the deal doesn't look attractive with the price of Rs 599 plus tax. The platter has samosas, pakoras, fruit chart, channa chart, roll, and free tea and drinks.
Price of Iftar Platter: 699/-
Location: F-6 Markaz, F-11 Markaz, Islamabad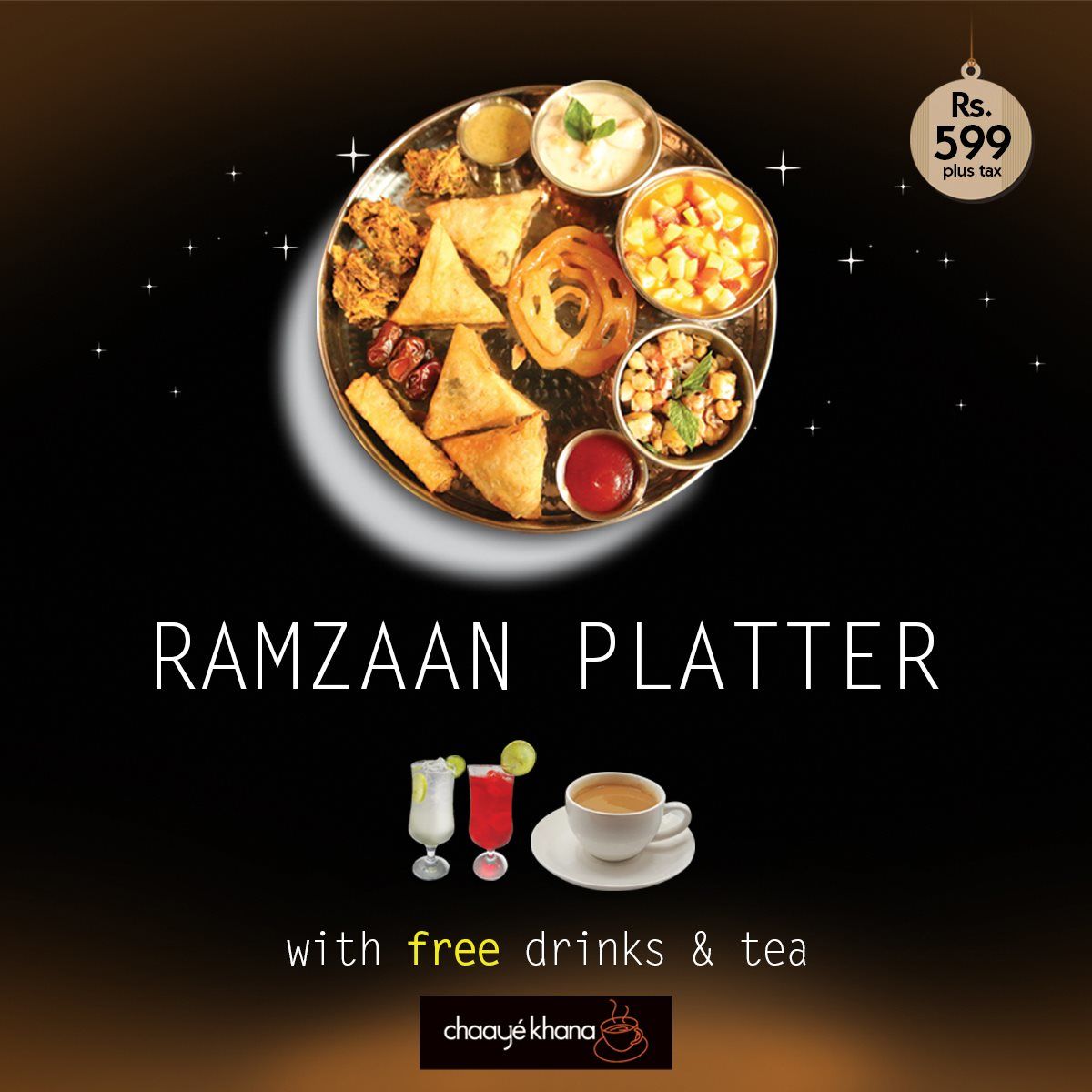 18: Bhaati Gate
Bhaati Gate located in Centaurus terrace is offering yet another Sehri and Iftari buffet.
Although, their menu for Iftar seem like a conventional buffet priced higher than it should be, however, their Sehri Buffet is justifiable as compared it with the rest of the offerings.
Price of Sehri Buffet: 490 plus tax
Price of Iftar Buffet Rs 990 plus tax
Location: Centaurus Islamabad
Also read: 6 refreshing breakfast places in Islamabad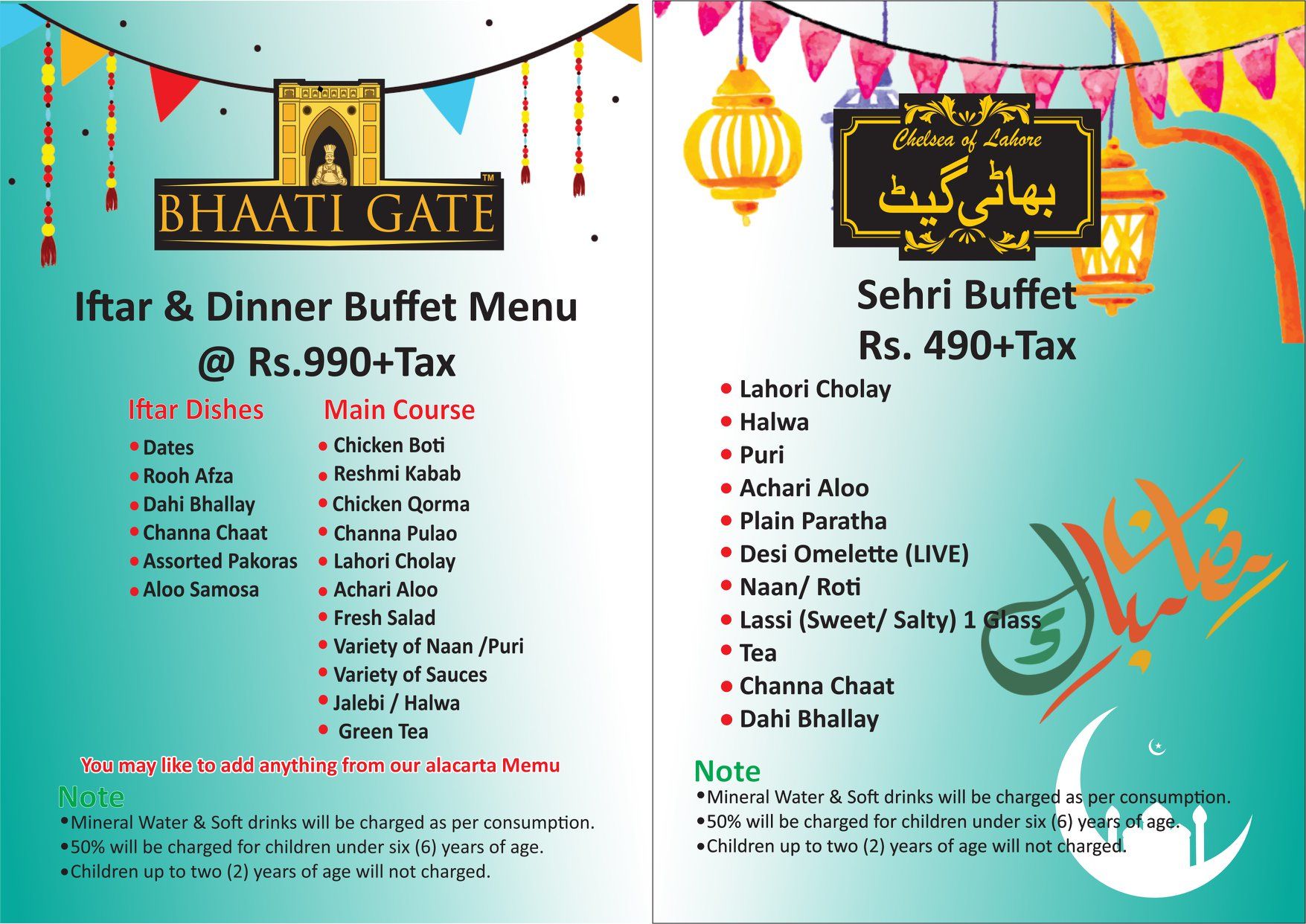 19: Istanbul Restaurant
Istanbul Restaurant in Islamabad is offering delicacies from Turkey with traditional Iftar and dinner items to give a different taste to foodies tastebuds. If you're looking to try something different then this is your go-to place for next Iftari.
Price of Iftar Buffet: Rs 1750
Location: F-6 Super Market, Islamabad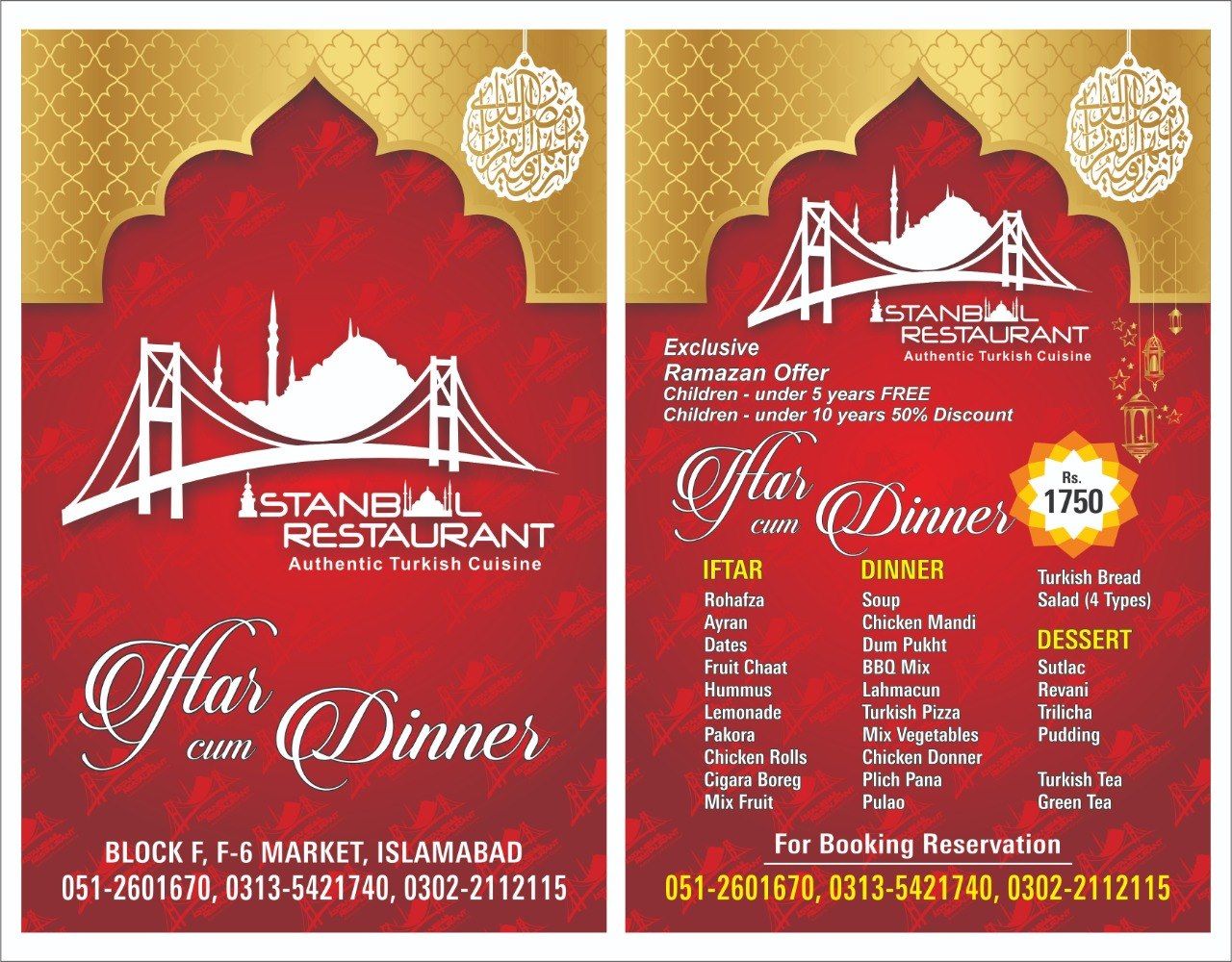 20: Baau'z Cafe
Last but not least, Baau'z Cafe Iftar and Sehri buffet is here to stay.
Their Sehri menu is generous and offers ample choices to spoil you. The Iftari menu has a wide range of cuisines to keep your belly full.
Sehri Buffet: Rs 1795 plus tax
Iftar Buffet: Rs 1195 plus tax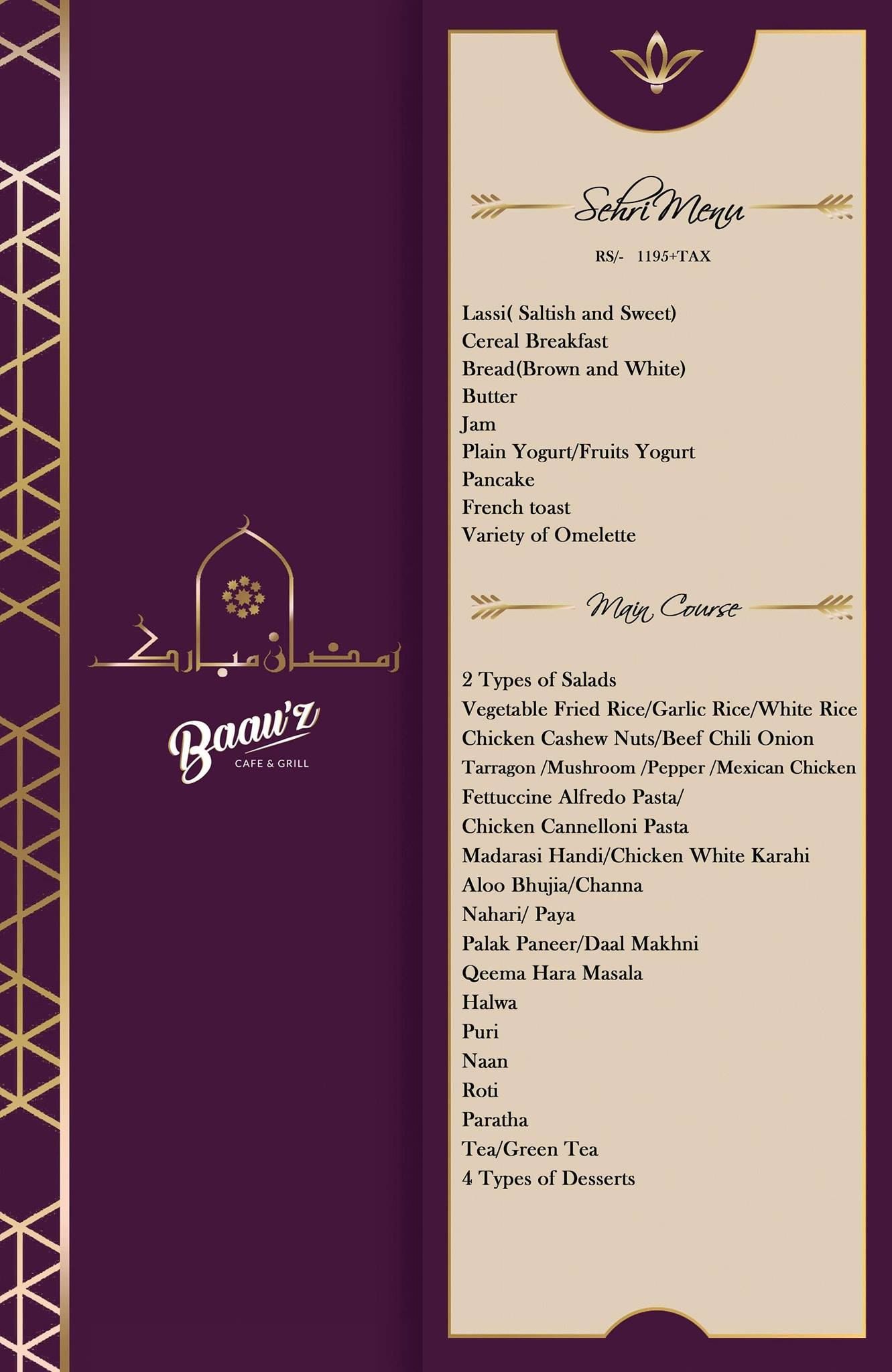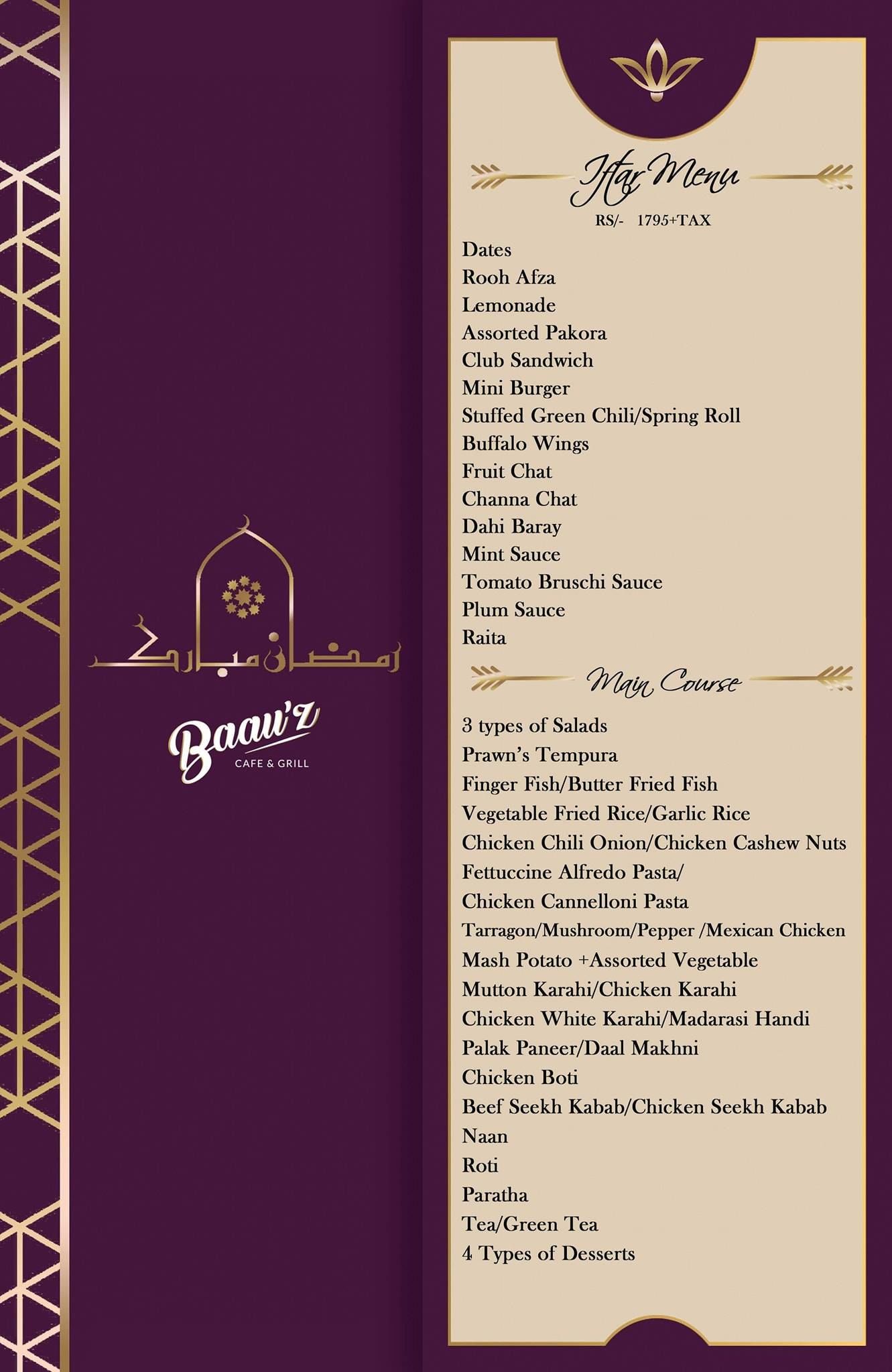 Did you try any of these Sehri or Iftar buffet? Tell us about your experience in the comment below or share your experience on our Facebook page.
Write a Comment
0 Comments
Subscribe to our Newsletter
To receive latest updates and news enter your email address below.