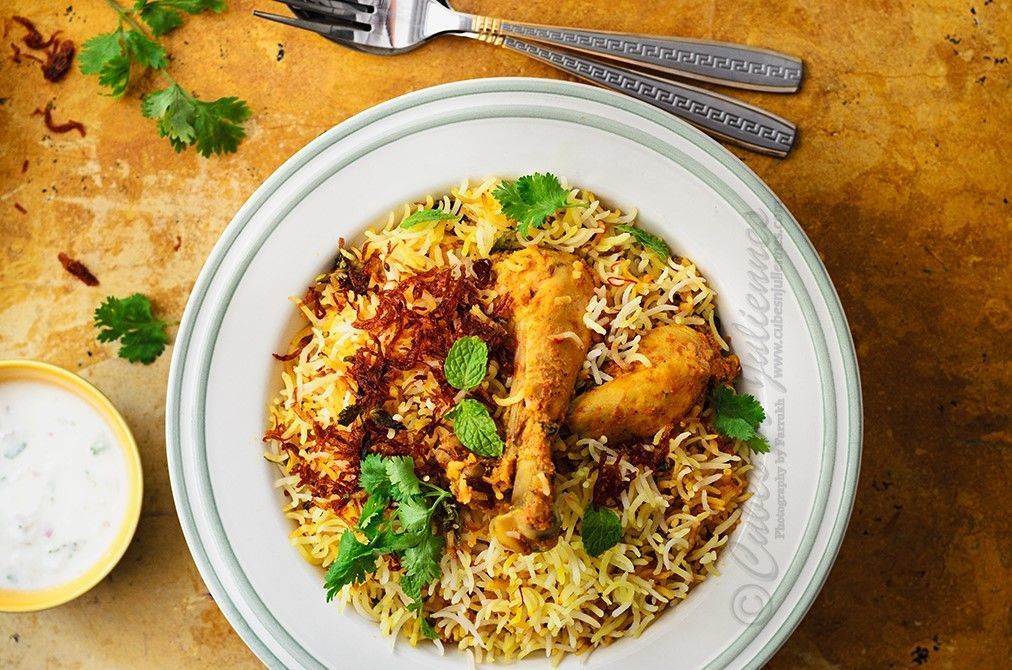 Muhammad Faizan

2018/01/04

1 Comments

1 Likes
There's a Russian proverb - when I am eating I am deaf and dumb. And we can confidently say that we all are dumb and deaf when the food is biryani!
There isn't a single Pakistani or a person who doesn't love biryani. If you don't like it then you probably haven't had a right kind of biryani yet. Isn't this Persian originated cuisine make us all crave for more? I am sure it does!
There isn't one kind of biryani
One thing is for sure, there is more than one type of biryani.
Every style is adapted to its local culinary history. There is Sindhi biryani, beef biryani, chicken biryani and list goes on, with a distinctive aroma to tingle foodies taste buds.
Hyderabadi biryani is one of the most famous south Asian cuisines. It is challenging for cooks and chefs who are not native to this Mughal era cuisine.
The mix of right ingredients and exquisitely adding spices makes it stand out from other biryanis. The right use of saffron, green chilly, curd, onion, and nuts is what makes it delicious.

Who can possibly make better Sindhi biryani than Karachi-ites? The masala seeped potatoes and tangy aloo Bukhara gives Sindhi biryani a distinctive taste. Plus, the sour yogurt is used instead of sweet yogurt.
Sindhi biryani is spicy than other famous regional biryanis. The proportion of masala is more than any other biryani.
Biryani and weddings go together
Our love for biryani knows no bounds during wedding season.
The must-have chicken biryani unanimously makes it to our wedding menu. No matter you enjoy the weddings or not, the quest for biryani with chilled cold drink surely makes your day brighter.
Related: Islamabad's Favorite Curries on Foodnerd
Best places to eat biryani in Islamabad
Karachi can be termed as the headquarter of this heavenly cuisine. Mostly people from Islamabad and Lahore, fail to properly differentiate between a pulao and biryani.
We have sorted a list of four best eateries that can compete with the best biryani places Karachi has to offer.
Of all the biryanis in available in Islamabad, there are very limited restaurants that stand out from the crowd. But we recommend any Karachiites visiting Islamabad to give these restaurants a try.
4: Chacha jee
Simple yet mesmerizing is what chacha jee's biryani is all about. The tender grain of rice is freshly made to perfection. The different kind of combos is served with fiery biryani. The cooks surely know how to indulge biryani lovers with their zesty food. Next time if you are visiting Centaurus, do try one of their specialty, biryani!
Location: Centaurus, Islamabad
Charges: Rs. 330/-
Rating: 3/5
3: Khiva restaurant
Khiva restaurant offers a generous variety of shahi biryanis. From Nau Rattan biryani to Shah Jahan biryani, the use of a right amount of spices and other ingredients will make you crave for more. If you are feeling hungry, wait no more. Order here.
Location: F6 Markaz, Islamabad
Rates vary from Rs. 499- 599/-
Rating: 3.5/5
2: Mehboob Cuisine & Grill
Another joint located in Blue Area make to our list. One of the main reason people throng to Mehboob cuisine and grill are their delicately cooked biryani. The love for their chicken Bombay biryani is unmatched. It is exquisitely cooked, served in mitti ki handi and surely worth giving a try. Order it here.
Location: Jinnah Avenue, Blue Area
Rates start at Rs. 170/-
Rating 3.5/5
1: Chaman Biryani
Chaman Biryani is situated in Blue Area Islamabad, their biryani is said to be one of the most loved biryani across the capital city. The owner himself belongs to Karachi and have plenty of culinary experience in making this delicious dish. The only item available at Chaman is their biryani. So do yourself a favor and try it now. I am sure you will become their permanent customer. Craving for one? Order here.
Location: Blue Area Islamabad
Charges start at Rs.140/-
Rating: 4.5/5
Related: Islamabad's Top Mouthwatering Desi Restaurants

This means that there are several other biryani joints in Islamabad that we have to explore. But one thing is clear, the need for biryani that offers reasonable price, authentic taste and great quality is not over yet.
Did you find any other place in Islamabad which can top Chaman Biryani? Let us know in the comment box.
Write a Comment
1 Comments
ahmad sibtain
about 2 years ago
If you are a foodie, you can never say "No" to the biryani. Your research is informative or perfect. But i have some more information about biryani. Here is the list of best biryani in Lahore. Visit Best Biryani in Lahore on Mushwarah.pk https://mushwarah.pk/food/best-biryani-in-lahore/