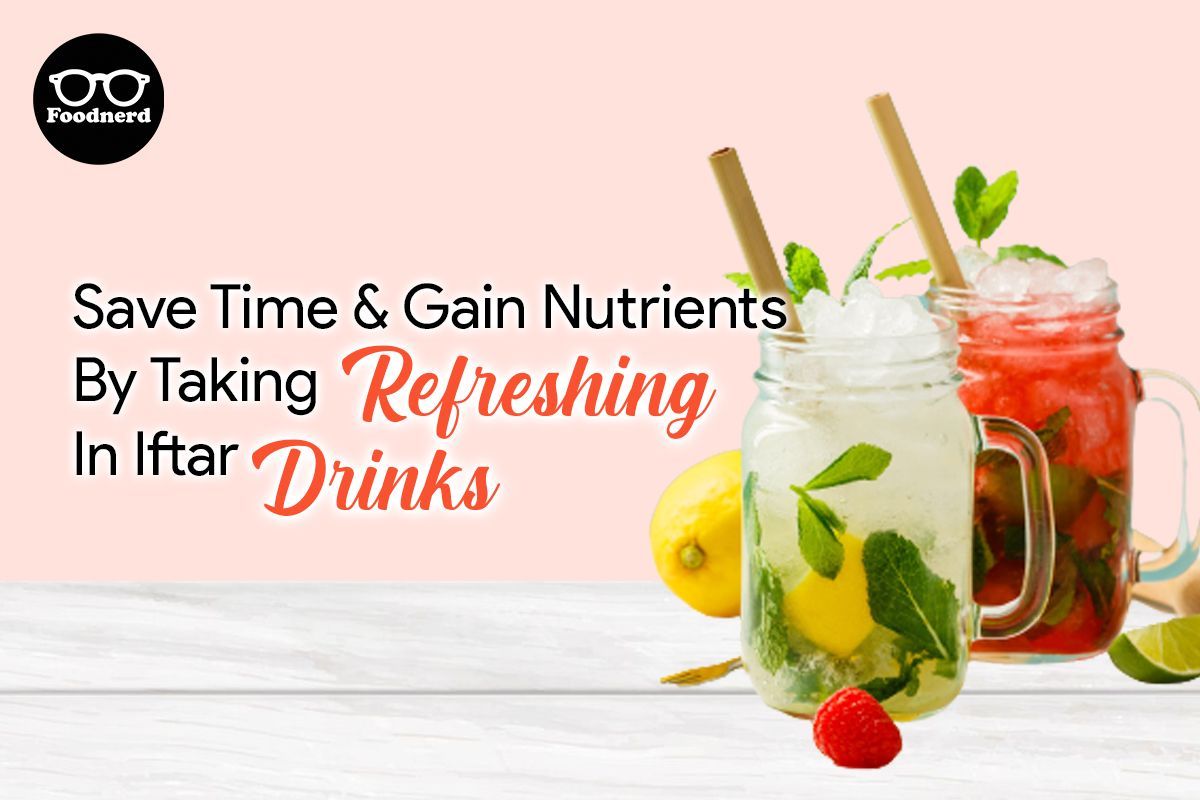 Nubaira Ahmer khan"

2022/02/28

0 Comments

0 Likes
Ramadan 2022 is coming soon. Are you ready? It is the time to innovate your everyday food recipes because, after a long fast, our bodies need something special. So Have you listed down all the exciting recipes of refreshing drinks and the healthiest food that will lighten up your mood and energize your body with their lovely taste? If you are looking for the iftar drinks for Ramadan, then continue reading it because we will answer all your questions, including  What is the best drink for Iftar? Which juice is good for Iftar? And What is the healthiest refreshing drink?
Top 8 refreshing drinks for Ramadan 2022 
Beat the heat with the top favorite and easy-to-make refreshing drinks for Ramadan that will make your body more refreshing. We have highlighted the full recipes for this Ramadan that will not only quench your thirst but also proves to be safe and healthy for your stomach. So don't need to search anything more because we have highlighted a complete menu of drinks for your Ramadan with a quick and easy recipe. 
Read 
Different Types Of Milk Available On Grocery Store
Storage Tips To Keep Veggies Fresh
Pulpy Mango Booster 
Pulpy mango booster is the highly recommended nutritious drink that replenishes the hydration level and tiredness with its unforgettable taste. It will maintain your body health, and you'll not suffer from malnutrition. This drink is the best Ramadan iftar drink which is very beneficial, and if you add this drink to your Aftar party, no doubt your family and friends can not get over this drink. It just required two things, i.e., mango and iced water. Just peel the mango, extract the pulp and blend it in the iced water and the refreshing pulpy mango booster is ready. 
Watermelon Cooler Punch
After a long dried-up throat of fasting the watermelon cooler punch, the most astounding drink hits differently. It is the healthiest refreshing drink for Ramadan that will help you refill your water capacity. The watermelon cooler punch is created with the most straightforward and most easy recipe that you'll prefer to make again and again because of its nutrient-rich and easy recipes. You just need to take watermelon, mint leaves, lemon juice, a pinch of black salt, and sugar according to taste and then blend all the things and see how fast it will turn into a watermelon cooler punch. It contains no artificial ingredients, safe and healthy for consumers. However, it is recommended to not drink water right after drinking watermelon cooler punch; instead, wait for half an hour and then drink water.
Read 
Kashmiri Tea The Gift Of Winters
Perfect Afternoon High-Tea Ideas
Strawberry Smoothie
The strawberry smoothie is also the most adorable drink, especially during Ramadan. It is the most fulfilling drink to boost energy and charge your low battery. You are just required to blend the strawberries in yogurt, and ice, then add sugar according to taste, and the strawberry smoothie is ready to drink. Well, strawberries are the all-time favorite drink. If you want to drink its juice in a lighter version, you can make a strawberry smoothie without yogurt, just add strawberry, lemon, and sugar in iced water and then blend all the ingredients and the strawberry smoothie is ready. The strawberry smoothies are the most refreshing and healthiest drink in Ramadan that you must try.  
Peach Punch
The best healthy drink to consume in Ramadan is peach punch created with the simplest ingredient. It only required peeled peaches with water and Himalayan black salt to make its taste sweet, salty, and sour, which will tantalize the taste buds. It is the most refreshing drink to consume in Ramadan. Due to its most straightforward recipe, it is considered the best drink during iftar. 
Also read, 
Can Ice-cream Help You Lose Weight
Cardamom Milk
The yummiest and most delicious drink to try in Ramadan is cardamom milk. To be very honest, it is the safest drink to consume in Ramadan, and it works as an energy booster. Just take Milk, add cardamom powder, then add honey according to taste, and add crushed dry fruits including roasted almonds, pistachio, roasted cashew and that's it. You'll love to drink it because of its delicious mouth-watering aroma. Moreover, it is highly beneficial because the dry fruits are rich in calcium, magnesium, vitamin A, C, E, K & B6. This healthy milk will immediately add spark to your health, and it will strengthen your bones, muscles, teeth, and brain function, and you'll have the energy to pray at night and receive blessings from the Lord in this blessed month. 
Lime-Mint Sap
The Lime Mint sap is the lighter version of Mint margarita without carbonated drink or soda that proves to be dangerous for the fasting body. It is a lightweight version drink that will throw away all the tiredness and fatigue. The lime mint sap is the loveliest drink in Ramadan. It is considered the top refreshing drink of summer made with the simplest ingredients available all the time in the kitchen. You are just required to have lemon juice, mint, sugar, and iced water, and then you'll blend the mixture in your juicer machine, and tadaaa the lime-mint sap is ready to consume. 
Read 
Aam Panna
One of the most exciting drinks which is considered a cure for Hot temperature, dehydration, and lower glucose levels are Panna. It is a combination of sweet and sour drinks created from the unripe green tart mangoes. green mangoes are boiled in water, then brown sugar salt, cumin powder, black salt is added to the extract, and then this extract will be mixed in water, and Panna is ready to serve. It is the most lovely drink bursting with flavors. It is safest to consume in Ramadan. 
Almond-Dates Wobble 
Ramadan is the month of blessing, and it requires us to spend more time in prayers and devotion and spend quality time learning more about religion and good deeds. Therefore, if you want to know the healthiest refreshing drink in Ramadan, this drink is the exact answer to your question. The Almond-Dates wobble is one of the best combinations for Ramadan, full of healthy nutrients and no artificial things that harm your health. It is the most organic drink because of the three ingredients, fresh cow milk, dates without seed, and almonds, and then mix all the ingredients well. Refrigerate the juice and then serve the chill almond dates wobble to enjoy its lovely taste.    
Read 
Introduction To Pakistani Cuisine
Amazing Restaurant Spots To Add In Your Checklist When You Visit Riyadh

Write a Comment
0 Comments