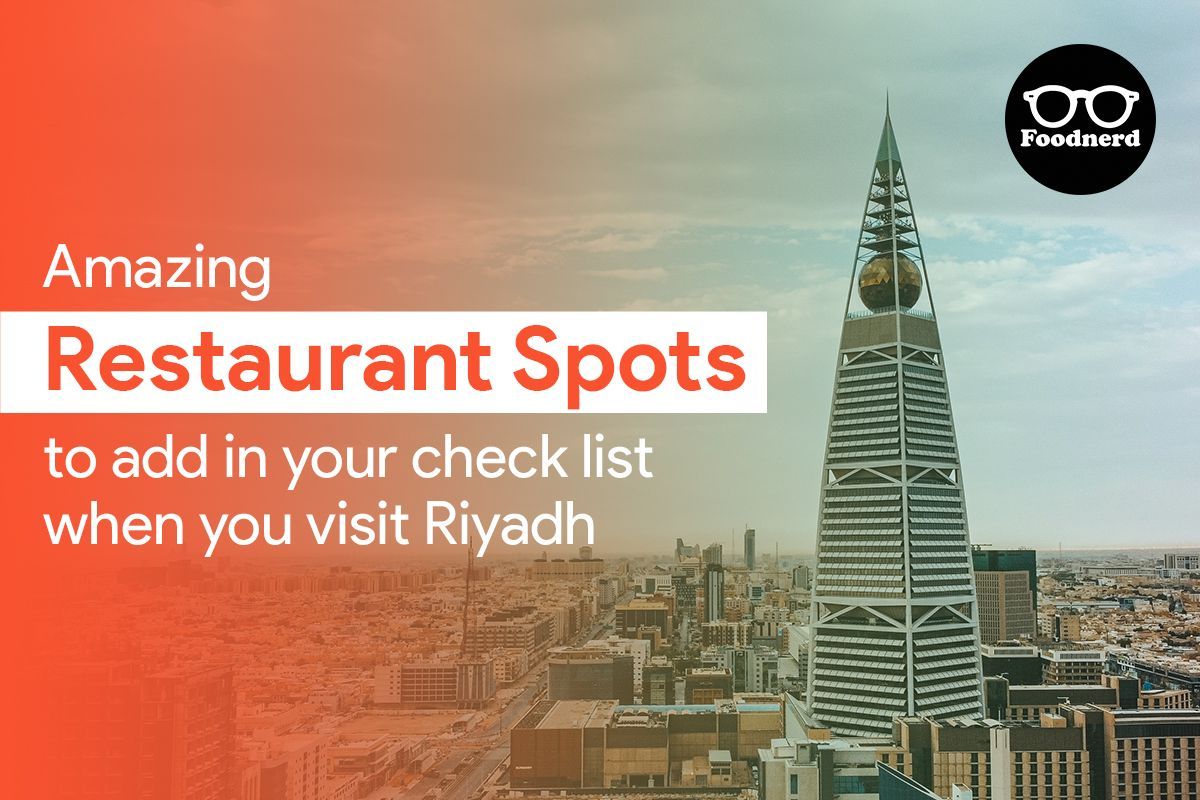 Nubaira Ahmer khan"

2022/02/28

0 Comments

0 Likes
Riyadh is the cultural capital of the Arab world, where you'll experience delicious aromatic cuisine with a fantastic experience. It is the capital of Saudi Arabia and the largest city in the Arabian peninsula, came in the third number in the Arab world ranking. From a small and isolated town to a massive and exponential global center, Riyadh is the top tourist destination in the Arab world that you must visit. It is a home of top-notch restaurants, so Riyadh will never disappoint you when it comes to a dining experience in Saudi Arabia. If you are thinking that what are the best restaurants in Saudi Arabia and want to have a guide to the best restaurants in Riyadh, then continue reading it because we have highlighted a list of the best place to eat in Riyadh. 
Read 
5 Most Unusual Foods In The World
Perfect Afternoon High-Tea Ideas
Top Six Restaurants To Visit In Riyadh 
When it comes to restaurants, you'll find excellent international and local restaurants in Riyadh that give amazing food with extraordinary ambiance. If you are foody and want to try amazing delicious yet unique cuisine, continue reading it. We have highlighted a comprehensive checklist of Top Saudi Restaurants that you must try in Riyadh. 
Billionaire 
The most trendy place among the best restaurants in Saudi Arabia is a billionaire. It is the most extravagant place, which is hard to book or find a spot but believe me, it is well worth it to try out. They have the most glamorous team that warmly welcomes their customers when they step in. The interior of the billionaire is beautiful and welcoming, with bright red curtains and high ceiling space. The best and most exciting thing about the billionaire restaurant in Riyadh is that the dinner will be served with a live cabaret that features singers and dancers to give guests a thrilling experience while dining. You can discover the most mesmerizing taste of Asian-Italian fusion in their cuisine. The billionaire restaurant is a fantastic restaurant that keeps us entertained. 
Read 
How To Drive Consumer Engagement In Your Restaurant?
5 Quick Ways To Improve Customer Services
Loft Riyadh 
Loft Riyadh is the must-go place that promises to serve the most amazing dishes with a creative presentation that will make you fall more and more. They always have something exciting that elevates your interest, such as the beetroot salad and the goat cheese. You'll discover the unique and sophisticated taste at loft Riyadh that will amaze you by uncovering the true greatness of the fantastic world cuisine. If you want to taste the tremendous Vietnamese rice, then give it a try to loft Riyadh and you won't be disappointed because the Vietnamese rice is served in coconut shell there. Loft Riyadh's ambiance and taste is a unique and excellent place to visit with friends and family. This place especially can be considered ideal for dating. During the evening the restaurant is full of couples young and old. Additionally, if you love the dark cozy interiors, you must add loft Riyadh to the list of the best places to eat in Riyadh. 
Toastic
Anyone who is an excellent fan of bakery items must add Toastic to their comprehensive checklist of Saudi restaurants. Toastic is the number one bakery in Riyadh, which is well worth venturing. The extraordinary thing about toastic is that it can be easily browsed even in the middle of the night from any food delivery app. You'll love the aroma of their freshly baked cakes, bread, cookies, and sandwiches. In Toastic bakery, you'll find the most delicious taste of middle eastern bakery items. Well, this bakery is the busiest among all because they have a lot of orders that need to be delivered as early as possible. On weekends especially during breakfast, you may find Toastic very crowded because the people in Riyadh prefer Toastic over anything else.  
Najd Valley 
If you want to try something exciting and we can say pure Saudi cuisine, then Najd valley is the perfect place for you that offers the most authentic Saudi cuisine with a delicious taste. The most interesting fact that provokes people to add Najd valley restaurant to their comprehensive checklist of food places is because of the traditional Saudi taste and the setup. That gives the original vibes of visiting Saudi Arabia. Similarly, the food is served in private booth-like areas that maintain privacy and give guests a relaxing experience. 
Read 
Different Types Of Milk Available On Grocery Store
Soft & Chewy Granola Bars; New Trend, New Addiction
Moon Shell
If you are a vegetarian and prefer to eat meat-free food, we have featured moon shell restaurants in this comprehensive checklist for Saudi restaurants. This is a fantastic restaurant that serves all the vegan food, and you'll find a variety of vegetarian dishes on their menu. A remarkable thing about Moon Shell restaurants is that they serve a latte topped with almond or soy milk instead of dairy milk. While their desserts are also made up of non-dairy products such as groundnuts, cashew cheese, etc., you'll fall in love with their delicious banoffee pie, while their blueberry cheesecake tastes heavenly with the thick layer of nuts. Well, Moon Shell restaurant in Riyadh is highly recommended for its delightful dessert. One of the major attractions in Moon Shell is their ice cream dessert which is served in a hollowed-out coconut shell that is overloaded with fruit cocktails, and flax seeds are generously sprinkled over it.    
Roka
Roka is one of the most recent Japanese restaurants recently launched in Riyadh with its full bloom. Its menu includes amazing Japanese dishes including sizzling grills, clean-cut sushi, and creative desserts. All the best chefs have presented their mouthwatering dishes in a lovely way. The waiters are also very elegant here. An essential thing about Roka in Riyadh is that this place is always filled with people, and it depends on luck that you can find a home here. Their asparagus, avocado, and cucumber roll, which packed the vegetables in its delicate layers, are most delicious. You must try their baby spinach served with umami-filled sesame dressing, which is quite impressive. If you are a fan of dumplings then you must try their beef dumplings with the winning combination of ginger and sesame seeds. Well, their baked potatoes with chive and cream cheese taste heavenly. In the dessert section, the cheesecake and fluffy sponge cake win hearts.   
Best Food Delivery App In Riyadh 
Foodnerd food delivery app is one of the top-rated online food delivery applications that provides a user-friendly experience to customers. Users can find the list of restaurants located nearby in their respected location and then easily hunt for the best food place in their town, including the five-star restaurants, casual dining and takeaway area, sweets, bakeries, coffee corners, and everything in one place. 
If you want to eat your favorite food, or you are in a mood to have delicious coffee, or you want to send your loved one's chocolates, sweets, cake on special occasions, then the Foodnerd customer app will prove to be your first choice. Additionally, we are always available to serve your cravings, including burgers, pizza, shawarma, pasta, sushi, even in the middle of the night. 
The best thing about the Foodnerd customer app is that it provides fast delivery; customers can easily browse any dish with the details of its ingredients, orders can easily be tracked, and viewers can view the ratings and reviews of specific restaurants before placing an order. 
Moreover, customers can easily find exclusive deals, discounts, and loyalty coupons. They, unique, can have a comfortable experience to pay easily whatever way they are satisfied with, including cash, credit or debit card, online transaction, etc. Foodnerd has contactless payment and contactless delivery options.  
Read 
Future Trends For Delivery And Online Order; Transition In Restaurant's Ways Of Serving
Write a Comment
0 Comments