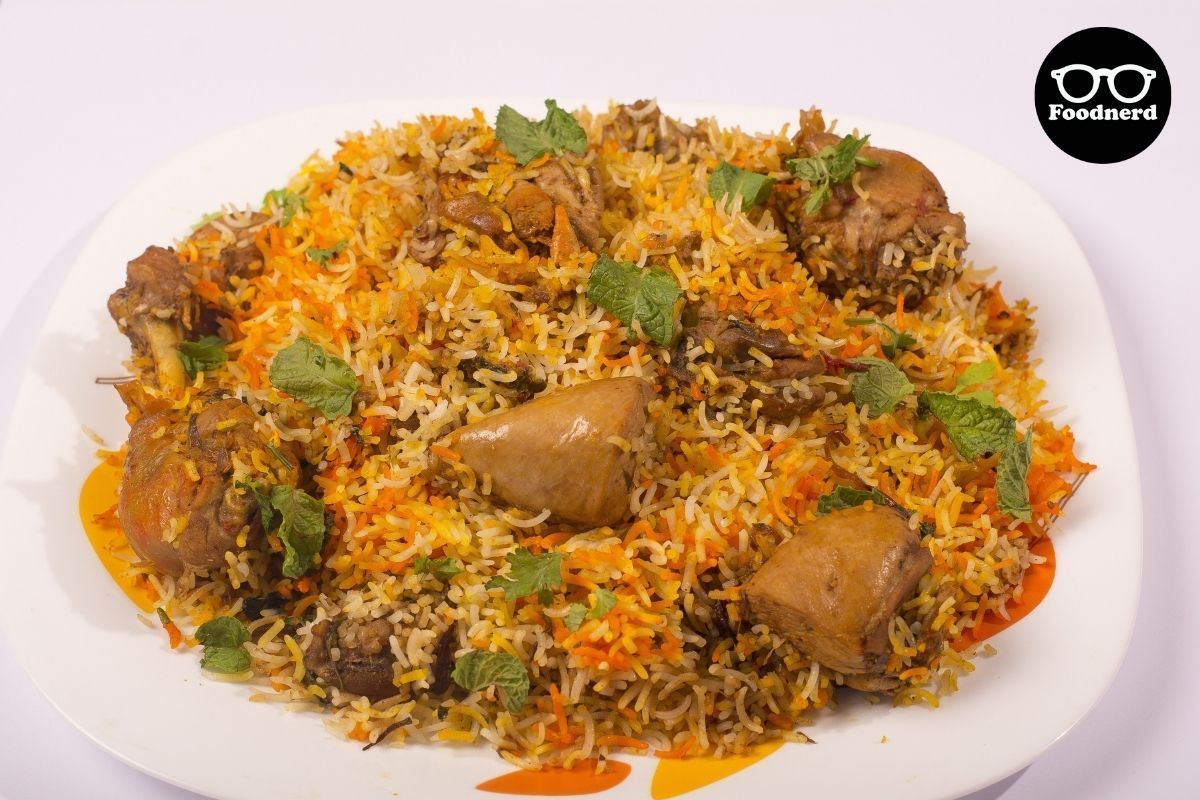 Nubaira Ahmer khan"

2021/12/06

0 Comments

0 Likes
Biryani is one of the most common dish names in Pakistan. It is the blend of love, aroma, spices, and mouthwatering taste which makes everyone fall in love with it. Have you ever thought about why people are so obsessed with Biryani? Yes, biryani is an obsession for many people. Especially those who love to eat desi love mouth-watering biryani and want to eat more and more plates of biryani. Similarly, one of the most essential facts about biryani is that it is available in a variety of flavors, and every type of biryani in Pakistan has a unique taste that distinguishes it from each type.
What Is Biryani?
The Biryani is a mouthwatering dish made from a proportionate blend of rice, meat, fish, chicken, beef, mutton), spices, and specific vegetables. There are many types of biryani. However, it depends on which ingredient has been used. Similarly, people often confuse biryani with pulao, but both are different Pakistani cuisines, and they cook in a very different way. 
Biryani It is cooked on a flame in a very discreet manner that even the slightest mistake may disturb the taste of your biryani. Hence, biryani can be prepared with delicacy, love, burst flavors, and a blend of enthusiasm that makes its taste more memorable. 
Read 
Table Manners And Dining Etiquette
10 Traditional Food of Pakistan
History Of Biryani
The most famous biryani dish originated among the Muslims and was first introduced in the subcontinent in the royal kitchens. However, the actual biryani originated in Persia and then transferred to the Mughals. That is why we can say that biryani is a regal and elite dish mainly made on different auspicious occasions. The biryani gain more importance during the Mughal Era when the queen of Mughal's once visited their soldier's camps and she saw that soldiers are very weak so she ordered the cooks to create a dish in a way that is highly nutritious and delicious for the soldiers.
Types Of Biryani 
There are different varieties of biryani, including Sindhi biryani, Bombay, kofta biryani, and many more. However, the healthy ingredients and perfect quantities make an ideal biryani. No matter if you are eating biryani in a five-star hotel or on the roadside, if the ingredients in biryani are not proper, you'll never enjoy it the way it ought to be. 
Mughlai Biryani 
The Mughlai biryani is one of the famous biryani specially created in a royal way in order to give the proper Mughal touch to the biryani. The ingredients in Mughlai biryani are almost the same. Still, other things like roasted cashew nuts, almonds, and some other dry fruits are added to make it more unique, elite, and delicious. Additionally, Mughlai biryani is created in a paste of almond, garlic, and ginger. One of the most critical and signature touches in Mughlai's renowned biryani is the kewra scent which makes it more aromatic and irresistible.
Sindhi Biryani 
The Sindhi biryani is the top-rated and the most popular biryani of Pakistan. Believe me; you can get the original taste of Sindhi biryani only in Sindh province and in Karachi. The yellow and white rice combination makes Sindhi biryani more attractive and tempting. Similarly, the specific rice category, renowned, i.e., basmati rice, is used to create the Sindhi biryani. 
Read 
What Are The Most Popular Restaurants To Shortlist During Visit To Islamabad?
Hyderabadi biryani 
One of the most famous biryani out there is an automatic, delicious, and renowned mouthwatering dish is Hyderabadi biryani. It is a renowned biryani in Pakistan and across the world. The Hyderabadi biryani also belongs to Mughal cuisine. The things which distinguish Hyderabadi biryani from other biryanis are fried onion, and yogurt marinated meat. These unique ingredients make Hyderabadi biryani more delicious. All these easy ingredients are available in every grocery store.
Bombay Biryani 
The Bombay biryani is a blend of flavors, aroma, spices that make its taste very classic and tempting. It is the best biryani in Pakistan and India also. The additional items that make Bombay biryani different from the rest of biryanis are the lemon, ginger, and dried plum that makes the taste of Bombay biryani super unique. The good thing about it is that it is available in every restaurant and you can also order it online from foodnerd. 

Muradabadi Biryani
If you are a die-hard fan of biryani and want to taste an amazingly unique yet delicious biryani, then try Moradabadi biryani which is extraordinarily delicious. The chicken in Murad Abadi biryani is marinated in a variety of spices, including crushed cumin, crushed coriander seed, garam masala, red chili flakes, and ginger garlic paste. At the same time, orange food color adds beauty to it. 
Write a Comment
0 Comments