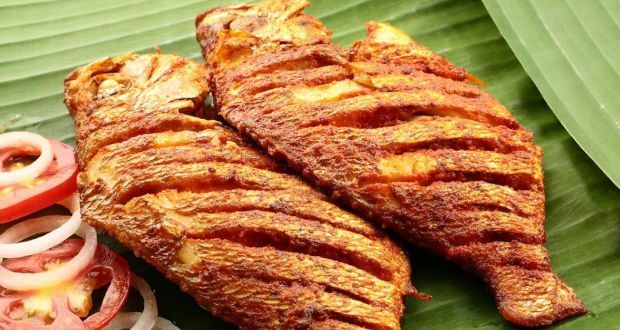 Muhammad Faizan

2019/10/21

1 Comments

0 Likes
Fish is a really nutritious food, being rich in protein, vitamins and minerals which are essential to maintain good health. There are three types of fish: oily fish, white fish and shellfish.
Oily fish are a rich source of vitamins A, D and E. They are also rich in essential omega-3 fatty acids which are essential for healthy brain, eye and nerve development in babies and children.
Lahore is considered as a food hub in Pakistan. So this city has stored one of the best fish places nestled throughout the city. But we have shortlisted the best 5 places in Lahore that offers delicious, affordable and mouthwatering fish.
So check out our 5 best picks for fish in the food capital of Pakistan - Lahore.
Babu Fish Corner
As the name suggests, this restaurant is known for their fish items like fish tikka, fish fry and curry.
Their fish tikka tandoori is one which should be on every seafood lover's list. It is so soft and crispy at the same time.
If you want to taste the best fish in lahore, Babu fish corner is the ultimate stopover for your seafood cravings.
Where? Tufail Road, Lahore
Price: Approx Rs 400/-
Also read:
Best Breakfast Places in Lahore
New Haji Restaurant & Fish Corner
This very renowned restaurant in DHA phase 3 is known for their tikkas and the fish menu does some amazing fish items like fish tikka, fish fry, fish boneless and many more.
If you've not had their fish tikkas then you are definitely missing on something. Go guys and grab your bite!
Where? Y Block, DHA Phase 3
Price: Approx Rs 500/-
Also read:
Food Delivery in Lahore
Siddique Fish Corner
The Siddique Fish corner is known for their fish delicacies and does one of the best fish items in Lahore city.
They make fried fish and fish tikkas served with naan. Their fish tikkas are spicy and scrumptious. One can totally satisfy their hunger by having these fish tikkas.
Where? Garhi Shahu Lahore
Price: Approx Rs 400/-
Bashir Darul Mahi
This dhaba does make one of the best non-vegetarian delicacies. They bring fresh fish from the river to prepare the fish items.
They make fish fry and fish tikkas. Their fish tikkas is fried in oil to give a crispy texture on the outside and extremely soft from inside and keeping it all very juicy.
The place is always crowded and foodies and be prepared to get in line.
Where? 19 A, Maulana Shoukat Ali Road Johar Town & Gaddafi Stadium
Price: Approx Rs 350/-
Also read: Best Steakhouses in Lahore You Must Try
Haji Sardar Fish
One of the legendary joints of all time is famous as "Sardar ki Machli" for their fresh fish.
This place offers one of the tastiest fish in Lahore which are soft and crispy at the same time. So, whenever you visit Qartaba Chowk Lahore, this place surely requires a visit.
Where? Qartaba Chowk Lahore
Price: Approx Rs 350/-
If you too are crazy about seafood, then these places for the best fish tikkas in Lahore will become your new favourites.
Write a Comment
1 Comments
Hareem Malik
4 months ago
<a href="https://www.puro.pk/products/plain-spices/black-pepper-powder/">BLACK PEPPER POWDER</a>
Subscribe to our Newsletter
To receive latest updates and news enter your email address below.