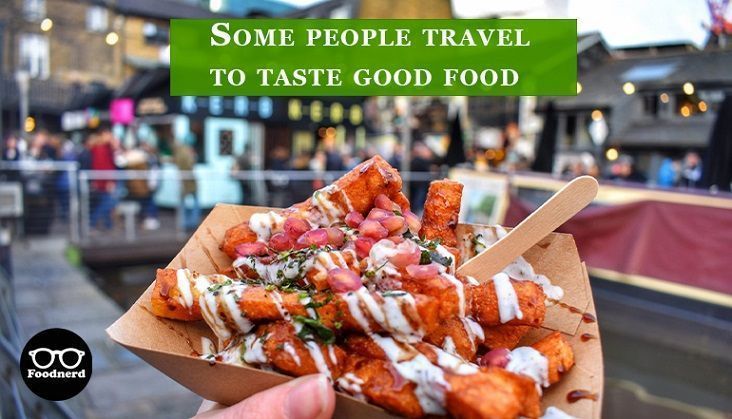 Nubaira Ahmer khan"

2021/08/27

0 Comments

0 Likes
Food tastes more delicious where it originated because the person who creates it knows the actual recipe. Additionally, it is not about the ingredients, recipes, and cooking that made food delicious. It also involves the love, creativity, passion, environment, and culture that combine and provide a magical experience. For instance, the Pizza belongs to Italy, so it tastes different in other places. The taste you experience in Italy will be far more diverse than the taste you experience in Mexico. 
Similarly, in restaurants, you'll see the different menus for pizza like Italian pizza, Mexican grill chicken pizza; hence every culture has its touch in creating dishes. It is also emphasized that if you want to know about specific cultures, taste their food first. If you are a food lover and want to explore the cuisine of different countries, then continue reading this blog because it will advance your knowledge about some of the most popular restaurants in Islamabad that provide you a taste of the best food.
Traveling To Islamabad 
Islamabad is one of the most famous and beautiful capitals in the world. It is considered as the highly preferable destination to visit. Islamabad provides you dual fun in one place because it is full of excellent attractions and restaurants that will make you fall more for its beauty and taste. Similarly, in Islamabad, you'll find variety in everything, and you'll get different cuisine along with desi food. For example, many restaurants in Islamabad have Pan Asia, Italian, European and Eastern cuisine on their menu, so you'll never get disappointed while eating in Islamabad.  If you plan to visit Islamabad, you must visit these popular restaurants in Islamabad and taste the delicious cuisine of your choice. Remember that the majestic capital of Pakistan has a lot more to offer you, so don't forget to visit every tourist destination in Islamabad.
Tourist Attractions In Islamabad 
Traveling is the soul's food because it brings energy and love back to your life and refreshes your soul like a fresh rose. Whenever you feel depressed, just pack your bags and go for a trip. In Pakistan, there are different tourist attraction places, but when it comes to Islamabad, it gives you an extra spark when it comes to Islamabad. If you have to shortlist Islamabad on your trips, go to Islamabad like Lok Virsa, the finest cultural museum in Pakistan that gives you a quick view of Pakistani cultural heritage. The Margalla Hills in Islamabad freshen your soul with its lush green and rocky mountains, and if you go hiking on margalla hills, you'll find out that the best view comes after the most strenuous climb.  For the perfect shopping experience, you need to visit Centaurus, an all-in-one family entertainment center and shopping mall that provides you everything under one roof. 
Similarly, Daman-e-Koh is the beautiful hilltop garden located in Islamabad, the perfect place if you want some serenity. 
Furthermore, the world's sixth top mosque is the "Faisal Mosque," located in Islamabad. It is famous for its unique architecture and tremendous capacity. The Said Pur village in Islamabad is also one of the most beautiful and 500 years old villages famous for its unique heritage, culture, and history. Lastly, the Monument and Rose garden in Islamabad are must-go places you should visit when traveling to Islamabad. 
Top Islamabad Restaurants 
In Islamabad, there are a variety of restaurants that provide delicious food. Also, read food delivery in Islamabad from the best restaurants https://www.foodnerd.pk/blogs/food-delivery-in-islamabad-from-the-best-restaurants-ahsan-ali  
American Steakhouse
The American Steakhouse is the best place for fast food in Islamabad. You will find the really delicious and exciting menu here. 
Smokin Joe's
The Smokin Joe's give you the taste of delicious pasta, pizza, soup and sandwiches. It is the best restaurant for your snack craving.  
Tandoori Restaurant 
The Tandoori Restaurant is my all time favorite restaurant in Islamabad because here we will get every cusine whether you want to eat continental food, desi food, chinese food, dessert or anything. This place is perfect for everyone. In tandoori restaurants everyone gets the meal of their choice because they have a vast menu. 
Al-Hajj Bandoo Khan
If you are a fan of desi food and you are feeling a very deep craving for beef or mutton karahi then Al-Hajj Bandoo Khan will be the best choice for you. Similarly, many of us hear about Shahi Tukray which is considered the best traditional dessert so here you will find the shahi Tukray as well. Please go ahead and give it a try. 
Afghan Darbar 
Afghan Darbar gives you the taste of Afghani cuisine that will make you fall in love with it. Its tasty Afghani naan is the best thing. Similarly, one of the most interesting dishes to try here is their Fish karahi. We often hear about beef, mutton or chicken karahi but they offer us a very delicious fish karahi. Don't forget to taste their fish karahi when you visit Afghan Darbar. 
Fire Bowl  
If you are a fan of Pan Asian Cuisine then
Fire Bowl
will be a perfect place for you that gives you the taste of mind blo
wing c
h
in
ese cuisine. The best thing in their menu is their bowl for chicken, seafood and beef. Similarly, you'll also enjoy the best coffee in their c
afe
e.
Write a Comment
0 Comments