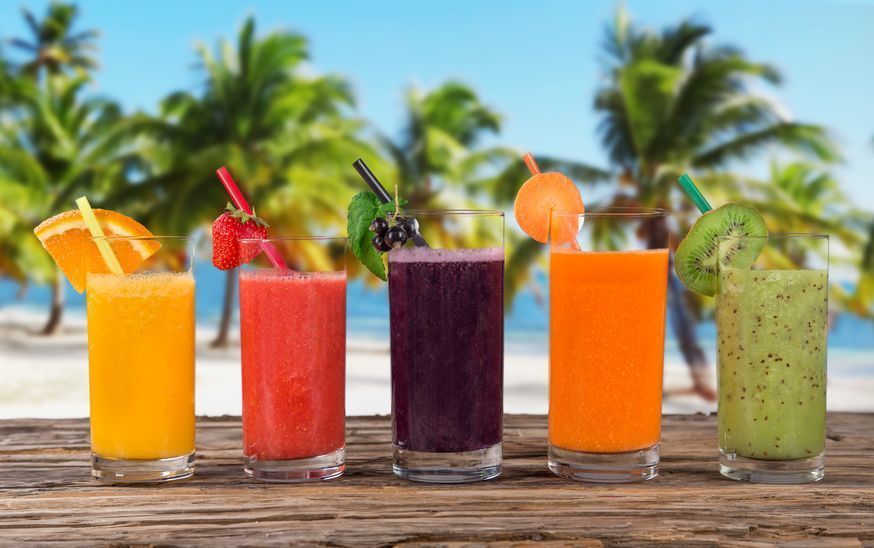 Muhammad Faizan

2018/04/03

0 Comments

1 Likes
Summers has already taken its toll in Pakistan. The time of the year when a hot bowl of soup or mutton is not so tempting.
The matter of fact, we have to change our eating habits during the summer months to avoid getting affected by the brutal heatwave.
In contrary, summers in Pakistan brings some of the best fresh and seasonal fruits and vegetables.
Food and drink have a big part to play in helping your body keep fresh and healthy during the summers.
Fruits like mangoes, watermelon, peaches and different herbs are readily available in the market, which happens to provide a perfect remedy to alleviate the scorching heat.
Every year, World Health Day is also celebrated on 7th April to create awareness among the masses to promote healthy eating habits and lifestyle.
Anyways, most of us have to spend day hours outdoors and getting dehydrated, heat burns, mineral and vitamin deficiencies are common.
So Foodnerd has compiled a list of 10 most essential foods to keep you fresh during the summers.
1: Watermelon
One can not imagine summers without watermelon.A single slice of watermelon will cool down your body instantly.
One of the best ways to stay hydrated is to consume watermelon regularly in hot summers of Pakistan.
True to its name, watermelon is 92% of water which makes it a great summer fruit.
It also helps in fighting cancer, improve heart rate, and reliefs stress.
Also read: 15 Pakistani Food Dishes You Can't Ignore
2: Yogurt
Yogurt is a great way to keep your body in balance. It is known to be a rich source of calcium, vitamins, and minerals.
Yogurt has been found to reduce the risk of heart diseases. It helps in improving metabolism.
Unfortunately, many yogurts are pasteurised, which is heat treatment, and that kills the beneficial bacterias.
So always try to buy and consume fresh yogurt.
3: Spices
Although this may sound the last thing, you would wish to have in blazing summers.
Spicy food such as curries and chillies can stimulate heat receptors.
The spicy food raises your body temperature and makes you sweat, which ultimately cools your body down.
This happens because the blood circulation increases, you start sweating, and once your moisture has evaporated you have cooled off.
4: Bananas
Banana is the powerhouse of nutrition. It is loaded with essentials vitamins and minerals such as potassium, calcium, magnesium, and iron.
These nutritions restore and regulate the body fluids lost during the excessive heat. Bananas also help in improving metabolism and heart rate.
Also read: Islamabad's Top Mouthwatering Desi Cuisines
5: Ice cream
It is for all the Ice cream lovers. Summers and ice cream go hand in hand, and you will be glad to know that real ice cream is good for your health.
Did you know that ice cream is an excellent source of vitamins such as vitamin A, B-6, B-12, C, D, and E!
Ice cream is an incredible way to feel happy. Ice cream stimulates brain thrombospondin, which is a hormone of happiness and helps in relieving stress.
But, be careful on how much happiness you want because ice cream can quickly help you gain weight.
6: Coconut water
There are so many benefits and drinking coconut water in hot summers noon.
Coconut water contains minerals like zinc, magnesium, calcium, potassium, sodium etc.
A perfect remedy to keep your body hydrated. It is also said to be good for your kidneys and urinary system.
Also, there is evidence that it has anti-cancer and anti-ageing properties as well.
7: Cucumber
A must have in salads; cucumber is a refreshing vegetable which entices everyone in the summer heat.
This crunchy vegetable is made up of 95% of water, which naturally makes it low in calories.
Cucumber also aids in fighting cardiovascular diseases and help in losing weight.
Also read: Islamabad's Favorite Cuisine on Foodnerd
8: Lassi
Lassi or yoghurt drink remains one of the famous summer drink in the subcontinent.
Across this region, you would find sweet and salty lassi which is considered to be a premixed coolant for the body.
Just like yoghurt, lassi is an excellent source of calcium, protein, carbohydrates, vitamin A, and B. Apart from cooling properties, lassi also helps in improving appetite, and digestion.
9: Smoothies
Smoothies are an ideal way to keep a fresh and healthy body in summers. A perfect way to lose weight in summers.
With so many recipes to choose from, smoothies can be consumed for detox, muscle building, beauty, and strengthening the immune system.
Drinking smoothie can also help you keep your body energised.
10: Corn
Last but not the least, corn is a staple ingredient in Pakistan over the years, and traditionally grown throughout the warm summers months.
Corn is a rich source of vitamin A, B, E and many minerals. It is exceptionally high in fibres strengthen the immune system.
Corn also controls blood sugar, and prevent cancer and ageing. It is also loaded with antioxidants which keeps your eyes healthy.
Also read: Discover the top 5 Cafes in Islamabad

Don't feel like going out in scorching heat? Order food online via Foodnerd
Write a Comment
0 Comments