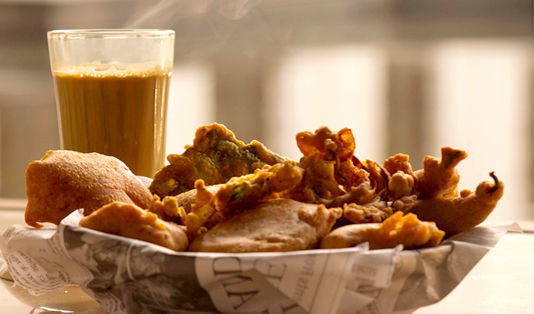 Muhammad Faizan

2018/08/07

0 Comments

0 Likes
Monsoon in Islamabad is always picturesque. The beautiful lush green belts running along the clean paved roads overlooking the majestic Margalla hills is treat to the eyes.
Those who live in Islamabad are lucky as they do not have to face waterlogging and interrupted transport unlike other cities. So Islo-iites can enjoy the Monsoon without any hassle.
The much-awaited monsoon season is upon us as they provide relief from hot Pakistani summers. But it is our most favorite because of the food we can crave and munch on during the rainy season.
Related: 10 Coolest Food For Hot Pakistani Summers
Foodnerd has listed down 5 food items that are mainly desired especially during the rainy season.
1: FOOD DURING RAINY SEASON | HOT CUP OF TEA
Garma garam chai or Hot tea in this rainy weather is one of the most craved things one could ever drink.
There are several Dhabas where you can take a sip and enjoy the cool evening breeze during the Monsoon season.
My personal favorite is Chickachino in F-6 Super Market, known for its Karak chai and evening snacks. One can enjoy the warmth of hot tea, under the umbrella and can cherish the cozy green surroundings.
2: FOOD DURING RAINY SEASON | PAKORAS
Pakoras are the most desired rainy season snack in every house. From garma garam Besan kay Pakoray to onion pakoray to any stuffed pakoray is the tastiest when combined with chutney.
Pakoras are easily available at a roadside food stall in every sector of Islamabad. You can munch on these Pakistani delights at home, office and even in a car.
Also Read: 15 Most Popular Pakistani Dishes You Can't Ignore
3: FOOD DURING RAINY SEASON | SAMOSA
We can easily indulge ourselves in an all-time favorite evening snack - Samosa.
Wrapped in a thin layer of crispy pastry with a filling of mouth-watering mashed potatoes, these little delights are just perfect for the Monsoon season.
While there are many food stalls in Islamabad, Chinese Samosa Shop in Blue area is perhaps the most famous one. Their samosas are filled with assorted vegetables and are popular amongst the Islo-iites.
Also Read: 10 of the Best Fast Food Restaurants in Islamabad
4: FOOD DURING RAINY SEASON | CORN
Corn aka Butta aka Challi is a must-have during the Monsoon season. The corn sprinkled with salt, red chilies and squeezed in lemon is thoroughly enjoyed during the summers especially during the rainy season.
Corns are easily available at every market of Islamabad. They are amazingly simple yet delicious treats widely consumed in various cities of Pakistan.
Also Read: Top 5 Best Cafes For Dessert in Islamabad
5: FOOD DURING RAINY SEASON | ALOO KA PARATHA
The undisputed king of breakfasts, lunch or brunch across the length and breadth of Pakistan, Aloo ka paratha is a delicious shallow fried Pakistani bread. Mashed potatoes with chilies and spices stuffed inside flour dough.
Aloo ka paratha is easily available at Dhabas as well as famous outlets such as Naan Dhaba. The hot piping Aloo ka Paratha with butter melting on top can be accompanied along the plain yogurt and tangy tomato chutney.
Also Read: Hunt For Best Biryani in Islamabad
These are Foodnerd's favorite Monsoon delights that can easily make you cherish the boring rainy season. There is hardly any other food to beat our top 5 Monsoon foods.
You should enjoy this season as much as you can but you should also take care of yourselves during the rainy season.
Did we miss any of your favorite food? Let us know in the comment below.
Feeling hungry? Order food online here.
Write a Comment
0 Comments