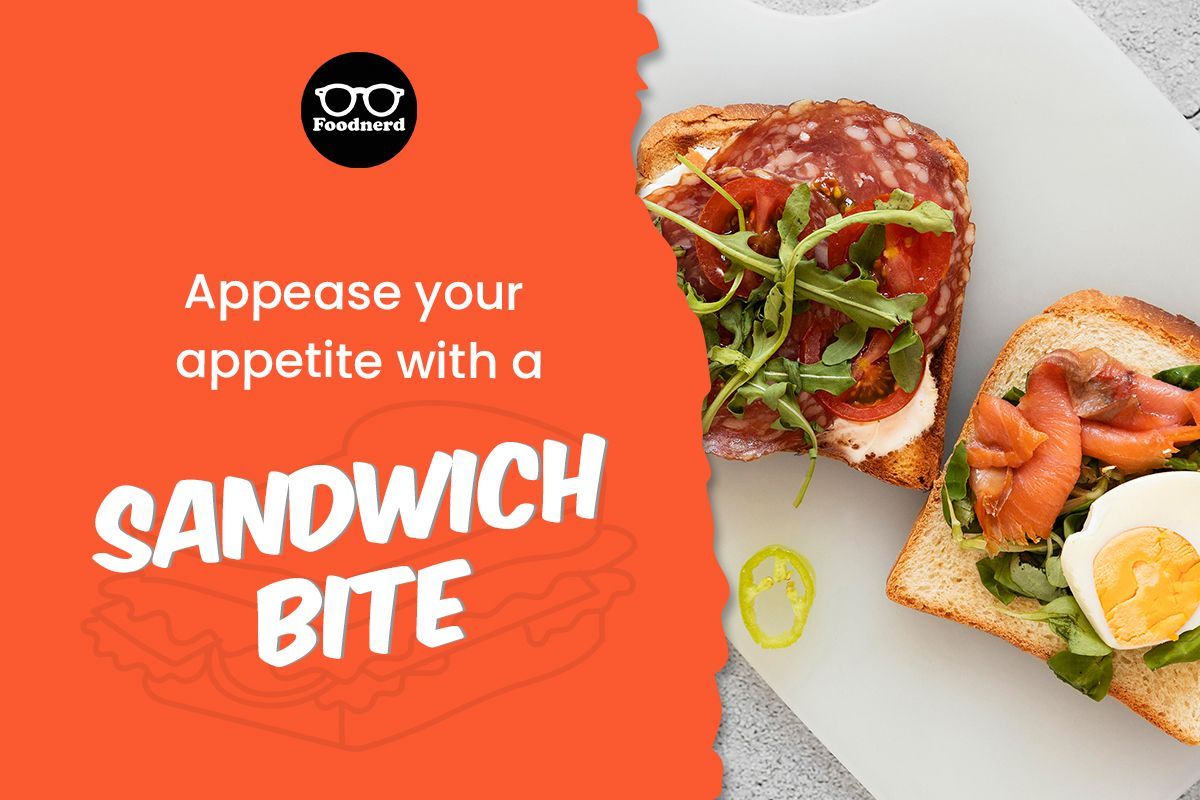 Nubaira Ahmer khan"

2023/01/11

0 Comments

0 Likes
Do you know what makes people obsess over sandwiches? The mouthwatering-filled stuff makes it more delicious. A sandwich is not only bread with something filled in between. It is a complete diet that is presented in various ways. 
There are many types of sandwiches, and it depends on your mood which type of sandwich perfectly matches your craving. The best thing about the sandwich is that it is a complete diet and that can be taken anywhere, and you can devour it even in the middle of doing your work. A sandwich is the yummiest food that keeps you from skipping your lunch, breakfast, or dinner. It is a convenient food that can be taken at any time and anywhere.
Similarly, giving different types of sandwiches to kids in their lunch is also a good idea for mothers because it keeps kids from eating junk food. Are you interested in knowing about different types of sandwiches? 
If yes, continue reading because we have highlighted some of the different types of sandwiches that are worth obsessing over. 
What Is A Sandwich?
A sandwich has two halves, and it is presented with something else that is present in between the two halves. John Montagu, an Englishman, created the sandwich so he wouldn't have to get up from his gambling table. 
The sandwich is mainly made up of bread, and the things that make up a perfect sandwich are meat, sauces, cheese, eggs, and the required vegetables that collectively become a mouthwatering sandwich that we usually crave at any time. 
It is believed that sandwiches fall under a particular category that enjoys popularity. People all around the globe love to eat sandwiches, especially those foodies who are always in a hurry but still love to eat something. 
So if you are among those who love work and food simultaneously and do not leave both, then eating a sandwich is a good option for you. Secondly, wherever you go, you'll find a different yet unique and delicious sandwich.  
Read
The Best Place To Buy Samosa In Islamabad
Top 5 Types Of Chicken Sandwiches
The sandwiches take on so many forms. The main difference between sandwiches is the stuffing sandwiched between two slices of bread. Hence, the presentation and the ingredients of the sandwich make it more appealing and different. 
If you are interested in knowing the chicken sandwich variations, then read the different types of sandwiches given below. We have highlighted some of the best chicken sandwich types that you must get your hands on.
Fuss-Free Chicken Sandwich 
If you are a fan of golden brown sandwiches with moist interiors, you must grab a delicious, extra saucy, fuss-free chicken sandwich that provides you with a delight to enjoy every bite. Additionally, the fuss-free chicken sandwich is easy to make at home.
It provides you with fiber, vitamins, minerals, protein, and carbohydrates instantly. The simplest way to create a fuss-free sandwich is to add boneless chicken to toast bread, add avocado or thin cheese slices, and then enjoy it. 
It is probably one of the most pocket-friendly and easy-to-make chicken sandwiches that do not require any additional ingredients, and you can simply make it by adding the elements; however, if you want anything different, you can add it or you can enjoy it with mayo dip or ketchup, that's all. 
Read
What To Know About Diabetes And Milk?
Incredible Uses And Benefits Of Vinegar
Grilled Chicken Sandwich 
One of the best types of chicken sandwiches is the ultimate grilled chicken sandwich, which will satisfy your cravings to the fullest. The yummiest thing about grilled crispy chicken sandwiches is the tender and juicy grilled chicken.
The easiest way to make a grilled chicken sandwich at home is to grill the marinated chicken breast for about 20 minutes, brush olive oil and the required seasoning on it, and then stuff the simple bread, grilled bread, or panini bread.
Usually, tomatoes, onions, lettuce leaves, mayonnaise, and mozzarella cheese are used, and  you can serve these delicious ultimate grilled chicken sandwiches with the unique mayo dip, which is very easy to make. 
Just add ketchup and garlic powder to the mayonnaise, mix it well, and then add roasted cumin seeds to it to add more taste, and ta-da! The dip for serving the super-delicious grilled chicken sandwich is ready to serve. 
Read 
Fried Chicken Sandwich 
One of the best chicken sandwiches out there is the fried chicken sandwich-type created with a thin fried chicken patty inside and lettuce leaves, tomatoes, olives, and mayonnaise.  Then this sandwich is dipped in the whisked egg, and then it is fried on a low flame until it turns golden brown. 
So yeah, this is one of the easiest recipes for a fried chicken sandwich worth obsessing over. You can make this sandwich with a cup of tea, and it will prove to be your delicious evening snack or breakfast. 
The most important thing that must be mentioned here is that this sandwich is hefty to eat, and even taking half of its side makes you feel full. However, the fried chicken sandwich will be extra crispy on the outside while stuffed with the yummiest chicken filling, which will give you a burst of tasty flavor to enjoy it and become a fan.
Read
School-Going Kids Lunchbox Idea For Mothers
Storage Tips To Keep Veggies Fresh
Healthy Chicken Sandwich 
If you are looking for a healthy chicken sandwich that has all the healthy ingredients and is free from fried things, then you can quickly get the best healthy chicken sandwich with a very simple recipe.
All you have to do is boil boneless chicken thighs in water and add salt according to your taste. When the chicken is tender, shred the chicken in a bowl. Add seasoning, including black pepper, a mashed hard-boiled egg, butter, and cheese.
Then add olive spread or a simple low-fat mayonnaise to it, mix all the ingredients well, and then spread the mixture over your bread slice. Grill the bread or put it in a sandwich maker, and that's it. 
A healthy chicken sandwich for you is ready, and you do not have to order it online or visit any restaurant to eat it because you can easily make it yourself by using this easy recipe.
Read
Tea Stalls And Lahore Chai Culture In Pakistan
The Best Desi Places To Eat Breakfast In Lahore
Crispy Fried Chicken Sandwich
If you have a very high desire to eat a crispy fried chicken sandwich, then don't worry; you have two choices: either order it from the best restaurant near you or make the super crispy fried chicken sandwich yourself. 
Well, if you think about how to make the best crispy fried chicken sandwich at home, then the recipe is so simple that you are required to take a boneless, seasoned chicken in a bowl, add salt to taste, and black pepper (according to taste).
Then, add one tablespoon of garlic powder, one tablespoon of ginger powder, two tablespoons of melted butter, and three tablespoons of yogurt, and mix well. Marinate for 30 minutes or more. 
Then, in a separate bowl, whisk two eggs, and coat each chicken piece with cornstarch or cornflour. Coat the coated corn flour chicken piece with breadcrumbs after dipping it in an egg mixture. 
The final step is to fry the chicken pieces one at a time until they are crispy and golden brown. So the crispy, juicy fried chicken is ready, and all you have to do now is add lettuce leaves and mayo to the bun or bread slice, and enjoy it to the last bite.
Read 
Best Pan Asian Cuisine Restaurant in Islamabad; A Perfect Mood Relies on Chinese Food
10 Desi Food Restaurants In Lahore You Might Not Aware With
Write a Comment
0 Comments