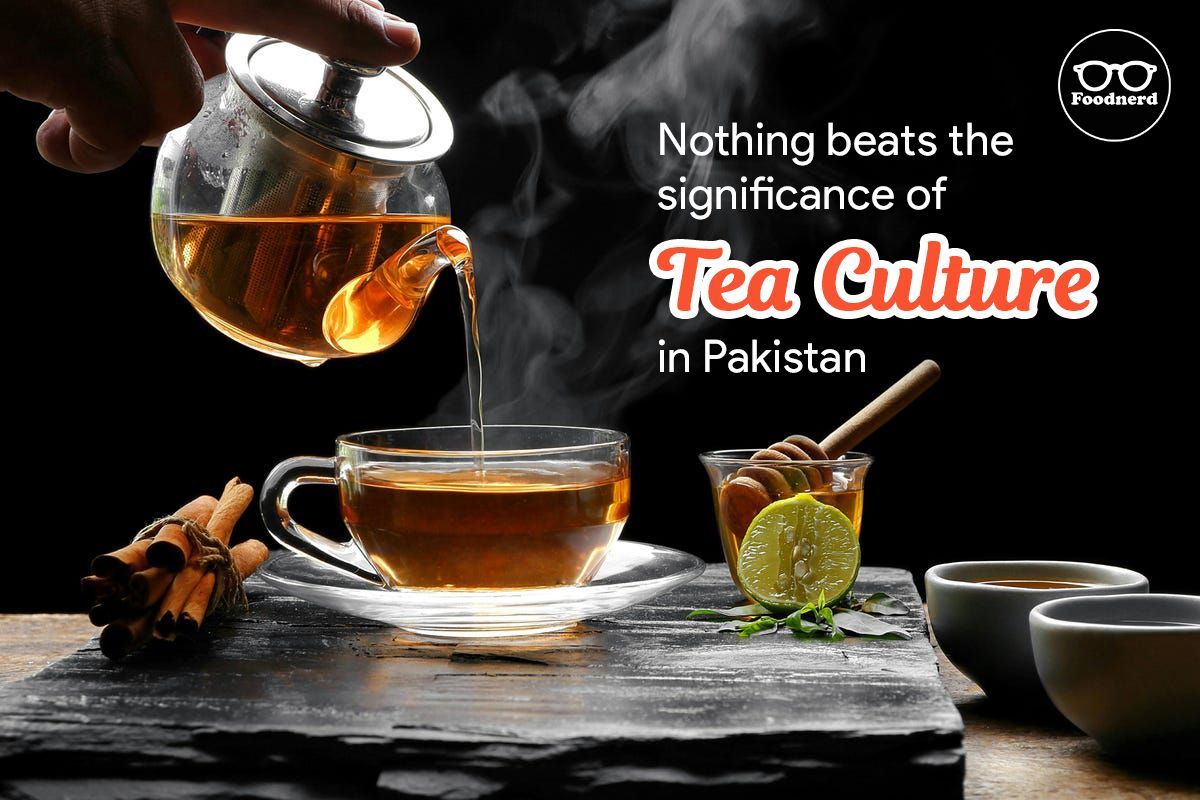 Nubaira Ahmer khan"

2022/06/28

0 Comments

0 Likes
Tea is considered the most popular beverage in Pakistan, and people understand this very well when they move abroad and find tea, their excitement for tea says it all. The way Pakistanis appreciate tea is far more beautiful than any other drink. If you sit next to any tea lover and listen to how they describe their emotions about tea, you can fall in love with it before tasting it. The more interesting fact about tea culture in Pakistan is that almost 15% of the total expenditure in every household is reserved for tea. Similarly, in Pakistan, you'll find different types of tea, but the most popular types of tea in Pakistan are milk tea, pink tea, also known as Gulabi chai or Kashmiri tea, and green tea. Lastly, the use of cardamom in tea is considered the most elite thing that cheers up the mood of every tea lover. 
Origin Of Tea In Pakistan 
The tradition of drinking tea in Pakistan is ancient and dates back to when Britishers entered the subcontinent for trade purposes. So these traders introduced the concept of drinking tea, and later on, different subcontinent areas (the areas that currently lie in India, Bangladesh, and Pakistan) started cultivating tea. Hence, over time, drinking tea became the most widespread habit among natives, and tea boards started advertising campaigns for its promotion.
 After the partition in 1947, the subcontinent was divided, and the population became tea addicted. Since Pakistan does not conduct large-scale tea production, they import the tea leaves from Bangladesh and worldwide.
Read 
The Best Place To Buy Samosa In Islamabad
The Reasons Why Pakistanis Adore Tea 
The reason Pakistanis are in love with tea is due to its simplicity, uniqueness, aroma, and bond that unites friends and family. It is the cup of tea that reunites the broken heart. When friends are angry with each other, they can quickly patch things up by discussing their concerns over a cup of tea.
Similarly, the tea culture in Pakistan does not see the classes. When it comes to tea cravings, no matter what expensive car you are sitting in, even the elite class people can quickly get tea from any ordinary roadside tea stall. Hence, the simplicity of drinking tea makes the tea culture in Pakistan very impressive yet interesting. 
Another reason for the rise of chai culture in Pakistan is that it is the cheapest beverage everyone can easily afford. In Pakistan, the price of tea varies from very low to very high, and it depends on the class of the restaurant. You can drink the tea from 15/- PKR to 150/- PKR, depending on the place from where you are taking it. Similarly, now you can easily order tea online from any nearby restaurant from Foodnerd. Pk. Hence, if many guests suddenly visit you and you do not have enough milk, tea, or gas shortage in your home, don't worry. Just order tea online from foodnerd. Pk and arrange the best Hi-tea gathering with your guest by ordering side items such as samosa, bakery items, etc., that always compliment the tea. 
Best Types Of Tea Every Pakistani Love
Tea remains undoubtedly the most popular drink in Pakistan. Pakistanis love to consume tea, whether it is a hot summer afternoon or a cold winter night. Well, in all seasons, Pakistanis love to drink Karak tea. However, in winters or especially on rainy days, pink tea (Kashmir tea/chai) hits differently. It is the best and most popular type of tea and is very tasty to consume. Similarly, milk tea is also the best type of tea in Pakistan, and it can be easily made with black tea leaves. Luckily, the tea leaves are available in any grocery store or supermarket. For ease, different online sites allow ordering tea online, such as Howmuch. Pk. 
Similarly, green tea with cardamom is also trendy in Pakistan, especially among the people belonging to tribal regions, including Khyber Pakhtunkhwa and Balochistan. They love to consume green tea after meals because it quickly boosts their metabolism and helps them digest their heavy meals, which usually include heavy beef and mutton items. 
Read 
Perfect Afternoon High-Tea Ideas
Introduction To Pakistani Cuisine
Popular Spots To Find the Best Tea In Lahore
Bait Ul Sajji 
Bait Ul Sajji is located in Lahore, DHA. It is the best place to find tea. They have many other items on their menu, but you can enjoy coffee, milk tea, green tea, and Kashmiri tea in their beverage section. Their prices are under 100/-PKR, while their coffee varies. 
SK Food Point 
SK Food Point is another must-go place for tea, located in Sabzazar, Lahore. It is a fast-food restaurant, but they also offer tea as a side item. So if this place is near you, don't miss the chance to grab their tea for just 60/-PKR.
Read 
Unique Ideas To Make Post-Covid Eid Celebration Memorable
Incredible Things You Should Know About Potatoes
Choola Chingari Restaurant 
Another best place on Main Boulevard, Johar Town, Lahore, is Choola Chingari Restaurant, which has an extensive menu of tea and coffee in its beverage section. They also serve the best tea, which you can easily order online without any inconvenience.
Maven 
When it comes to the best restaurant or cafe for tea with class, Maven will never disappoint you. It is located in H Block market, Dha Phase 1, Lahore, and they deal in an extensive range of items in fast food. You can get a variety of beverages, smoothies, tasty shakes, and drinks here. 
Read 
Best Pulao Places In Islamabad
Frooti 
Frooti is the most fantastic place located inside SDSB-LUMS, Lahore. They offer a variety of drinks, snacks, fresh fruit juices, and cold and hot beverages, and you can easily order from them online. They will amaze you with their tasty items.
Lahore Chatkhara 
If you ever visit Mini Market, Gulberg 2, Lahore, don't forget to drink tea from Lahore Chatkhara. They serve excellent snacks with tea, and you'll just get excited with their tasty food. Also, their snack variety is impressive. 
Read
Which Vitamin Is Best For The Skin?
5 Magical Health Benefits Of Ginger
Write a Comment
0 Comments