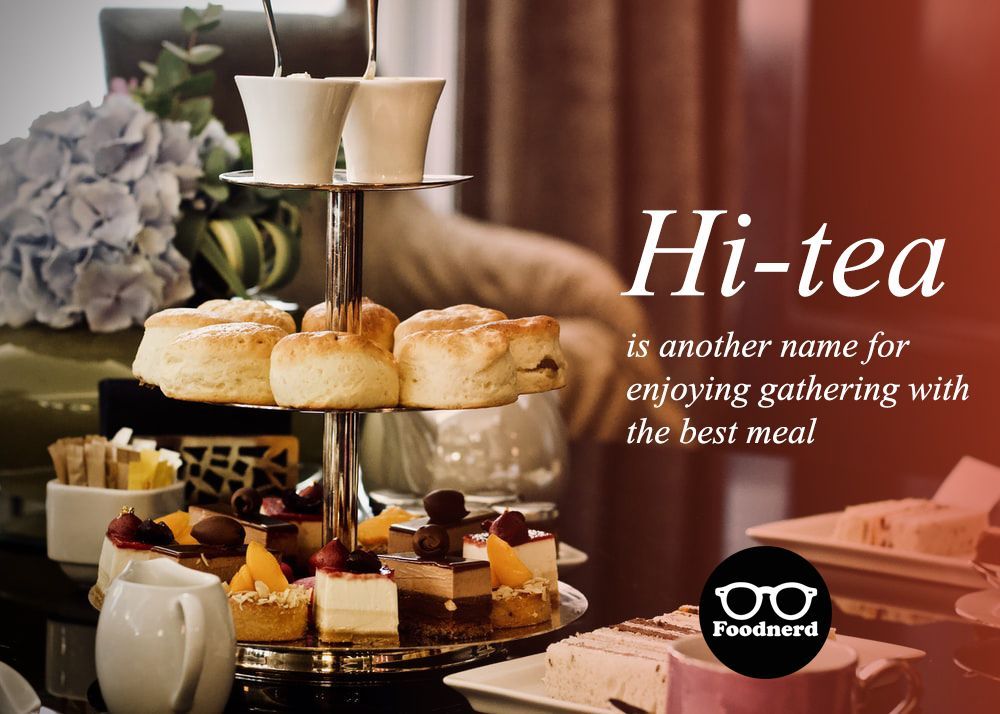 Nubaira Ahmer khan"

2021/10/29

0 Comments

0 Likes
Being food lovers, we just love to experience new tastes, new cuisine, and new ways to excite ourselves with food. People who like changes always want something new, and that is why some different trends or styles exist to take food such as brunch, lunch, and munch. Many other concepts, such as breakfast, lunch, dinner, and evening tea, are widespread. The same is the concept of Hi-tea, which is a fascinating way of gathering and enjoying multiple items of food at a single time. If you are looking for the best hi-tea places in Lahore then you are at the right place because we have highlighted the best restaurant for hi-tea in Lahore.
What Is Hi-Tea?
You often hear the term Hi-tea or High-tea used interchangeably in your daily life, but many of us think that is exactly what it is. So the word High-tea is a concept that originated from English hi-tea that involves having tea with different side meals in order to bridge the gap between the evening tea and dinner. Hi-tea involves tea, with different cuisines,  vegetables, cheese, bread, cakes, donuts, sandwiches, pasta, pizza, burgers, meat, soup, crackers, traditional food, and many other items. It includes all the things which we take with tea and also at dinner. Hence it is the combination of all the items available in evening tea and dinner presented together. The concept of hi-tea dates back to the 19th century when the elites enjoyed lavish tea, and soon this trend slowly became part of gatherings.
Read 
Food Delivery in Lahore From The Best Restaurants
10 Desi Food Restaurants In Lahore You Might Not Aware With
Best Pan Asian Restaurants In Lahore
Best Hi-Tea Restaurant In Lahore
The trend of Hi-tea is widespread nowadays, whether it is a business meeting or family gathering. A luxurious tea party is a must thing which people can not resist. If you are looking for the best hi-tea restaurants in Lahore, then continue reading it because we have highlighted some of the best Lahore hi-tea places that you should visit. The prices of the hi-tea in these cafes vary from the least expensive to the most expensive one, but at the same time, items, quality, and taste also vary. Choose the best hi-tea from the list below and enjoy your meal.
English Tea House 
English tea house is a prominent eatery place in Lahore that comes under the list of favorite restaurants for many people. It presented the traditional hi-tea in Lahore. Their mouth-watering Hi-tea makes your evening very enjoyable and gives you a very memorable dining experience. They consider their hi-tea as Afternoon tea with the timing from 04:00 pm to 07:00 pm, so don't get confused if you see 'Afternoon tea' in their menu card instead of written Hi-tea. The specialty in their Hi-tea is Windsor High-tea platter at a very reasonable price of 1459/- for two people with various items. It is a perfect date place for you at a very affordable price.  If you haven't tried the English tea house menu yet, please go ahead and make your reservation for hi-tea. Bring your loved one here and enjoy their Windsor High-tea platter with a perfect evening. 
Chaaye Khana
The chaaye khana restaurant in Lahore is a special place for tea lovers. If you are fond of tea, you'll love to spend on Hi-tea because being tea lovers, and we always prefer to have lavish evening tea. The chaaye khana is the perfect place to spend your evening with a cup of tea and a variety of items. The prices of HI-tea are acceptable at 999/- per head with tax, and they serve quality food with a lovely ambiance.
Yums
Yums Chinese and Thai restaurants also offer a lavish Hi-tea to make your evening tea more memorable and unique. Their Hi-tea comprises a range of items, while the specialty in their hot-tea is Chinese cuisine. I bet you the taste of their Pan Asian cuisine is heavenly, especially the honey chicken wings in the hi-tea. Yums Chinese and Thai restaurants present their hi-tea in a very organized manner with a separate corner of pan Asian cuisine, snacks, tea items, including various biscuits, cakes, pastries, and many more. One of my all-time favorite things I like to have in Yums is pina colada and mint margarita. If you haven't experienced the Yum Chinese and Thai hi-tea, then book your reservation for yums Chinese and Thai hi-tea. The rate is not more than 1400/- PKR. 
Daar-Cheeni 
Daar Cheeni also offers the best Hi-tea with an exquisite menu in town. They entice you with the desi, continental, and delicious menu in their hi-tea. You'll love to try it again and again. Their homely glazed wings taste heavenly. Please do try it whenever you visit Daar-Cheeni to have a traditional buffet in Lahore.
Oban Hotel
The Oban Hotel is considered one of the best restaurants for hi-tea in Lahore with a great menu; their Shahi Tukray in Dessert is one of the must-try dishes. Secondly, they don't give just simple Naans, but they have a variety of Naan they offer. Additionally, I highly appreciate their Italian pasta and the creamy pasta, my all-time favorite dish. Oban hotel also gives the customers options, i.e., the rooftop and indoor hi-tea. The charges of hi-tea in Lahore from the Oban Hotel are very reasonable; they offer 799+ Tax on weekdays. At the same time, one of the most exciting things which you probably may not be aware of is that the Oban hotel Hi-tea price on weekends is 899+ Tax.  
Read 
10 Traditional Food of Pakistan
10 Desi Food Restaurants In Lahore You Might Not Aware With
Write a Comment
0 Comments