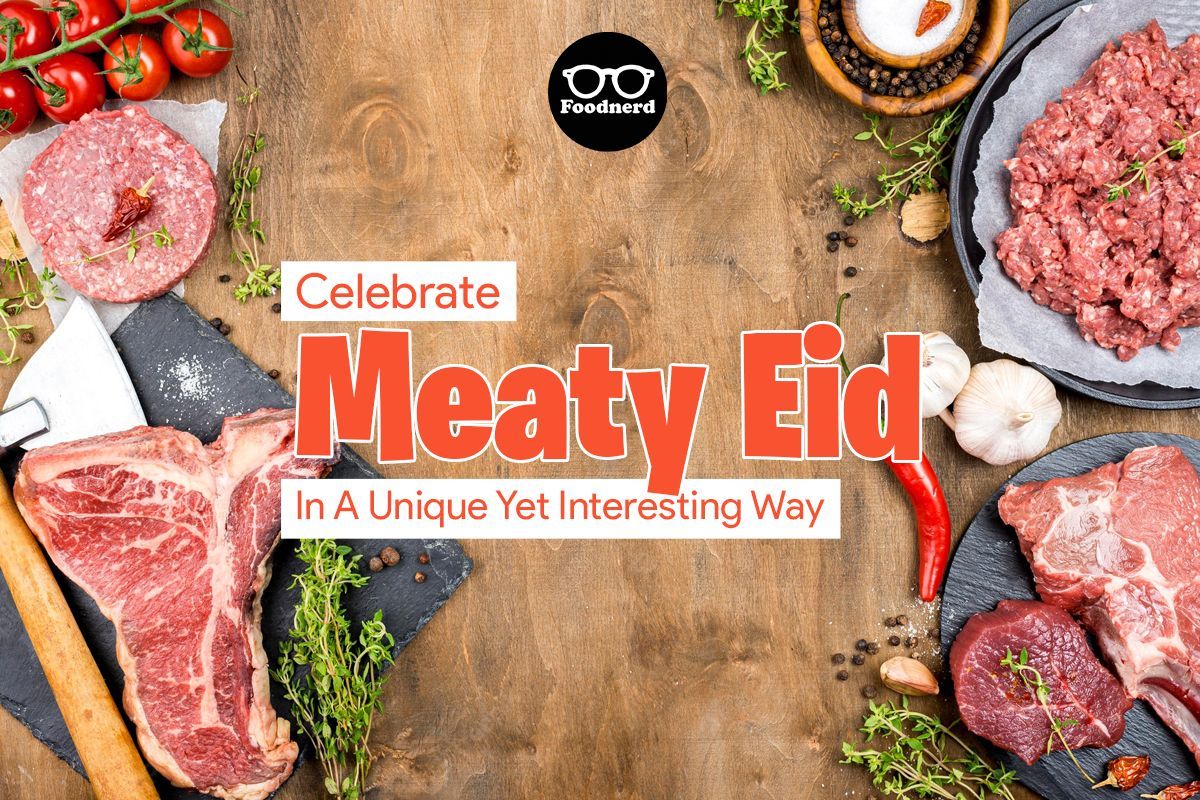 Nubaira Ahmer khan"

2022/06/13

0 Comments

0 Likes
We often find Eid-ul-Adha a bit boring as compared to Eid-ul-Fitr. And this is evident that boys enjoy Eid-ul-Adha more with their animals than girls. But many exciting things are associated with this Eid. No doubt, these interesting things make Eid-ul-Adha more exciting. So, have you shortlisted all the yummiest meaty dishes which you're going to make this Eid-ul-Adha? Or are you ready for the best Eid-ul-Adha special lunches? If not yet, continue reading this blog because we have highlighted the best dishes you can enjoy with your family this Eid-ul-Adha and make your meaty Eid more special with these yummiest dishes. 
How To Spend Eid Ul Adha And Make It Interesting
On eid-ul-Adha, we all prefer to eat the sacred meat, and you can say our Eid-ul-Adha meal starts with Sacrificed meat. From eating Kaleji for breakfast to eating Qeema and Kebabs for Lunch and eating Karahi and pulao for dinner, we all spend our Eid-ul-Adha with our beloved by eating lots of dishes. If you are tired of eating the exact words again and again on Eid-ul-Adha and want to try some unique dishes you can enjoy with your family this eid-ul-Adha, then continue reading it because we have highlighted eid ul Adha recipes that you need to taste. 
Read 
Great Tips for Healthy Eating After Ramadan
Introduction To Pakistani Cuisine
Start Eid-Ul-Adha With Special Brunch 
Right after the sacrifice, you can start the preparation of the best eid ul Adha lunch with unique recipes. Such as you can include different items such as Dahi barra, Tea, refreshing juices, Fried Kaleji, Qeema, Kebabs, nihari, halwa poori, chana chaat, Lassi, and lastly, parathas, etc. these are the must-have items that you may include in your Eid-ul-Adha brunch to make it more delicious yet exciting. Additionally, you can add kheer and sheer khurma for dessert in your Eid brunch. Thus all these items make your Eid-ul-Adha lunch extra delicious yet unique. After the brunch, you can enjoy playing different indoor games with your friends and family to make your time more memorable. In the evening, you can go outside in the greenery for the outdoor Eid-ul-Adha shoot, and trust me, you'll enjoy every single moment. 
Note: the preferable timings for Eid-ul-Adha brunch will be 11 Am to 2 Pm
Through A Lavish Hi-Tea 
Well, breakfast, lunch, and dinner are always ordinary on Eid, but the new trends are Hi-tea and Brunches. If you haven't planned to throw a Grand Bruch and Lavish Hi-tea on eid, then to be very honest, you'll feel the eid days are the same as random days. Therefore, planning a grand hi-tea for your friends and family is significant. Well, if you are concerned with the dishes that make Eid-ul-Adha special, then try adding Reshmi Kebabs, Mutton Karahi, Beef Kofta, Makhni Mutton, Haleem, nihari, pulao, steak. With samosa, roll, tea cake, ice cream, donuts, cupcakes, etc., these hi-tea items will make your Eid-ul-Adha evening very memorable.
Note: The preferable timings for Eid-ul-Adha will be 6 PM to 8 PM.
Arrange Bonfire
The last thing to make your Eid-ul-Adha very interesting is having a bonfire. Never skip this thing. I never have. At a bonfire, you can have a BBQ party with fizzy drinks. You can enjoy the chit-chat with your friends and family. Also, you'll enjoy some music and dance to make the event extra exciting. The last must-have thing you should not skip is drinking green tea with cardamom that will digest all the meaty stuff. Hence, you can add multiple dishes at different times and make your Eid-ul-Adha unique with your family.
Read 
10 Desi Food Restaurants In Lahore You Might Not Aware With
Best Pan Asian Restaurants In Lahore
Write a Comment
0 Comments