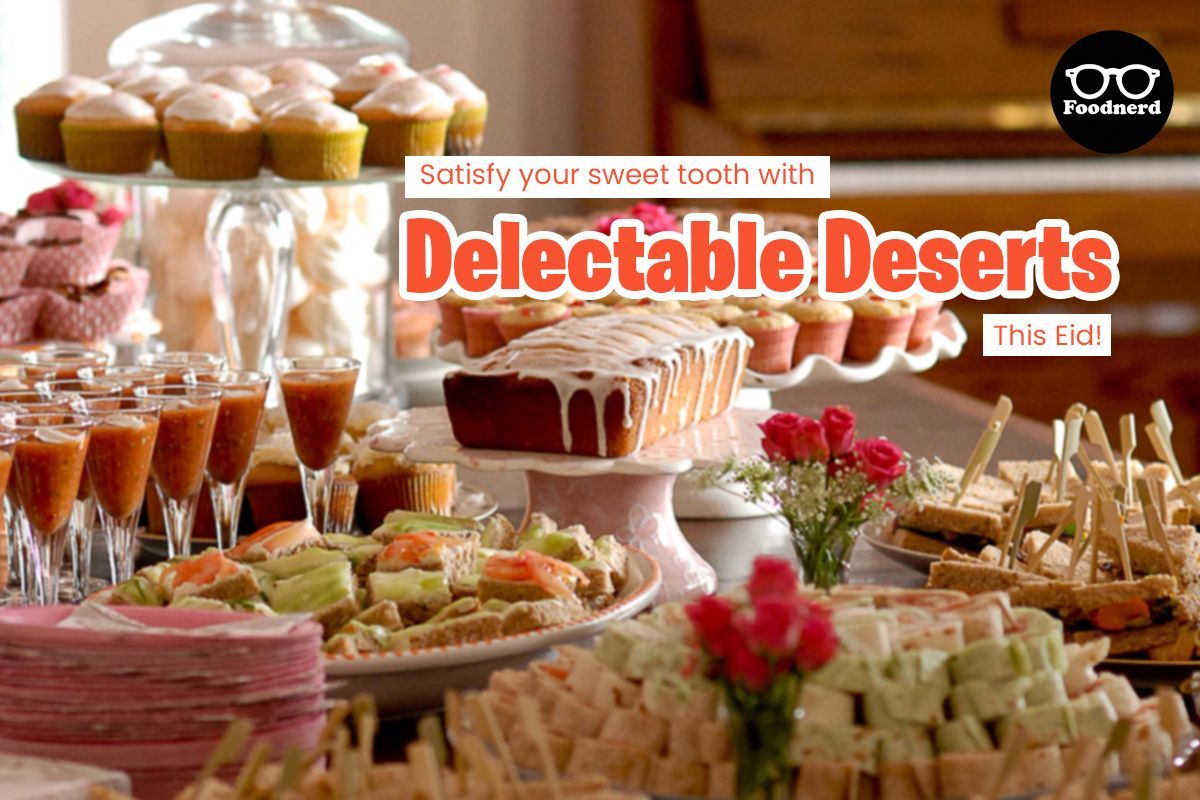 Nubaira Ahmer khan"

2022/06/28

0 Comments

0 Likes
Are you stuck deciding what sweet dishes you'll add to your menu this eid? If yes, then don't worry. You are at the right place. We have highlighted the best and unique recipes to make your eid special and delicious. Eid is undoubtedly the eve of the celebration, and adding sweetness with colorful dessert gives us strikingly precious Eid vibes. It is the fact that when you try delicious cuisines, whether it is a sweet or salty dish, it leaves a taste in your gustatory memory. When you push that dish, it affects some other place that memory is revived into your mind, and then you'll simultaneously feel the pleasure of the past and current moment. As Eid is the name of celebration and gathering memory, we have highlighted the exciting and unique sweet dishes for Eid that you must try. 
Best Sweet Dishes For Eid
If you are a fan of dessert and love to try new desserts to satisfy your sweet tooth, then we are genuinely sure that these recipes will touch your heart. 
Custard Vermicelli 
The custard vermicelli is the most unique yet delicious dessert. The fusion of (vermicelli) sevian and custard makes a very creamy dessert. It is made with the same custard recipe while the vermicelli is soaked in it and then served chill. To add more attraction to it, you can add jelly and tropical fruit cocktail on top of it to make its appearance more catchy and tempting.  The sweetness in custard vermicelli made everyone want more and more.
Read
Healthy Benefits Of Eating Date
Are Soft Drinks Safe During Pregnancy?
Frozen Mango Yogurt 
Frozen yogurt is a creamy, tangy dessert that is a perfect treat on Eid. If you have a mango obsession, you must try the frozen mango yogurt dessert this eid. It is delicious one can not resist eating more and more. It only requires three ingredients: plain yogurt, sugar, and mangoes. Mix these ingredients well and make a smooth texture and then place it in an airtight container and freeze it for a few hours. The frozen mango yogurt is ready to serve. 
Read 
Amazing Restaurant Spots To Add To Your Checklist When You Visit Riyadh
5 Most Popular Saudi Rice Dishes
Mishti Doi
The mishti doi is a unique Bengali sweet dish. You may try this eid. Its recipe is very easy. What makes mishti doi unique is its presentation in the mud Matka ( Mud Pot). The Mishti Doi is the sweet curd in which brown sugar or jaggery is the main ingredient that turns its color into a light pinkish-brown shade. Well, the cardamom powder is added to enhance its fragrance. It is the easiest recipe you must try for this eid, it is super healthy because of all the natural ingredients, and it will add value to your eid meal.
Read 
Most Popular Tea Brands In Pakistan
Kashmiri Tea The Gift Of Winters
Bread Swiss Roll
The Bread Sweet Roll is delectable and made from a super easy recipe. It doesn't require a list of essential ingredients. All you need is plain bread, low-calorie milk, sugar whipping cream, powdered coconut, and food color, which you'll add to the whipping cream (depending on your choice). When you have these ingredients, you can just make the swiss bread rolls in minutes. Just remove the edges of the bread, and soak it in milk for a few seconds. Press the bread with your hand to make it even, and then cover its top with whipped cream. Now roll the bread and drizzle coconut powder over it. If you want to make it more attractive, you can add colorful sprinkles.
Read 
Perfect Afternoon High-Tea Ideas
Naan Khatai 
Another best sweet dessert you can add to your list of sweet desserts to make your eid more special is baking naan khatai. It is the most exciting and traditional cookie you can make. It requires three ingredients: plain flour, powdered sugar, and oil. The amount depends on the quantity How much naan khatai you'll bake, well 2.5 cups of flour, 1 cup oil, and 1 cup powder sugar is enough to easily bake 21 cookies. Just assemble the things and knead the dough. Make proper cookie shape and then bake. And then these Nan Khatai are ready, and you can easily enjoy them with your friends and family on the auspicious eve. 
Read 
10 Desi Food Restaurants In Lahore You Might Not Aware With
Table Manners And Dining Etiquette
Maamoul
Maamoul is the most delicious cookie filled with date pudding. It is a popular dessert in Lebanon and the Middle East. It is believed that Eid celebration is incomplete without maamoul. They are very delicious, creamy and buttery cookies you would love to consume while the dry fruits that are used in it make maamoul very healthy and nutritious. 
Balah El-Sham
Balah el-sham is the traditional Egyptian sweet dish you must try this eid. It is considered the best dish made with deeply fried dough, and honey is spread to make it tastier. If you are a fan of light sweet desserts, then balah el-sham is the best thing. You can also sprinkle crushed dry fruits on their top to make it more presentable. 
Read 
Everything You Should Know About Onions
Incredible Things You Should Know About Potatoes
Write a Comment
0 Comments