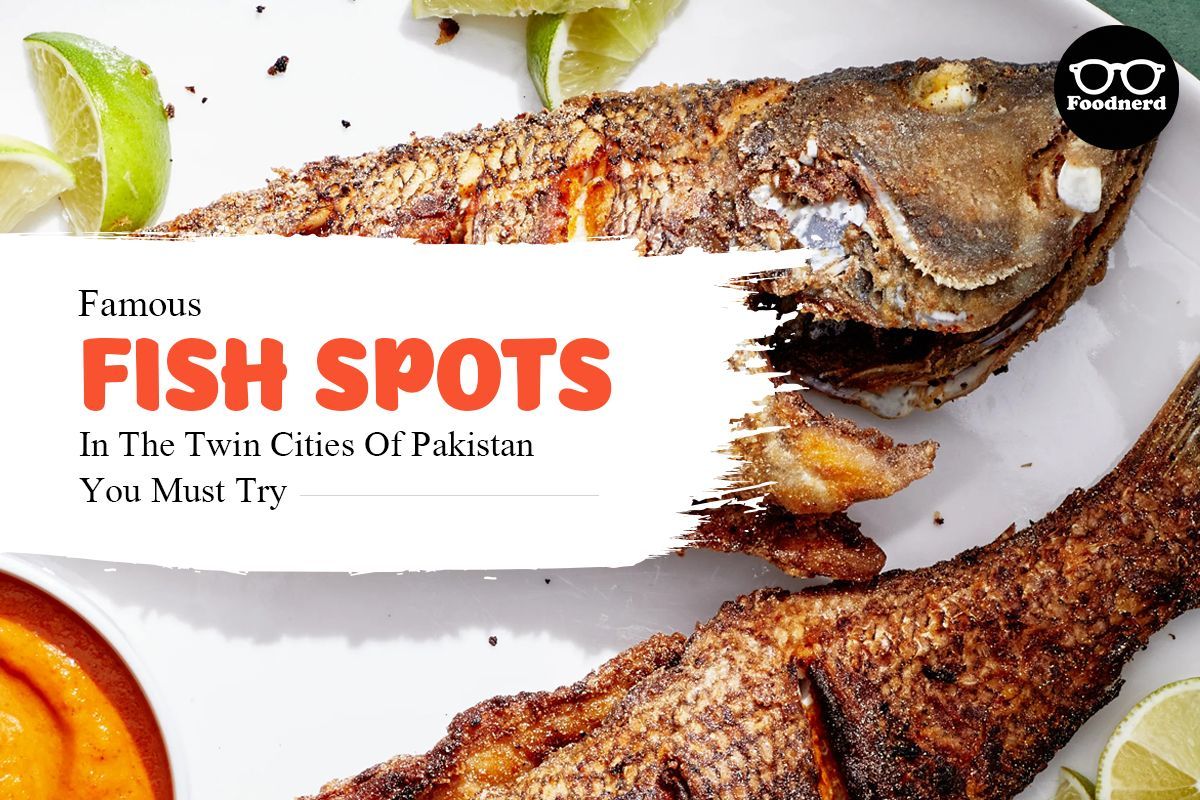 Nubaira Ahmer khan"

2023/01/25

0 Comments

0 Likes
In the winter, we naturally crave warm soup or perfectly grilled fish that is perfectly tender and juicy in flavor. And when we eat the freshly fried fish dipped in sauce, it gives us the best feeling, and eventually we forget the bitter cold for a while and enjoy this mesmerizing moment.
In the winter, freshly fried fish hits you differently than any other dish. It is the most delectable winter trend that we all enjoy. Well, when it comes to eating the best fish, we are quite picky, as not everyone can make a perfectly tender fish with the perfect blend of spices and sauces. 
Therefore, if you are choosy about eating fish and want the best fish, then continue reading this blog to find the best places to eat fish in the twin cities of Pakistan, i.e., Islamabad and Rawalpindi. 
The Most Demanding Fish Type In Islamabad and Rawalpindi 
There are various types of fish, and each type has a distinct flavor, so when deciding what type of fish to eat, you must also consider the best type of fish.
A survey was conducted on the demand for fish in the twin cities of Pakistan, and it was highlighted that the areas in Rawalpindi, such as the commercial market, Sadiqabad, Saddar, Raja Bazar, and Committee Chowk, and the areas in Islamabad, including G-10 Markaz, F-11, F-10, the supermarket, Aabpara, Jinnah Super Market, Melody Market, and Karachi Company, are overloaded with fish fans. 
Well, when it comes to the taste of Rawalpindi and Islamabad, the fish vendors and restaurant owners suggested that in the winter, the demand for Heera, Surmai, Dawan, Roshu, Mushka, Silver, Pomfret, Dambra, Thela, Mahasher, Salmon, and Common Carp are the most demanding types of fish.
Reference article : Grilled, BBQ fish in high demand as mercury drops in twin cities
Thus, fish demand is high, even though there are multiple varieties of fish for  fish lovers to savor in grilled or fried form. 
Read 
The Five Types Of Fish You Should Purchase When Grocery Shopping
Which Restaurants Serve The Best Soups In Lahore?
Famous Fish Selling Points in Islamabad & Rawalpindi
With the recent increase in the weather, the demand for fish is increasing, as is the crowd. which is expanding on the well-known points. Some people prefer street food, while others dine at five-star restaurants. 
When it comes to fish, it doesn't matter if you go to a fine-dining restaurant or a small street restaurant. Only the taste of fish matters; that is all. Consider the following best fish selling points that you should try. 
Read 
Top Healthy Meal Delivery Services in 2023
Top 11 Food Delivery Apps You Can Try
Mustafa Dar-ul-Mahi 
The Mustafa Dar-ul-mahi is the most renowned fish spot in Rawalpindi, it is located in the Hathi chowk, Raja Bazar. The combo of their grilled fish with French fries is really underrated. while the quality of their fish is really great.
The most amazing thing about Mustafa-Dar-Ul-Mahi is that they offer different service options, including dine-in, delivery, and takeout. However, Mustafa Dar-Ul-Mahi is always crowded, and on weekends, one can hardly find their turn because fans love the taste of their fish.  
Read 
Incredible Uses And Benefits Of Vinegar
What Is A Keto Diet? An Overview For The Beginners
Sardar Lahori Fish 
In Rawalpindi's Chandni Chowk and Murree Road, the Sardar Lahori fish is the most popular fish spot, which you can always consider for the best fish in Rawalpindi. They offer the best deals with very reasonable prices on a wide variety of fish. 
Whenever you visit Sardar Lahori Fish, do try the fried musk or fried rahu, and you'll definitely enjoy the taste of it. Without a doubt, the Sardar Lahori Fish in Rawalpindi is the best-rated restaurant that serves delectable food. 
Read
Healthy Benefits Of Eating Date (Khajoor)
The Best 5 Fruits To Eat For Breakfast
Peshawari Tawa Fish Center
So you've heard of grilled fish, right? You may have tried the best fried fish in Islamabad or at a restaurant, but chances are you have never tried tawa machi. Do you know that the flavor of tawa fish is distinct from that of rased, fried, or grilled fish? 
If you're wondering where to get the tastiest and most delicious tawa machli, look no further than the Peshawari Tawa Fish Center in Rawalpindi. It is the most crowded place, but people really love its taste and recommend it. 
Read
Which Islamabad Restaurants Have The Best Karahi?
Best Place For Sehri In Islamabad
Cheema & Chatta 
The most recommended restaurant in Islamabad for desi food is Cheema & Chatta; they present amazing desi cuisine in F-11/2 Islamabad at Suleman Market with mouthwatering taste. So do visit Cheema and Chatta; that will finish your hunt for fried fish in Islamabad.
An interesting thing about Cheema and Chatta is that they have their own grocery store, and the spices they use in their cuisine are all originally from their own grocery store. That is why you can taste a blend of aromatic spices in grilled or fried fish. 
Read
What Are The Health Benefits Of Eating Chicken?
5 Magical Health Benefits Of Ginger
Suki Sushi
Well, if you are a fish lover, and don't want grilled fish, fried fish, or BBQ fish, then you still have the option to enjoy sushi. Suki Sushi is the most amazing and recommended place to try sushi in Islamabad, serving the best and most delicious sushi in town. 
Suki Sushi is Islamabad's best Japanese and Korean restaurant, where you can always rely on authentic Japanese and Korean flavors. If you want sushi delivered at your home. You can also visit their website at https://www.sukisushi.co/ to place an order online. 
Read 
Perfect Afternoon High-Tea Ideas
Most Popular Tea Brands In Pakistan
Wajid Fish Corner & Shinwari Tikka
The best places in Islamabad for fried fish are wajid fish corner and shinwari tikka. It is a fantastic location for people, particularly those who live in Islamabad's I-8 or I-9 sectors. The specialty of "wajid fish corner" and "shinwari tikka" is all the desi food that is created with a special aroma. 
No doubt, the Wajdi Fish Corner is the most renowned fish spot that has tastiest food. You can enjoy the delicious desi food from the wajid fish and shinwari tikka, which is overall the best restaurant in Islamabad. 
Read
Amazing Restaurant Spots To Add In Your Checklist When You Visit Riyadh
Kashmiri Tea The Gift Of Winters
Write a Comment
0 Comments