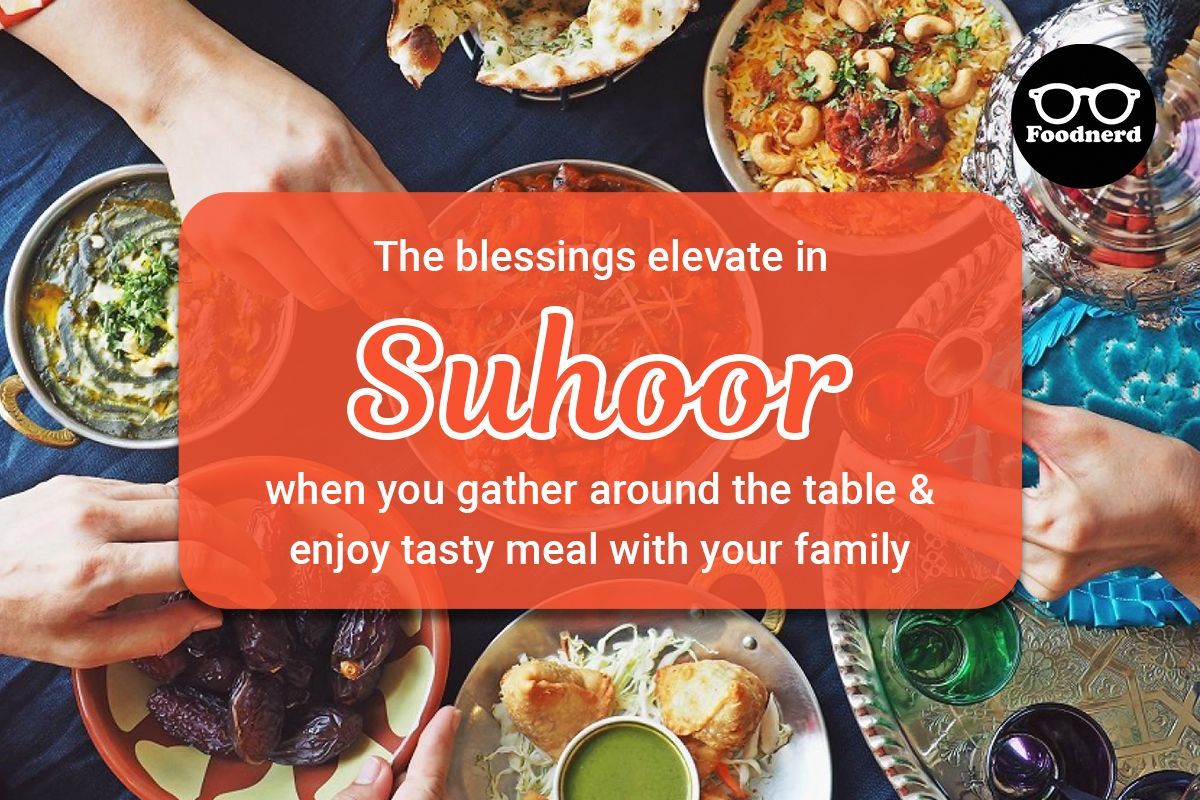 Nubaira Ahmer khan"

2022/04/20

0 Comments

0 Likes
In the busy schedules of our life, we never find much time to spend with our family during breakfast, lunch, or dinner. Every person has their routine at lunch, dinner, tea time, or breakfast. Kids leave early for their schools, fathers leave for their offices, and come late same is the case with working ladies. Now gone are the days when people enjoy fasting with their families, siblings, and friends gather around the table for Sehri and iftar because we hardly find time to take meals. Even our weekends are occupied with multiple activities, and we all are losing the family bond time. Keeping in mind the hassle in our busy lives and skipped breakfast routines, we have highlighted the best Sehri deals in Islamabad. You should grab this Ramzan and enjoy it with your family. Continue reading it to find out the best Ramadan restaurant guide in order to make your Suhoor time more blissful with your family. 
5 Sehri Deals In Islamabad To Grab This Ramzan
If you want to spend quality time with your family or you have a plan with friends for making your Sehri more attractive, then add the restaurants highlighted below to your bucket and grab the best Sehri deals in Islamabad and enjoy the best cuisine of your choice including traditional food, fast food, Chinese cuisine, continental, and barbeque. 
Monal Restaurant 
Monal is one of the most popular restaurants in Islamabad that offers exclusive sehri and iftar deals to make Ramadan more special. You'll experience a very excellent sehri at monal with the fusion of outstanding Pakistani cuisines and various other dishes from Arab, Persian, and Central Asian cuisine. If you are a fan of desi breakfast or English breakfast at Monal, you'll taste every food according to your preferences. Similarly, monal takes care of everything, so monal will never disappoint you if you prefer sugar-free desserts. Furthermore, The number of items in sehri varies on a daily basis so you'll not eat the same sehri at monal every day.
Read 
Best Place for Iftar 2022 In Islamabad
Amazing Restaurant Spots To Add In Your Checklist When You Visit Riyadh
Chilman Restaurant 
Chilman restaurant offers a variety of dishes in their exclusive menu of Sehri. At the same time, they also provide their guests comfort to order sehri online from different ordering platforms such as foodnerd, etc. the keema paratha and the lachha paratha are all-time favorite dishes you must try. Similarly, chilman always inspires guests by adding a variety of omelets, including cheese omelets, Turkish omelets, Punjabi omelets, etc. You'll enjoy their delicious menu of sehri.
Makhan Malai 
The Makhan malai restaurant in Islamabad presents an excellent sehri buffet in order to fill this divine month with feast and flavor. Their sehri buffet price is reasonable, i.e., 780/- PKR, in which you'll enjoy the taste of desi food in Islamabad. As we all know, in Islamabad, you'll mostly see Chinese food or fast food like pizza, burgers, etc., but Makhan Malai exclusively presents you with the desi menu. Well, their lahori kulcha , achari omelet, and lachadar paratha are the must-try dishes. 
Read 
10 Traditional Food of Pakistan
Food delivery in Islamabad from the best restaurants
Khiva Restaurant
Khiva restaurant offers the perfect menu for sehri in Islamabad. The sehri buffet in Khiva is very reasonable. You will enjoy a lot of dishes, including sehri main eateries, breakfast courses, drink, fried and steamed cuisine, vegetable dishes, Pan Asian, rice, bread, chutneys, salads, pickle, and dessert just in 999/- PKR per person which is quite impressive. The best thing about them is that you can order food online, opt for dining in, and enjoy the car buffet because Khiva goes to any extent to entertain their guests. 
Mindano's
Mindano's Islamabad offers the best Sehri deals you must grab to make your Ramadan unforgettable. They serve everything fresh and appealing that automatically triggers your appetite. The ambiance at mindanos is also very satisfactory. Mindano's, you'll enjoy the mixed cuisine, including continental, Chinese, Italian, Thai, etc. The Sehri buffet at mindanos will fulfill all your food cravings because they offer almost more than ten dishes and all the dishes are excellent. 
Read 
Table Manners And Dining Etiquette
Write a Comment
0 Comments