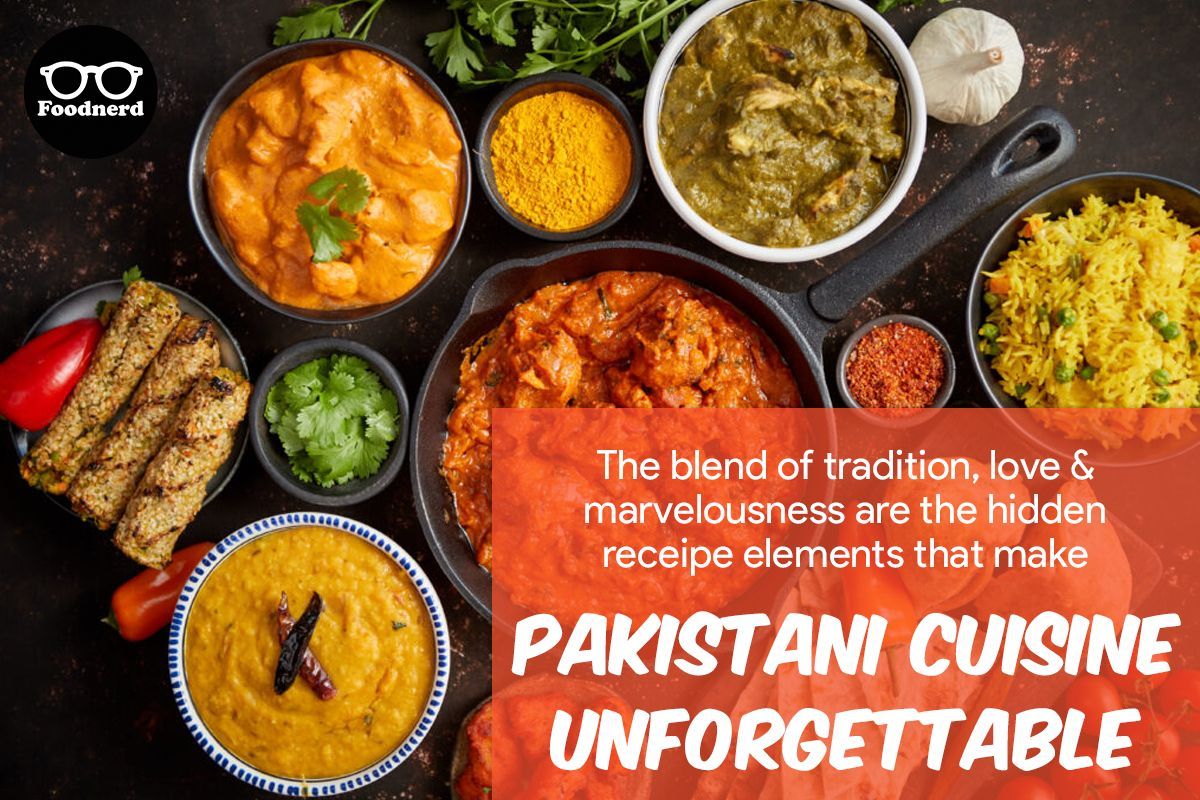 Nubaira Ahmer khan"

2022/01/13

0 Comments

0 Likes
The Pakistani cuisine contains a blend of Indian, Middle Eastern, and Asian cuisine, making its taste distinctive with delicious flavors. Most of the Pakistani cuisine is simmered on a low flame that leaves the taste of every single item in a dish. The fact that makes Pakistani cuisine more delicious is the abundant species, and a generous amount of things in their sweet and salty dishes make it unbelievably unique. For instance, rich use of sugar, ghee, nuts, pistachios, almonds, coriander, sesame seeds, cumin seeds, and many other ingredients.
Introduction To Pakistani Cuisine 
The provinces and regions define the food custom in Pakistan. The best thing about Pakistani cuisine is that you'll enjoy it everywhere, whether eating at the dining table or a floor mat. The practicing religion in Pakistan is Islam, where they prefer to eat all the halal dishes permissible by Islam. Additionally, halal food indicates how food, especially meat, is prepared or slaughtered. 
Similarly, the culture and cuisine are usually identified by the graphical locations. There are five provinces in Pakistan: Punjab, situated in the eastern region, Gilgit Baltistan, the northern province. Khyber Pakhtunkhwa the northwest region, Balochistan the southwest region, and Sindh the southern coastal region. All these regions retain a vital essence of their neighborhood that is why the Pakistani cuisine contains a blend of multiple dishes from different areas. The best thing about Pakistani cuisine is that they are highly seasoned and spicy.
The Pakistani meal eating pattern is the same as all three times a day, i.e., breakfast, lunch, and dinner. While most people skip the lunch part, make it brunch an d then go with hi-tea. Similarly, Pakistan is a Muslim country where they celebrate Eid-ul-Adha, Eid-ul-fitar, and Eid-Milad-un-nabi, and on all these occasions, they made a lot of cuisines to enjoy the festival and serve their guests.
Read 
Perfect Afternoon High-Tea Ideas
Top Regional Dishes In Pakistan
Pakistan has five different provinces and each province has its own culture and cuisine. The tops regional dishes that are famous all over Pakistan and you just need to try are given below: 
Food Of Balochistan
The Customs and Cuisine in Balochistan are slightly different yet interesting. The Balochi people love to eat meat. One of the most popular dishes in Balochistan is Sajji and luckily you can find it in many other cities in Pakistan. It is a rich in taste dish, usually made of chicken or lamb. Balochi sajji is stuffed with rice and roasted on the fire.
Punjabi Food
Punjab in Pakistan is predominantly an agricultural area, and they are more likely to eat simple dishes that rule the heart. One of the most top-rated dishes in Punjab is Makai ki roti and Sarson ka saag. However, the Punjabi flavored food in Pakistan usually contains a mix of vegetables, lentils, and meat. The people in Punjab love to consume rich buttery flavor in everything. Drinking lassi is very common in Punjab it is a drink made from a blend of milk and yogurt and served in hot sunny weather.
Related Articles 
10 Desi Food Restaurants In Lahore You Might Not Aware With
Best Pan Asian Restaurants In Lahore
Best Pan Asian Cuisine In Rawalpindi
Sindhi Food
The Sindhi customs and cuisines are rich in traditions. They made their food with delicious flavors, simplicity, and love. However, Sindhi food is mostly influenced by the central Asian tradition. The Sindhi biryani is really famous all over Pakistan. It is the best dish to eat in Pakistan whenever you visit Sindh. Similarly, one of the most important specialties is the Sindhi Palla machi which carries great significance in Sindhi customs and cuisine. Still, many people do not have much knowledge regarding the Palla fish, which is the delicacy of honor mostly in Sindhi festivals.
Khyber Pakhtunkhwa Food
With its unique costumes and rich traditions, Khyber Pakhtunkhwa is famous for its rich taste in food. Like Balochis Khyber Pakhtunkhwa, people also love to eat meat. The rice dishes and kebab are more prominent in Pashtun cuisines. The critical fact is that Pashtun and Balochi dishes are mostly non-spicy. One of the most famous dishes is the chapli kebab and Kabuli pulao. So when you are in Pakistan or visiting  Khyber Pakhtunkhwa, you must try these favorite KPK delicacies.
Read 
10 Traditional Food of Pakistan
Gilgit Cuisine
Gilgit-Baltistan is a heavenly place in Pakistan. They have amazingly delicious food like mamtu (dumplings) and harissa, a ubiquitous cuisine all over Pakistan and even overseas. The people of Gilgit are also very hospitable, and they serve harissa on special occasions like festivals or weddings. However, the best thing about Gilgit Baltistan is that the cuisine has a very diverse and unique taste. Additionally, the chapshoro is also a very famous dish in Gilgit Baltistan. 
Write a Comment
0 Comments