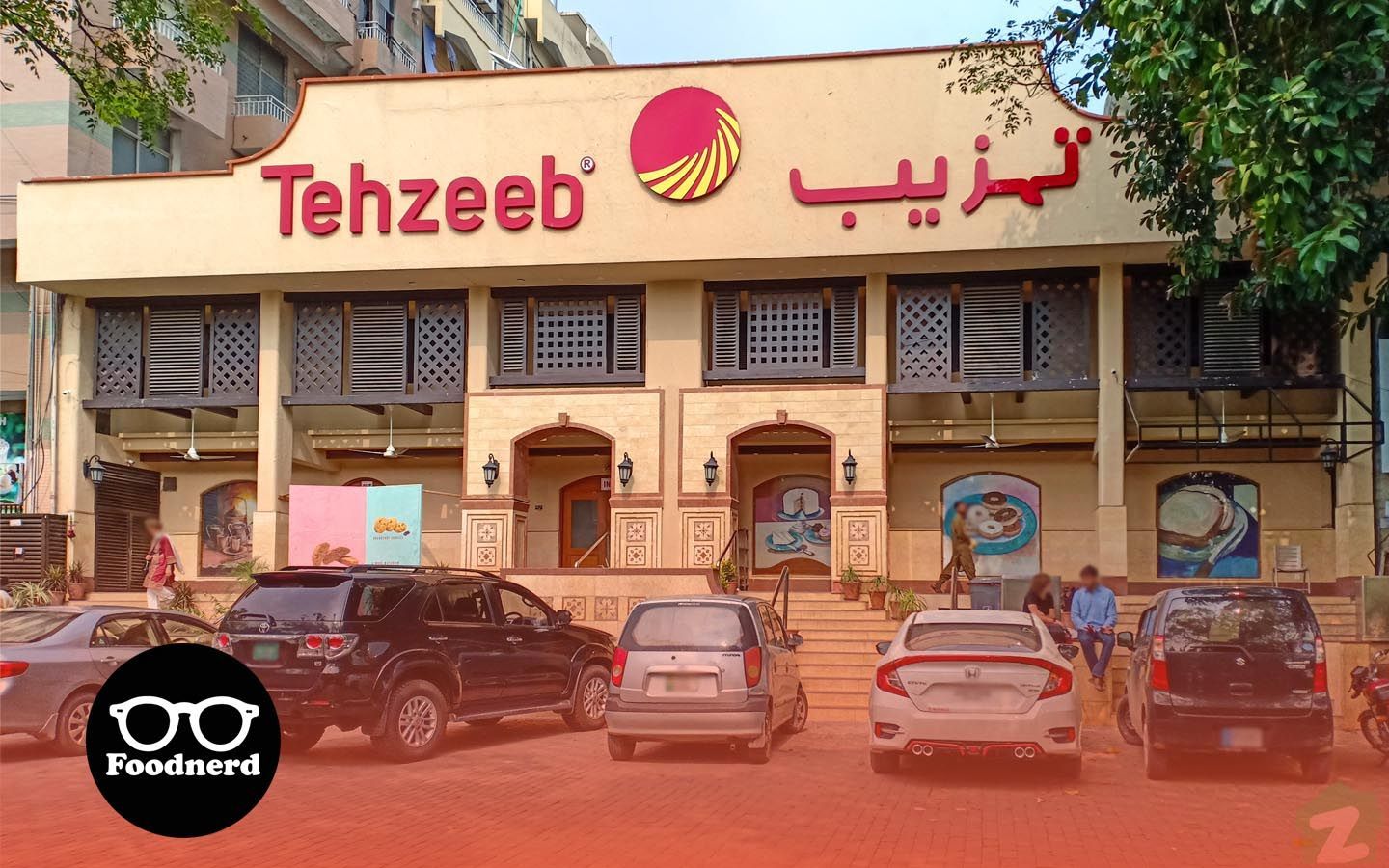 Nubaira Ahmer khan"

2021/11/17

0 Comments

0 Likes
The bakery items always give us extra delicious vibes to make our breakfast and tea time exciting and lovely. Suppose you are a resident of the twin cities of Pakistan, i.e., Islamabad and Rawalpindi. Your bakery items carving would be easily satisfied with the heart-melting things of  Tehzeeb bakery. No Doubt the Tehzeeb Bakery is one of the top-rated and the best in Rawalpindi and Islamabad. Luckily tehzeeb is also offering their online best delivery service, but you can order any item from tehzeeb via the most trusted food delivery service known as Foodnerd.  
History Of Tehzeeb Bakery 
The Tehzeeb Bakery has been successfully serving its extraordinary delicious taste for more than 75 years. Tehzeeb bakers first originated in the subcontinent's famous historic place Shimla, also known as the Summer capital. Chaudhary Hakeem-ud-din Noon was the first man who started the legacy of Tehzeeb by baking roti Godown in Shimla, and soon he became the most trustworthy symbol of the best baker in terms of quality and hospitality. His wonderfully original recipe with the fragrance makes people attract more and more towards him. And from there, his success story started. He opened up a renowned bakery named "Shimla Bakery," which later became the best and the top bakery in Rawalpindi, currently known as 'Tehzeeb.' Later on, the success of hard work, determination, high standards, and the same quality bakery items for years led to the creation of different chains of Tehzeeb Bakers operating by the sons of Chaudhary Hakeem-ud-din in Islamabad and Rawalpindi and the sales and customer base of Tehzeeb is continuously growing.
Tehzeeb Bakers
The tehzeeb bakery is known for its standard and quality products. You won't believe it, but their products' taste and fragrance have been the same for more than seven decades, and this is an incredibly fantastic thing. At tehzeeb bakery, you may find various items ranging from biscuits,  variety of cakes, salads, snacks, pastry, pizza, sandwiches, donuts, Arabian sweets, cookies, bread, and everything in between. 
Best Items In Tehzeeb Bakery In Menu
In the Menu, you can find a variety of items. The good thing about tehzeeb is that they always serve freshly baked items, and all of their products are of elite quality. You will rarely find any competitor of Tehzeeb. Similarly, tehzeeb has the best things on their menu. Whenever you visit tehzeeb, you may find all the items in a very organized way because they have made separate corners for cakes, pastries, cookies, pizza, salads, desserts, etc. Furthermore, foodnerd provides you with an online. The tehzeeb menu items are highlighted below:
Cakes
Tehzeeb bakery offers highly delicious and the best quality cakes in whole Rawalpindi and Islamabad. The taste of their cakes is heavenly, and I believe you won't find another cake as delicious as the cakes of Tehzeeb. Similarly, at tehzeeb, you may find a variety of cakes, including Dry Cakes, Fresh Cream Cake, Buttercream Cake, Mousse Cake, Ice-cream Cake, and a variety of Teacakes. One of the best things about tehzeeb is that they offer you a customized cake. So surprise your loved ones and celebrate the best time with Tehzeeb bakery customized cakes.
Biscuits
Tezeeb bakers' menu also includes the royal taste of biscuits with simplicity and originality that makes up a perfect combination for your evening tea with your friends and family. They have a variety of biscuits perfectly baked with a delicious aroma and crisp. Tehzeeb also offers unique biscuits such as cranberry cookies, Oatley biscuits, almond pistachio, and chocolate walnut cookies are live examples of their uniqueness. You can order the Tehzeeb bakery biscuits online from foodnerd and also send the box of biscuits as a gift to your family and friends. 
Pastry 
Tehzeeb offers delicious pastries in a variety of forms. They always cater to the happiness of their clients and always have something sweet and tasty for everyone. You can have their one bite pastries or honey almond fudge pastries. Tehzeeb's exclusive collection of pastries involves Chocolate tart, Honey tart, Coconut Pastry, Cheese Pastry, Honey Almond Pastry, Black Currant, Chocolate Cheese, and Coconut pastry. Furthermore, tehzeeb's fresh cream pastry is also one of the most popular pastries. Please try their oreo pastry, Black forest pastry, and vanilla Mocca bar pastry. Additionally, the tehzeeb baker's tarts and buttercream pastries are also loved by everyone. One of the most top-selling products is their trifles in a cup in different flavors and give your taste buds a sweet ending taste. 
Read 
Best Pan Asian Cuisine Restaurant in Islamabad; A Perfect Mood Relies on Chinese Food
What Are The Most Popular Restaurants To Shortlist During Visit To Islamabad?
Salad 
One of the best and most favorite corners of mine in tehzeeb is the salad corner, in which you will find different types of salad on tehzeeb's menu. Including the corn, salad presented you with the taste of simply classic and juicy corn. They also have noodles, pasta, macaroni, smoked chicken, cucumber, fresh fruits, and bean salad. They are amazingly healthy and delicious. Try tehzeeb rich in flavor and nutrients salad with Italian and greek dressing that will make you fall more and more for it. 
Bread 
If you are looking for soft and delicious bread, then Tehzeeb bakery offers the most delicate bread,top-selling, which proves to be the perfect starter for your breakfast. Tehzbeeb bakery offers bread in seven different varieties: plain, milky, butter bread, house bread, whole wheat bread, multigrain bread, brawn bread, and fruit break. They also have different buns, including dinner roll, fruit bun, butter bun, plain bun, brawn bun, flat, mini, and burger bun. If you are a rusk lover, then you must give a try to their cake rusk. They are also available in three different varieties: sweet cake rusk, fruit cake rusk, and ginger cake rusk. They also have plain, flat, and brawn rusk as well. So choose what suits your mood. 
Pizza
If you are a pizza lover, then you must try tehzeeb baker's pizza. Trust me, and it will never disappoint you because they offer delicious creamy and yummy cheese rich in cheese. The pizza menu of tehzeeb bakers includes many pizzas; however, their specialties are Mortadella Pizza and Sriracha Pizza. Both these flavors are unique with different tastes. If you are a pizza lover obsessed with extra cheese on your pizza, then definitely try out the tehzeeb pizza bakery pizza because they have extra cheese on every slice. You'll enjoy every bite of your pizza slice.  
Donut
If you love to eat donuts, then Tehzeeb bakery offers you different types of donuts. Now you won't be bored with only a single flavor donut because, at tehzeeb bakery, you have a variety of donuts to choose from. So don't wait and Spread a smile with tehzeeb particular smiley donuts. If you are a chocolate lover, then I'll recommend you taste the hazelnut or chocolate fudge donuts. Both of them have their royalty, and it sometimes makes it difficult to choose between them.  
Snacks 
If you are getting hungry or want to eat something light, then tehzeeb bakery has the solution for your evening cravings because they present a variety of snacks that will perfectly cheer up your mood. The good thing about tehzeeb bakers' snack menu is that they have many items, ranging from simple samosa sandwiches to shashlik sticks, hot dog burgers, roasted chicken, and mini pizzas. 
Puffs 
Tehzeeb bakery offers the sugar and spicy puffs that you would love to try again and again. Now don't worry if your guests are on your way for a tea gathering. You can instantly order the puffs from tehzeeb with the fast-food delivery service of foodnerd, and your evening snacks will be ready. Similarly, they also offer different things like a chicken patty, lemon puffs, cheese sticks, and Bakar Khani to make your tea more special.   
Write a Comment
0 Comments