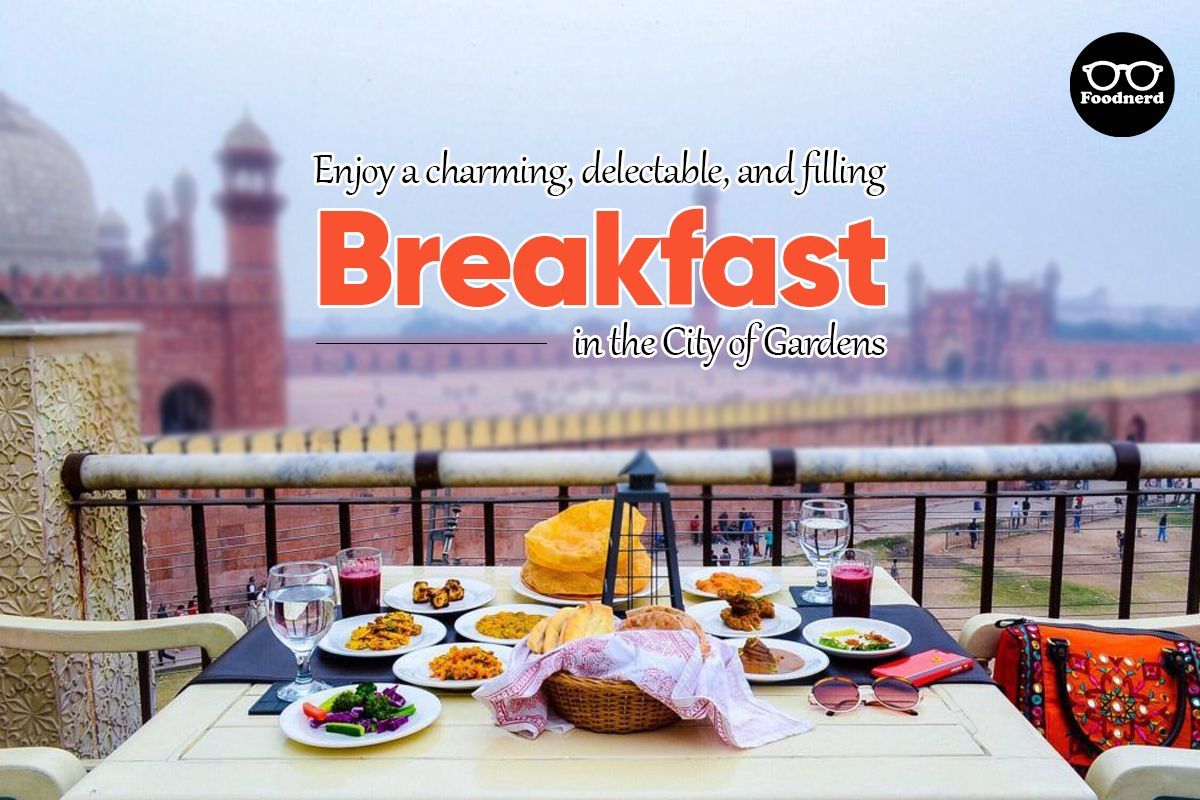 Nubaira Ahmer khan"

2022/10/03

0 Comments

0 Likes
When talking about breakfast in Pakistan, Lahori nashta is most well-known. Lahori food tastes, varieties, and combinations make it more enticing to the taste buds and uplift your mood. They have a very diverse menu. 
Nothing is more significant in Lahore than taking pleasure in a charming, mouthwatering, and satisfying meal. Lahore is Lahore when it comes to cuisine, after all. 
If you are in Lahore and haven't planned your breakfast in Lahore yet, then you must read this blog completely because we have highlighted the best places in Lahore for food that will make your breakfast more elite and interesting in Lahore than you'll ever forget. 
If you enjoy Desi breakfast or English-style breakfast, then having breakfast in the City of Garden, with its rich culture and lively atmosphere, is the best option for you.  
Read 
Why is Lahore famous for Food?
Lahore presents the most iconic dishes with a perfect blend of aroma and taste that make a person happy and satisfied. Their food variety is absolutely unlimited, and you can get the food at a very reasonable price as compared to other cities. 
No matter which class you belong to, Lahori Food serves everyone equally. Lahore is the best city in Pakistan that is continuously open day and night for food, and it is that city where no one sleeps with hunger because everyone can afford food in Lahore. 
Whether you want to eat breakfast in Lahore, or eat dinner or lunch, Lahori food will satisfy your hunger and make you feel special with its mouthwatering taste.  Lahore also has an abundance of food options.
One of the amazing and best things about Lahore is that the people are really nice, and they respect the guests wholeheartedly with the best food and chit chat. Also, Lahori are very foody, and they think about eating good food before anything else. 
Read 
10 Desi Food Restaurants In Lahore You Might Not Aware With
Lahore's Top 6 Breakfast Options 
There are numerous options for recharging your batteries with the most delicious, filling, and best breakfasts in Lahore. Even a very small thing makes a complete breakfast. There are many restaurants open right now in Lahore that provide a protein-rich breakfast that will keep you full till lunch time. From desi to continental, Lahore is full of the best restaurants.
We have provided a list of restaurants that offer delicious Lahori nashta. You no longer need to type breakfast places near me because we have compiled a list of all breakfast restaurants in Lahore that serve amazing dishes with the proper blend of aesthetic cuisine.  
Read 
Are Soft Drinks Safe During Pregnancy?
Wholesome Snacks For Weight Loss
The Garden by Bundu Khan
The Garden by Bandu Khan  offers the most delicious and best breakfast in Lahore in a very clean and green environment. Bandu Khan is the most famous and oldest eatery in Lahore and is renowned for its amazing bakery items. It offers a variety of interesting items to make the breakfast quite elite and tasty. So if you have a great liking for Desi breakfast in your heart, then Bundu Khan is among the best places to visit. 
Bundu Khan has all the desi items in one place; from nihari to desi murghi, payee, bhujia, and halwa puri, the Bandu Khan menu is diverse. They promise the delicious taste with perfect quality and a high standard, and this is their exclusivity as well. The amazing thing about them is their open-space seating arrangement, which becomes quite interesting with beautiful weather and lovely people's company. 
Read 
5 Quick Meal Preparation Tips For Breadwinners
Healthy Benefits Of Eating Date
Qasur Sweet Halwa Puri 
We all have heard about the famous Sadiq halwa puri, which is considered one of the best halwa puris in Lahore; however, most people forget to mention Qasur Sweet Halwa Puri, which is also very next level. The taste of halwa puri is very outclassed, while it is served with very soft puri, spicy chanay, and multiple flavors sauces. When you mix all the ingredients and then eat it, the blend of sweet and sour taste is really different.
The halwa puri generally feels incomplete with halwa, and the taste of Qasur Sweet's halwa is also very delicious with the aroma of cardamom. If you only eat halwa from here, it will also not disappoint you. However, if you want to try Qasur sweet halwa puri, you must eat it fresh with chana curry and cardamom halwa and delicious tea because it will give you the proper feeling of eating a delicious breakfast. 
Read 
Kashmiri Tea The Gift Of Winters
Incredible Things You Should Know About Potatoes
Goga Naqeebia Murgh Chanay
The Goga Naqeebia Murgh Chanay is also known as "Gogay K Chanay." It is a chickpea curry, but what distinguishes it is the combination of chanay with boiled egg or chana with chicken piece.  As a result of this combination, goga chanay became a very elite class. The most amazing thing is that they make freshly made kulchay and serve it to customers warmly, and every single thing tastes so yummy. 
If you are a channa lover, then Goga Naqeebia Murgh Chanay is the top recommended place that you must add to your list of the best places to eat breakfast in Lahore. From taste to plate, you'll find everything quite fulfilling, and it will definitely make you feel full for your entire day. So I must try the delicious channa curry with the combination of a boiled egg or a mouthwatering chicken piece. 
Read 
Different Types Of Milk Available On Grocery Store
School-Going Kids Lunchbox Idea For Mothers
Waris Nihari 
If you are searching for the best nashta near me while standing on Jail Road, I'll surely recommend that you go straight to Waris Nihari and enjoy the deliciousness of this amazing nihari. It doesn't matter that you are not a fan of desi food; you just give it a try based on our recommendations, and to be very honest, you won't be disappointed in choosing waris nihari for your breakfast. Waris Nihari is the most renowned and oldest shop in Lahore. 
At the same time, if you have tasted the waris nihari, you'll forget the taste of any other nihari, and you'll crave to eat it again and again. Waris Nihari provides you the perfect blend of scrumptious meals with highly tender meat and spicy gravy. the seasoning of fried onion green chili, the The coriander and ginger at the top, and a layer of reddish orange oil make the waris nihari very difficult to forget. So don't forget to try it. 
Read 
Table Manners And Dining Etiquette
Phaja Dey Paya
Phaja Dey Paya is the best nashta in Lahore, and believe me, after eating these delicious paya from here, you'll just forget everything for a while because they are amazingly delicious. It is the most traditional shop, and they have had the same taste for more than 50 years. At the same time, it is the most fulfilling breakfast. You can take just one plate of paya and eat it with naan, and the combo is amazing. 
The phaja dy paye shop is located near the Badshahi mosque in Lahore, and it is often crowded because people enjoy eating phaja dy paye. However, don't forget to include the warm plate of paye whenever you plan an elite breakfast in Lahore. The taste of these paya especially in the winters hit more differently. Lastly, it is not very expensive, so you can grab it every time when you crave something delicious.  
Read 
How To Spend Eid Ul Adha In A Unique Way
Tea Stalls And Lahore Chai Culture In Pakistan
Amritsari Hareesa
The Amritsari Hareesa is also the most common and renowned dish in Lahore, and the significant thing is that you can find the original taste of Hareesa only in Lahore. Hareesa is the best breakfast option in Lahore that will give you a delicious taste with the aroma of original desi ghee. So if you are a fan of Hareesa and want the best taste of it, then without any doubt go to Amritsari Hareesa because it offers the most authentic taste. 
The best thing about Amritsari Hareesa is that it has maintained its taste, quality, standard, and legacy for years, and it is loved by all the citizens all over the world. Fans of amritsari hareesa order it online at any time and from any location to enjoy its royal taste. Amritsari hareesa has many fans from around the world, and it is the best breakfast dish in Lahore when served with freshly baked Naan, Kulcha, or Laccha Paratha. 
Where Can I Find A Desi Breakfast Online in Lahore?
If you have no time to visit a restaurant in person and enjoy the freshness of a delicious meal, then it is totally alright. We understand that with a busy schedule, one can hardly find time. That is why we have highlighted the best online place where you can easily get the breakfast of your dreams and it is Foodnerd.pk. It is an amazing online food ordering and delivery service in Lahore. You can order directly from the Foodnerd website or the Foodnerd Customer App.
No doubt, it is the best online food ordering service that provides a catalog of the best restaurants for breakfast near you. The best thing about Foodnerd is that they have a very fast service, and they will deliver the food in a very short span of time. So just order your favorite breakfast from the restaurant of your choice and enjoy the freshness of a quickly delivered meal from the comfort of your home. 
Read 
Different Types Of Cakes You Might Not Familiar With
Write a Comment
0 Comments