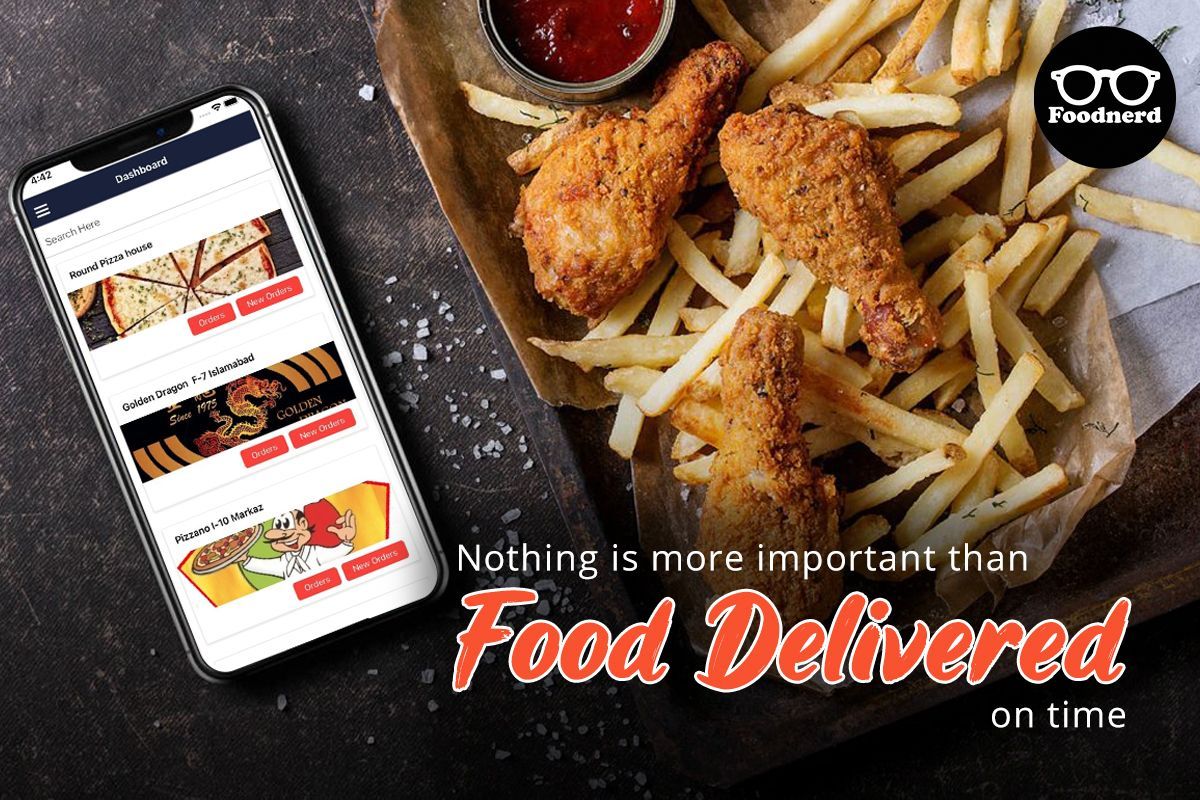 Nubaira Ahmer khan"

2022/11/22

0 Comments

0 Likes
Food delivery has become the talk of the town recently. Whether you are at home, in the office, at a friend's gathering, or with cousins for an overnight stay, enjoying food in your comfort zone is common. 
You no longer have to worry about ordering food at the right time because food delivery services deliver it right to your door and give you the opportunity to grab your favorite Pakistani cuisine anywhere, at any time. 
If you are looking for food delivery in Islamabad from the best restaurant, then continue reading because we have provided some interesting information for you.
Reason Behind Food Delivery Trends In Islamabad
Online food ordering and delivery trends are very common in Islamabad. No matter what time of the day or night you are craving food, there are food delivery services in Islamabad such as Foodnerd, Foodpanda, Cheetay, and many more that are available 24/7. 
These are the few delivery services in Islamabad that offer late-night food delivery, and these online food ordering services are the primary reason that no one sleeps on an empty stomach. 
Below we have highlighted some of the reasons behind online food delivery in Islamabad
Got A Boost After Covid 
Online food delivery in Islamabad has witnessed a considerable boom. The majority of Islamibadians prefer hangouts, but after COVID-19 restaurant closures, online food orders have become more popular among locals, and now people are more comfortable with it. At the same time, with the increase in gasoline prices, people prefer delivery over going to restaurants. 
Read 
Top 10 Restaurants For The Best Prawns In Islamabad
How Your Coffee Choice Reflects Your Personality
Comfortable 
Ordering food online is the only way for people to have some entertainment from their comfort zone as kids get bored with regular homemade food and demand something exciting. In most of the households in Islamabad, both the husband and wife belong to the working group and cannot manage to cook food at home. 
Convenient 
Ordering food from the best online restaurant in Islamabad is the most convenient and preferable way to go, especially for dinner and lunch gatherings. Islamabad is the capital of Pakistan and a full-fledged industrial and commercial zone. There are many offices, and at lunchtime, different employees prefer to order food online from any good restaurant. 
Read 
How To Get Crystal Clear Skin Using Multani Mitti (Fuller's Earth)?
Amazing Lemon Uses You May Not Known
Quick Service
The contactless food delivery and payment service is very quick; customers just order food online from the convenience of their mobile devices. Hence, food delivery is becoming more popular as it provides customer convenience. Customers no longer have to wait or stand in long lines to get their food because it can be delivered right to their door.     
Best Place For Food Delivery In Islamabad 
Multiple restaurants offer food delivery in Islamabad; we have highlighted a few that are listed below:
Jessies 
Jessies would be the perfect choice for your steak and burger cravings with ideal seasoning and spice; additionally, they offer 12 different gourmet burgers with delicious ice cream, cakes, and shakes to choose from. 
Dunkin Donut 
If you plan to eat something delicious for your breakfast, Dunkin Donuts would be a preferable choice for you that provides an unprecedented variety of food such as sandwiches, coffees, bakery items, and desserts that cater to your needs.
Read 
Different Types Of Cakes You Might Not Familiar With
Top Delectable Dessert Spots in Islamabad You Must Visit
Tehzeeb Bakers
Tehzeeb baker is one of the top-rated bakeries in Islamabad, operating in many other top leading cities of Pakistan that provide freshly baked cakes, sweets, cookies, pastries, pizza, snacks with 100% natural ingredients. 
Kunna Sarai
Kunna Sarai in Islamabad is an excellent place to satisfy your desi food craving; they offer various traditional or desi cuisines, including Pashtoon and Balochi cuisines that you will love. You can order food online using foodnerd online ordering platform or Foodnerd mobile app
Read 
10 Traditional Food of Pakistan
Tea Stalls And Lahore Chai Culture In Pakistan
Zahrat Lebanon
Suppose you are in the mood to try something different, such as Arabic cuisine. In that case, Zahrat Lebanon and Arabic restaurants are the best restaurants in Islamabad that provide you with unique cuisine with an Arabic touch. 
KFC 
KFC is the best quick-service restaurant open all around the world. It is available worldwide, and while KFC is the best restaurant that even opens late at night and offers many midnight deals, they also deliver food to your door. 
McDonalds

Macdonald's is also an amazing place where you can order food online. Also, if you have a terrible chocolate craving in the middle of the night, McDonald's has various chocolate desserts that would be an ideal option for you.
Hardees
Hardees also provides the best food with the best delivery in Islamabad; it has all of the fast food options; the loaded jalapeno fries and oreo shake at Hardees taste venerable; and the taste of their burger is also the best. 
Hot N Spicy 
Hot n Spicy Islamabad is also the best fast food chain in Islamabad that you can consider in order to fulfill your food craving. It is the best place that offers amazing, mouthwatering roll paratha.
Read 
Soft & Chewy Granola Bars; New Trend, New Addiction
5 Most Popular Saudi Rice Dishes
Top online Food Delivery Service In Islamabad
Well, no doubt there are many online food delivery services working actively in Islamabad. At the same time, there are many restaurants that provide online food delivery without involving any third parties. However, the most popular delivery service in Islamabad nowadays is Foodnerd. 
Foodnerd offers a delivery service that allows you to choose from thousands of the best restaurants in Islamabad. All these restaurants offer online food delivery services with Fooderd, which is an excellent choice for you. 
If you are craving delicious quality meat in Islamabad or you want to try Arabic, Labenisian, Pan-Asian, or fast food meals, Foodnerd is just a call or message away because it is the best place where you can get everything. 
You can always satisfy your late-night food cravings with Foodnerd because it is always there to help you out. It delivers the best food from the best restaurant at any time. All you are required to do is download an app, get yourself registered, and you are ready to order food online. 
Read 
Cheapest Online Grocery Store In Pakistan
Trending Ice-Cream Brands In Pakistan
Write a Comment
0 Comments