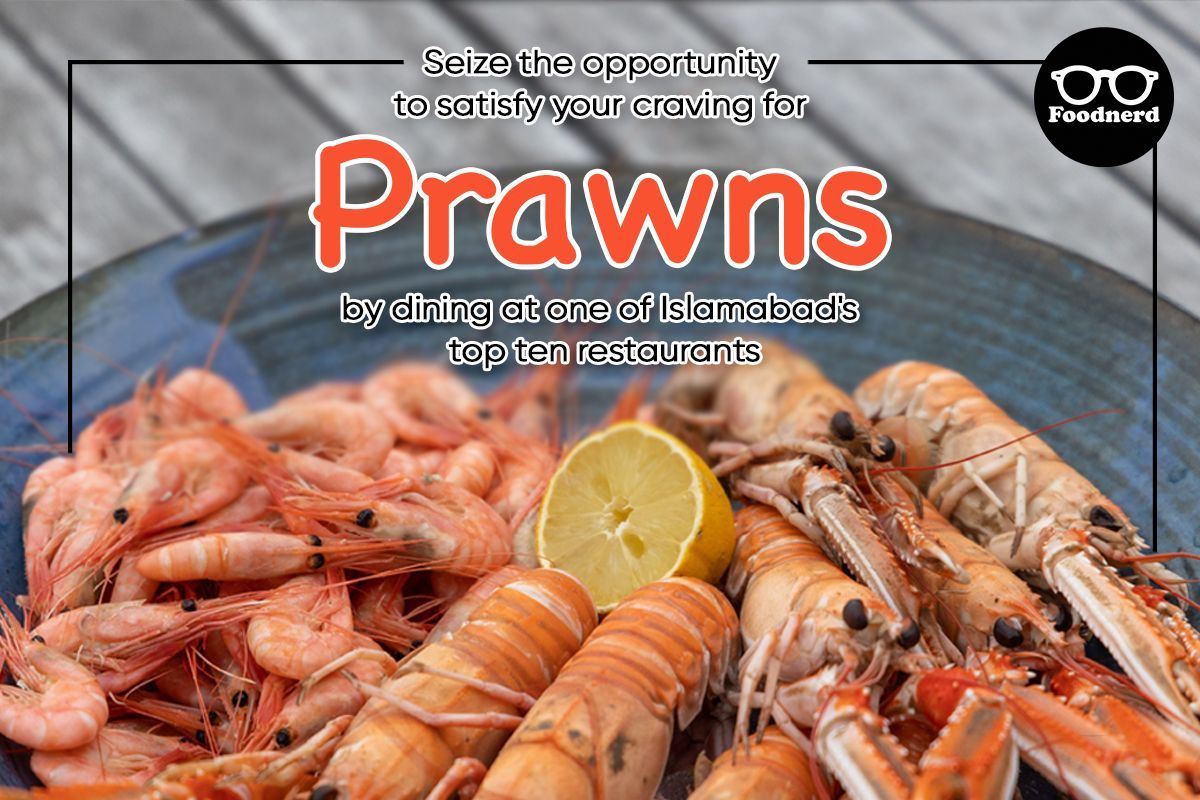 Nubaira Ahmer khan"

2022/11/08

0 Comments

0 Likes
Are you a prawn fan and enjoy it in sandwiches, soups, noodle bowls, or in crispy fried prawn form? Well, even after imagining prawns served in multiple varieties, your mouth is watering. So this shows that you enjoy seafood in different ways. 
There were many seafood items we consumed, such as various types of fish, including fried fish or sushi, as well as lobsters and oysters, and the list goes on and on, but the prawns have a separate level and fan base.
Well, whenever we talk about prawns, a question clicks in our minds: are prawns and shrimp the same thing? Also, you must be looking for Islamabad's top restaurants that serve the best prawns; don't worry, in this blog we have mentioned all the details regarding that. 
We've got all the best recommended places that serve the tastiest prawns in their elegant dining rooms and cozy atmosphere. So don't stop reading it and must visit these places. 
Yums Chinese and Thai
I believe no place is much better than Yums Chinese and Thai Restaurant in Islamabad,  serving their crispy fried prawns. They have a diverse menu with delicious Chinese and Thai cuisine that will make you fall in love with its taste. 
Also, the hi-tea at Yums Chinese and Thai Restaurant is the best option, while the crispy fried prawns are the top thing to enjoy there. Everything is so well maintained and balanced in Yums, so you must visit it if you crave some amazing pan-Asian cuisine. 
The Yum Special prawns also retain a special place within every prawn lover's heart; you can taste their crispy fried jumbo prawns dipped in the Yum Special sauce, topped with roasted sesame seeds, and trust me, they taste heavenly. 
Read 
10 Desi Food Restaurants In Lahore You Might Not Aware With
Dragon City

The second-most important place that you must not miss is Dragon City Islamabad. They are pros at serving delicious Chinese food, so you can shortlist this restaurant whenever you want to eat Chinese food. 
Dragon City's seafood taste is truly unique, and their shrimp on toast hits very differently, so you must try the dish here. If you want to just simply eat prawns, you can also get the whole prawns here with the chief special sauce. 
Well, the highly recommended prawns from us are jumbo butterfly prawns that are not butterflies; rather, they are uniquely coated in breadcrumbs in a butterfly style and deep fried to become extra crispy. Also, their sesame prawns and prawn tempura are good to order. 
Read 
Most Popular Tea Brands In Pakistan
What To Know About Diabetes And Milk?
Hangout Cafe
If you want to hang out with your friends, head to Hangout Cafe, the best F7 restaurant in Islamabad, and order sweet and sour prawn or cajun shrimp pasta because both taste amazing, so don't miss the chance to visit a Hangout Cafe in Islamabad. 
Hangout serves the best prawns in Islamabad, to which you'll never get disappointed. Their food is not only best for quality but also the best thing about Hangout cafe is that their charges are very economical. 
The most recommended shrimp dish at Hangout Cafe is steak and shrimp and it is the best ever served with juicy shrimps and the sauce tastes heavenly. So don't forget to try shrimps with steak at Hangout cafe Islamabad.
Read 
Are Dietary Supplements Good For You?
Incredible Things You Should Know About Potatoes
La Terraza
La Terraza at Centaurus Mall will never disappoint you if you are craving prawns out of nowhere, especially after a tiring shopping trip. Just go nowhere. Come startlingly to La Terraza, inhale the fresh air on their rooftop, and savor the sweet and sour prawns.  
The most attractive thing about La Terraza is their fantastic outdoor setup that immediately relaxes your tired body after shopping at Centaurus Mall Islamabad. But the most important thing about them is that their pan-Asian cuisine is presented with a Desi touch. 
No doubt the fusin of Indian and Continental cuisines makes the taste devine. Well,  the rates at La Terraza are flexible, so don't forget to enjoy jumbo prawns at La Terraza whenever you visit Caesarea. Also, you can order online from foodnerd.pk as well.
Read 
Perfect Afternoon High-Tea Ideas
Ginyaki 
 is the evergreen place for lovers of pan-Asian cuisine. They offer very satisfying food at a very affordable price, and trust me, both the taste and atmosphere are excellent. That will definitely make you fall in love with this place. 

Whenever you visit Ginyaki, just don't forget to choose their kung pao prawns in the main course with chow mein, and trust me, you'll enjoy your bowl very much, and you'll definitely order it again when you visit Ginyaki anytime again. 

Also, you must try the "Eighth Wonder" soup at Ginyaki, which is very fulfilling and nutritious. It gives you a blend of flavor with seasoned vegetables, including corn, carrots, mushrooms, prawns, and chicken, and trust me, it tastes heavenly. 

Read 

5 Magical Health Benefits Of Ginger
Suki Sushi 
The Suki Suki in Islamabad is another trending Japanese place that serves delicious sushi and the best prawns at a very affordable rate. It is an amazing place with the perfect taste, and it is said that they have the power to quickly satisfy your craving. 

They have a very versatile menu covering almost everything related to pan-Asian cuisine. However, their specialty is seafood, and their sichuan prawns and gong bao shrimp taste very extraordinary. 

One of the most attractive things about Suki Sushi is that they serve sizzling calamari, which is fresh squid served on a hot plate, and this is something really extraordinary about them. If you are a fan of some weird food as well, then you must visit Suki Sushi.
China Town 
When it comes to delicious tempura, you can blindly trust Chinatown because they deal in Chinese and continental dishes. The atmosphere at Chinatown is very peaceful, with the tempting fragrance of Pan-Asian cuisine that provokes your hunger. 

The prices at China Town are comparatively affordable, and at the same time, they have a very detailed menu. However, what makes Chinatown even more enjoyable is its serene environment and elegant dining experience. 

They serve a range of Chinese dishes, but the dynamite shrimps, wasabi prawns, and schezwan dry prawns make you confused about what to order because the taste of all of them is really amazing and you can't decide which plate of prawns you should order. 

Read

Best Pan Asian Cuisine Restaurant in Islamabad; A Perfect Mood Relies on Chinese Food
Tuscany Courtyard
The Tuscany Courtyard in Islamabad serves delicious continental cuisine with a fine dining  experience on the terrace that must get praise for being quite outstanding and outstanding. It is the best option to consider for prawns in Islamabad. 

If you visit Islamabad's kohsar market at F7 then you must visit Tuscany Courtyard and enjoy all the English style cuisine here. The cuisine specialties at Tuscany Courtyard are Mediterranean, European, Italian, and mostly vegetarian dishes. 

However, their shrimp are absolutely amazing. They have a wide variety of seafood dishes; however, if you are a prawn fan, then you must taste their thai style prawn, which is equally scrumptious like all other cuisines. 

Capital Grill 

Like many other restaurants in Islamabad, The Capital grill offers the yummiest shrimps with perfect ambiance. The specialty of Capital Grill is their steak, so you can consider it for steak as well.

However, the taste of their prawns is very unique, with excellent staff service. They have a variety of continental dishes in their cuisine. The best thing, which is quite attractive about capital grill is that they present orders on time in a very neat and comfortable environment. 

The capital Grill is a really good and highly recommended place in Islamabad; you can consider it in a list of elite restaurants that present clean shrimp in a cost effective manner.  Their fried mac and cheese balls are also the bonus treat you can consider with shrimp. 
Tiger Temple
When the discussion comes to the best restaurant in Beverly Center, Islamabad, that serves the delicious shrimps, then Tiger Temple is the best option to consider, where you can enjoy goong tod prawns with the minimalistic Thai style decor.
Overall, the prices and ambiance at Tiger Temple are quite amazing, and their goong tohd prawns are the most popular. Don't forget to try their chicken and mushroom dumplings as well whenever you visit Tiger Temple Restaurant in Islamabad. 
Well, I really enjoy Tiger Temple's prawn and scallion toast. It's a very good snack option. However, if you are craving prawn soup, then Tom Yum, a traditional herbal hot and sour soup, or Tom Kha, a silky coconut soup with straw mushrooms, is the best thing to order.
Read 
Best Pan Asian Cuisine In Rawalpindi
Write a Comment
0 Comments