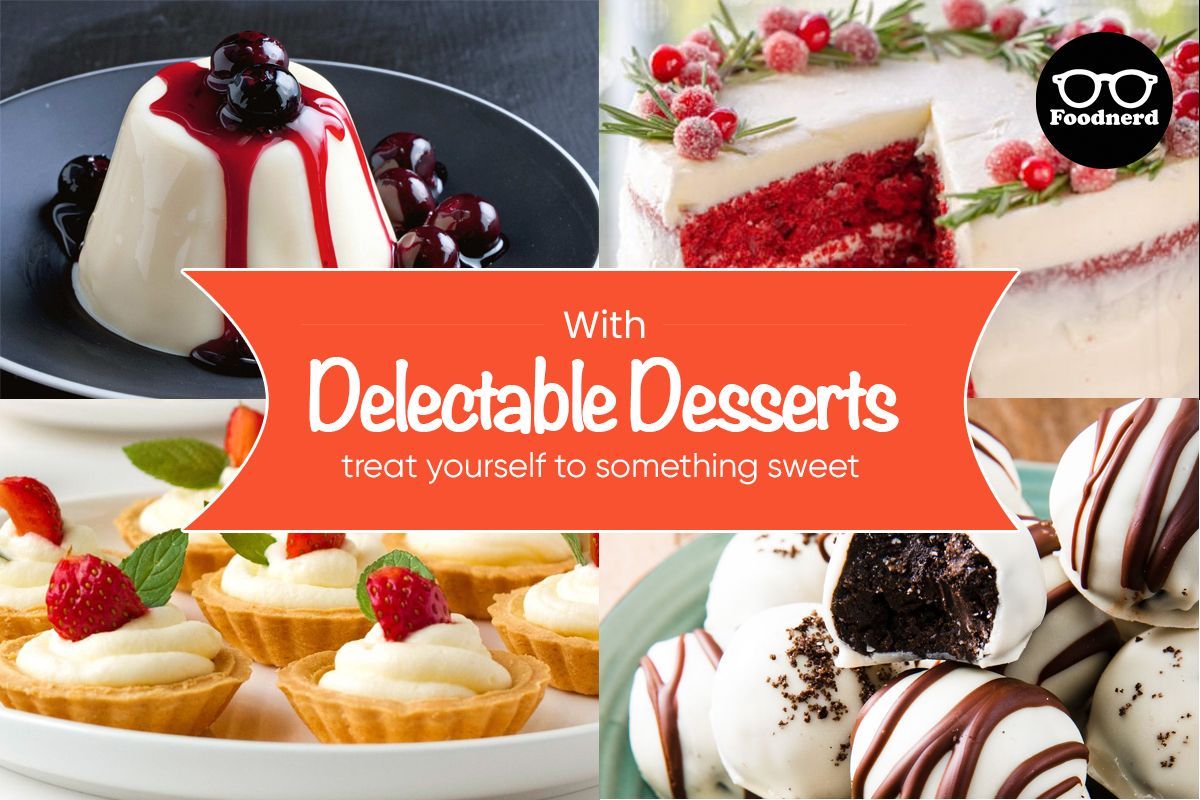 Nubaira Ahmer khan"

2022/10/25

0 Comments

0 Likes
Are you stressed? Try some desserts because stressed spelled desserts backwards. The sweet flavor in dessert is introduced directly from heaven, and it is the best magical ingredient that adds a sprinkle of happiness to our lives. 
Pakistani desserts and the Pakistani love of desserts are well-known throughout the world. After eating anything salty, our body automatically demands something sweet in order to balance it out. Therefore, our craving for something sweet is always permanent. 
If you are a fan of dessert, well, it seems you are why you are here exploring dessert near me. So continue here to know the best delectable dessert spots in Islamabad and fall in love with their taste. 
Read 
10 Traditional Food of Pakistan
Introduction To Pakistani Cuisine
5 Best Restaurants In Islamabad  For Desserts
Desserts make our stressful lives more flavorful by redirecting our attention to peace. If you are looking for the perfect place in Islamabad, then consider these restaurants. 
Butlers
Butlers presents the best dessert in Islamabad for chocolate lovers. It is tremendously famous for its top-notch chocolates, caffeinated beverages, and desserts. If you are having a very strong craving for chocolate desserts, don't hesitate to go there. 
Not only do they serve delicious desserts, but they also serve delicious paninis, pizza, and much more, and the ambiance and environment are extremely peaceful. You can take yourself on a date with your favorite book here and enjoy a warm cup of coffee. 
Read 
Tea Stalls And Lahore Chai Culture In Pakistan
The Best Desi Places To Eat Breakfast In Lahore
Second Cup Of Coffee
Have you ever noticed that on cold winter nights or in rainy weather, all you want to do is enjoy the freshness of the weather with the combination of chocolate brownies or cake and coffee? Well, yes, this combo has its own importance. 
So, if you want to enjoy the cold weather with the warmth of coffee, go nowhere; just get your warm cup from the second cup of coffee and spend your time there. Also, if you want to go on a date in Islamabad, then a second cup of coffee is a great option. 
Read 
Kashmiri Tea The Gift Of Winters
Monal
If you want to try the best lava cake or sizzling brownies in Islamabad, then just don't look anywhere else because Monal is the best option to consider. Also, their New York style cheesecake has a separate level. 
You can enjoy their full menu, including their best dessert section, and it will never disappoint you. So enjoy a fulfilling meal with your friends and family and enjoy the deliciousness of the best dessert in Pakistan at Monal.
Read 
Best Pan Asian Cuisine Restaurant in Islamabad; A Perfect Mood Relies on Chinese Food
BLT Islamabad 
The BLT Islamabad is a renowned place where you can enjoy the best dessert in Islamabad with your friends. It has great taste and a perfect environment. If you haven't tried the Dare Devil Cake from BLT Islamabad, then make a plan and try it now.
The Dare Devil Cake is the best thing you'll consider whenever you visit BLT. Also, their cheesecake is delicious, so if you are a fan of cheesecake, then BLT Islamabad will definitely satisfy you.  
Read 
Burning Brownies
So the best place in Islamabad to consider for dessert is Burning Brown because they have a variety of options available. Also, their taste is really amazing. They have an amazing vintage theme with delicious bakery items.
Also, the mouth-watering cupcakes at Burning Brown Islamabad have a separate fan base. So don't forget to enjoy the savory and delicious sweet snacks, hot beverages, and baked items at Burning Brownies Islamabad. 
Read 
10 Unique Health Benefits Of Honey You May Not Know
Amazing Lemon Uses You May Not Known
Best Bake Shops In Islamabad For Cakes and Ice-Creams
The bakeries in Islamabad have their own aura and they are loved by all, so try these best places:
Funky Bake
The funky bakes are the champions of sweetness. They have the best and most customized designs that make everyone fall in love with their elegant touch. So don't go anywhere if you want customized cakes because Funky Bakes is here for you. 
The Funky Bake is especially famous for its hands-on experience in customizing cakes for any event, including weddings, birthdays, bridal showers, mehndi, graduations, etc., so just order a customized cake from here. 
Read 
Different Types Of Cakes You Might Not Familiar With
What Are The Most Popular Restaurants To Shortlist During Visit To Islamabad?
Soft Swirl
Ice cream has a lot of votes when it comes to Pakistani desserts. Although there are many delicious Pakistani desserts, ice cream is an all-time favorite. So, if you're looking for the best ice cream in Islamabad, try Soft Swirl and enjoy the enthralling taste. 
The brownie and ice cream combo at Soft swirl is regarded as the best dessert in Islamabad because it is incredibly filling and instantly satisfies your craving for both brownies and ice cream. 
Read
Can Ice-cream Help You Lose Weight
Best Pan Asian Cuisine In Rawalpindi
Tehzeeb
Tehzeeb Bakers is also the best dessert shop you can consider, but with multiple dessert shops and places, Tehzeeb has lost its importance. Their rates are very high. That is why people are moving to different shops as well. 
However, if you want cake in Islamabad, you can consider Tehzeeb bakery. Their chocolate chip cookies are also tasty that you can consider. Their bakery items are delicious, too, but the only drawback is the expensive rates. 
Read 
Layers Bakeshop
The Layers bakeshop in Islamabad is getting a lot of attention, and believe it or not, it is well deserved. They have the best cakes at a reasonable price. Well, their reasonable price is the best motivation to buy from here. 
Layers Bakery will lose their devoted clientele if they raise their prices. Although they don't offer online ordering, you can get a layer cake delivered right to your door by contacting Foodnerd Riders if you're looking for the best cake shop in Islamabad or in Lahore as well.
Read 
Trending Ice-Cream Brands In Pakistan
Perfect Afternoon High-Tea Ideas
Sweet Creme
I searched for molten lava cake near me and Sweet Crème just appeared on top of my searches, so I ordered online the molten lava cake and their lotus cheesecake blizzard, and the dessert turned out to be very great because Sweet Creme serves quality with grace.
They have the best ice cream in Islamabad, Lahore, and Murree as well, so don't wait until it gets too late, just visit Sweet Crème and enjoy the best dessert in Islamabad, and soon it will be on your favorite list of desserts. 
Read 
Write a Comment
0 Comments